A list of upcoming rallies and grassroots resources curated by KRCL's RadioACTive team. Featured events ≠ endorsement. Information adapted from public listings posted by organizers. All times Mountain unless otherwise indicated. Check with the organizer for the latest info on rallies and resources in this list.
♦♦♦♦♦♦♦♦♦♦♦♦♦♦♦♦♦♦♦♦♦♦♦♦♦♦♦♦♦♦♦♦♦♦♦♦♦♦♦♦♦♦♦♦♦♦♦♦♦♦♦♦♦♦♦♦♦♦♦♦♦♦♦♦♦♦♦♦♦♦♦♦♦♦♦♦♦♦♦♦♦♦♦♦♦♦♦♦♦♦♦♦♦♦♦♦♦♦♦♦♦♦♦♦♦
Looking for community resources and nonprofit links? Visit our CONNECT page. Don't forget to do your own research before donating time or money. Read: Before Giving to a Charity, FTC Consumer Advice.
Be prepared for spring runoff and related flooding:
Festival List (see more about each event under listings by date)
Thurs-Sun, May31-June 4:
Utah Pride Festival, various locations in downtown SLC. Event by Utah Pride Center: "The 2023 Utah Pride Festival promises to be a beautiful, fun, and UNAPOLOGETIC weekend. Check out the schedule of events and get them on your calendar!"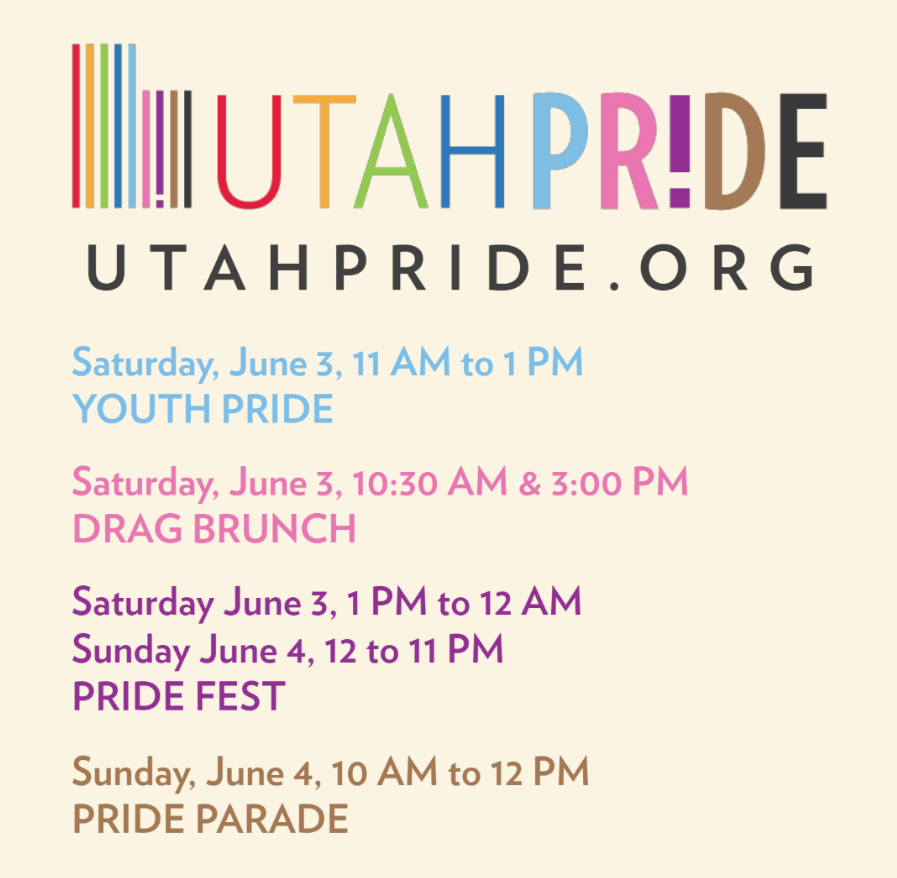 Friday, June 2:
Pride March and Rally, 6:00-8:00 p.m. at Utah State Capitol, 350 N. State St., SLC. Event by Utah Pride Center: "We organize to fight for our rights, safety, and visibility. The Rally and March are a celebration of our identities and a protest against discrimination. Join the fight on Friday night at the Utah State Capitol to hear from our community's diverse voices, and to show the world your rainbow colors!."
Fri-Sat, June 2-4:
Ogden Music Festival, Fort BDO, 600 Depot Dr, Ogden"The Ogden Music Festival is a 3-day outdoor event featuring bluegrass, folk, and Americana music held at Weber County's Fort Buenaventura with award-winning artists The Dan Tyminski Band, Thee Sacred Souls, Danielle Ponder, John Craigie, Los Texmaniacs featuring La Marisoul and more! Band and instrument workshops led by mainstage artists. Kids activities include an Instrument Petting Zoo, crafts, and games. Camping is available on-site, purchase camping with your 3-Day Pass. Kids 16 & under FREE!"
Fri-Sun, June 2-4:
15th Ogden Music Festival, "Fort BDO" 600 N. Depot Drive, Ogden. "The 15th Annual Ogden Music Festival, presented by Ogden Friends of Acoustic Music, kicks off another summer, this year at beautiful 'Fort BDO' in Ogden, Utah. Three days of some of the best Americana, bluegrass, folk, gospel, conjunto/tejano, and soul music with jam sessions, workshops, kids activities, and camping on site. Kids 16 and under are free. Tickets are on sale now at ofoam.org."

Riot Pride Street Fair: A free three-day street fair held at Sugar Space (132 S. 800 W. SLC) Donations are encouraged, but not required!
Saturday, June 3:
46th annual Utah Asian Festival on Saturday, June 3rd from 11:00 am until 7:00 pm at the Grand Building of the Utah State Fairpark (Salt Lake City, UT 84116). The Festival is a celebration to connect new Americans, immigrants, and refugees to the more historic ethnic groups in our state, but also brings our diverse ethnic communities together and meet our various communities, leaders, and elders; and seek new opportunities to be involved and support our diverse Utah Asian communities. There will be vendors, performances and cusine from across Asia. For more info click here.
Climate Change and a Shrinking Salt Lake with Bonnie K. Baxter, 6:00-7:30 p.m. at Red Butte Garden, 300 Wakara Way, SLC. "Join us for an educational lecture with Bonnie K. Baxter, Ph.D., a Professor of Biology and Director of the Great Salt Lake Institute at Westminster College. She'll discuss how diversions of water and drought have depleted the water that makes it to the bottom of our watershed—the Great Salt Lake. And what will happen to its amazing biology, significant economic input, air quality along the Wasatch Front, and recreation industries if the shrinking of the lake is allowed to continue. Space is limited, registration required." Tickets are $16. Click here for details.

Spring Fair at Sego Lily Gardens, 9a-12pm, 1472 E Sego Lily Drive (10200 S). "Come learn ways to save water on your landscape with Sandy City and other local experts at Sego Lily Gardens. Educators will join us from Central Utah Water Conservancy District, Utah State University, Sandy City Parks and Rec, TransJordan Landfill, Sprinkler World, Solscapes, Salt Lake County, Sandy Seed, and many more! We will have waterwise information, activities, and inspiration for the whole family. Free plants or conservation kits will be available for the first people 100 to arrive! This event is free and open to the public."

Drag Friends Story Hour, 11:00 a.m. at Under the Umbrella Bookstore, 511 W. 200 S., SLC. "Join us for a special family-friendly Pride Month Drag Friend Story Hour with Unidxs! Readings and performances start at 11. All ages are welcome! Unidxs is a community council of passionate Latinx/Xicanx individuals addressing the intersections between the LGBTQIA+ and Latinx community of Utah."

Loud and Queer – A Corporate Free Pride Celebration from 3pm-10pm by Lost Acorn (6th Ave and L St in SLC).

Saturday's International Market and Movie Night at the Utah State Fairpark, 155 N. 1000 W., SLC. "In collaboration with the International Festival, Salt Lake City invites you to join them at the Utah State Fairpark for a FREE movie screening of the Disney Pixar film Soul. The International Festival will be open from 2-8PM and the movie screening will begin at 5:30PM. The movie will be held at the indoor soccer facility on site. Free popcorn, movie treats, and other activities will be provided!
Sunday, June 3:
Pride Parade Sunday, 10a-12p starting at 400 E. and 100 S., ending at 200 E. and 700 S. in SLC. Event by Utah Pride Center: "The Utah Pride Parade is Utah's largest LGBTQIA+ event! This is a free event open to everyone on the streets of Downtown Salt Lake City. It annually hosts nearly 150,000 spectators and participants, and creates a spectacular chance for our community to be UNAPOLOGETIC! We welcome everyone to come take part in Utah's 33rd annual pride parade! And this year we are adding grandstands for the best viewing! The grandstand is included in the Total Experience Pass." For more details, click here.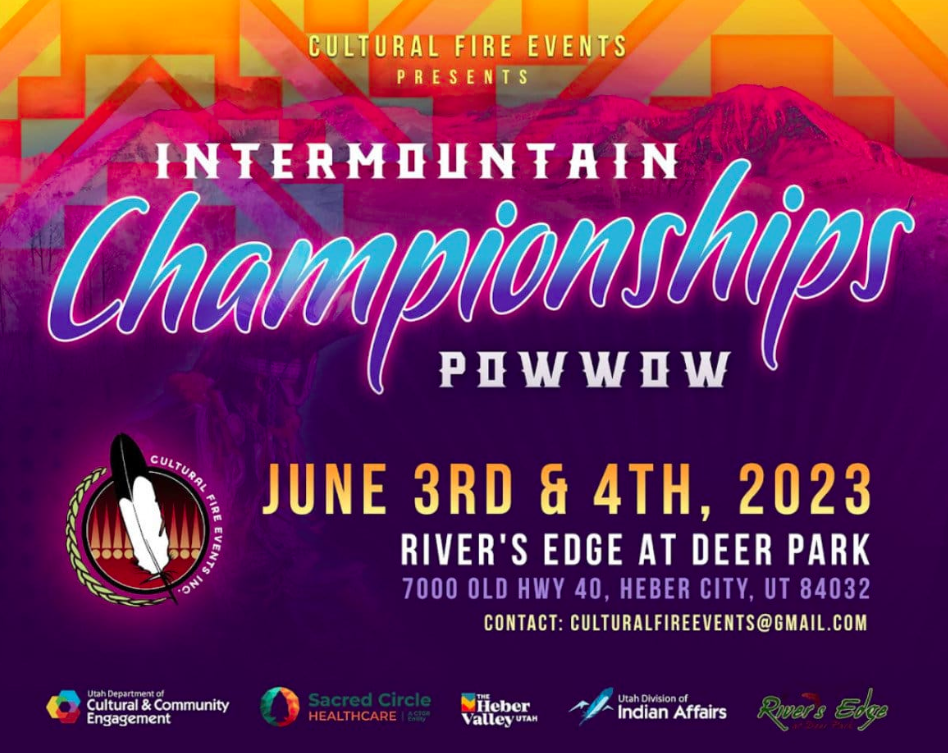 Sat-Sun, June 3-4:
Intermountain Championships Pow Wow 2023, River's Edge at Deer park, 7000 Old Hway 40, Heber. "We would like to welcome all dancers, singers, and the general public to Heber City. Grand entries are Saturday at 12 PM and 6 PM, and Sunday at 12 PM. This is a contest powwow for all dancers and singers. For all general questions or if you would like to set up as a vendor, please email – culturalfireevents@gmail.com. Spaces are limited! Camping, RV hookups, and accommodations are available on-site, please call River's Edge Campground for reservations at (435) 654-4049. Tog'oyak, Ahéhee', Siyisgaas (Thank you)! Intermountain Championships Powwow Committee. We would like to thank our generous sponsors, partners, and donors, Utah Department of Cultural & Community Engagement, Sacred Circle Healthcare, The Heber Valley Utah, Utah Division of Indian Affairs, and River's Edge Campground."
Mon-Fri, June 5-9:
NeighborWorks Week. "Join us in celebrating our community for NeighborWorks week! From June 5 - 9, we are hosting daily events to educate and enrich our community. All events are free and open to the public. ¡Únase a nosotros para celebrar nuestra comunidad para la semana de NeighborWorks! Del 5 al 9 de junio, estamos organizando eventos diarios para educar y enriquecer a nuestra comunidad. Todos los eventos son gratuitos y abiertos al público."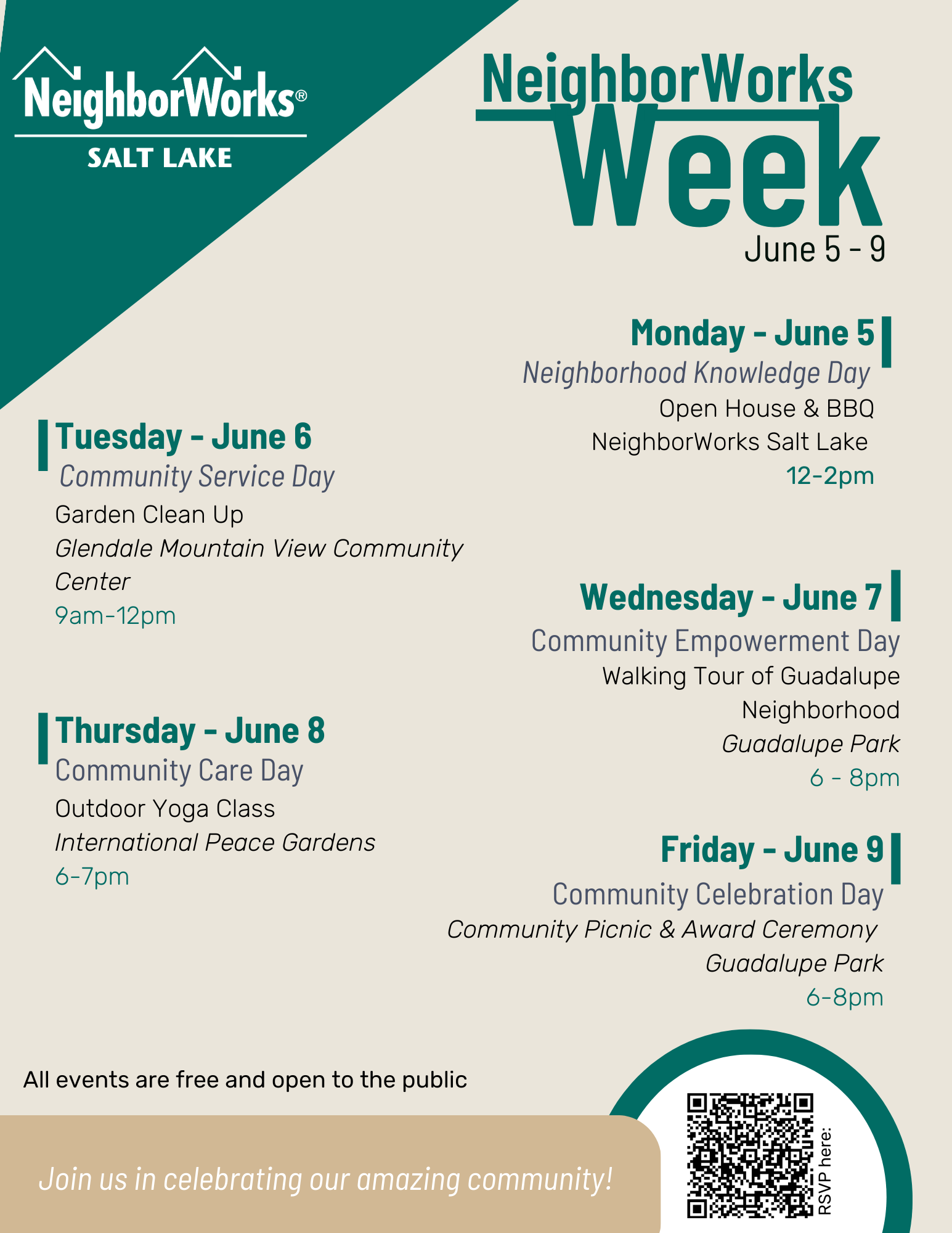 Wednesday, June 7:
Thursday, June 8:
2023 Ute Storyfest presented by the 2023 Ute storytelling camp in collaboration with University of Utah. Happening this Thursday, June, 6 at the University of Utah's Marriott Library on the 2nd Floor from 10 - 11:30am. See the world through the minds of Ute Indian students 7th-12th graders and experience their storytelling through modern and traditional media.