Through Dec. 18: Not Yo' Mama's Winter Market, online and at Clever Octopus, 2250 S. West Temple, SLC. Peruse the diverse art made by local Utah artists for the second annual Not Yo' Mama's Winter Market, created by Clever Octopus and Utah Pride Center, sponsored by KRCL.
Wednesday, Dec. 2:
Day Without Art: Utah Museum of Fine Arts is partnering with Visual AIDS and local organizations to virtually present TRANSMISSIONS--a series of six short videos that consider the effect of HIV and AIDS beyond the United States. UMFA's local partners include the University of Utah's LGBT Resource Center, Black Cultural Center, and PrEP Clinic as well as Planned Parenthood's Teen Council and The LGBTQIA+ and Allies in Medicine Student Interest Group. Established in 1989, Day With(out) Art celebrates the lives and achievements of those lost to AIDS, encourages caring for all people living with AIDS, educates diverse communities about HIV infection, and continues to work towards finding a cure. Beginning December 1, the video program will be available to view online at visualaids.org/transmissions. TRANSMISSIONS will also screen in numerous locations around the world, both online and in-person. See here for a growing list of screening locations: https://visualaids.org/events/detail/dwa2020
Thursday, December 3:
League of Women Voters of Salt Lake Holiday Social and Fundraiser, 6:30-8:30 p.m. online. "Instead of our usual Pot Luck dinner, please bring a special dinner and beverage for yourself and those gathered around your computer as we learn from our knowledgeable speakers. Guest Speakers from Restoring Ancestral Winds/Missing and Murdered Indigenous Women and Girls of Utah - Yolanda Francisco-Nez, Executive Director, and Moroni Benally, Coordinator for Public Policy and Advocacy. Please go to www.Restoringawcoalition.org for our Holiday Fundraiser to support the important work of Restoring Ancestral Winds." Click here for online event details.
Friday, December 4:
Winter Magic Art Stroll at The Gateway, 6:00-1000 p.m. Hosted by The Gateway: "View our Winter Magic Art Shop windows and listen to our new audio tour as it guides you through a magical stroll. The stroll showcases 14 installations created by talented Utah artists. This is a short half-a-mile walk where you will be able to hear about the inspiration behind each piece in the artists' own words. We have partnered with VoiceMap, an app that uses your location to play audio specific to the Winter Magic Art Stroll, so you can listen to the artist's information at the right time and place! The audio will guide you through the whole walk and there's a map on your screen if you ever feel lost, and if you get off track without noticing, it will let you know! You can also download the Winter Magic Art Stroll map here: shopthegateway.com/winterartshop2020. Installations will be up through winter. Plus, our holiday light display, which includes our illuminated woodland creatures and brand new "Light Shower" installation will be up through December 31."

Nox Contemporary Art Gallery: John Sproul - Serenity Now, 12:00-9:00 p.m. open house for holiday Gallery Stroll. "The gallery is located in the Homeless Healthcare Clinic complex at 440 S. 400 W. Suite H, SLC. Due to the pandemic and to give the public every opportunity to attend the gallery stroll, the Salt Lake Gallery Stroll Association has extended its hours to 12-9 p.m. today and Nox will be participating in that. This exhibit will end January 1st, 2021, so if you have not yet had the opportunity to see it and will not be able to attend the December Gallery Stroll we strongly encourage you to make an appointment by texting 801-289-6269 or emailing john@johnsproul.com to make an appointment."
Saturday, December 5:
FREE: Murray Flu Shot Clinic, 11:00 a.m. at 170 E. 5770 S., Murray. Hosted by NeighborWorks Salt Lake and Murray Children's Pantry: "Getting your flu shot protects you, as well as those around you. Flu Vaccine prevents millions of illnesses and flu-related doctor's visits each year and is especially important this season t further protect you against COVID-19. We will also have FREE vision screenings available. You can also help provide meals to families in Murray by bringing a canned food donation for the Murray Children Pantry."
Wednesday, December 9:
A Socially Distancing Stroll, 6:00-8:00 p.m. at Downtown Ogden Municipal Gardens, 353 25th Street, Ogden. Hosted by Ogden Pride Inc.: "Join us for a Social Distancing Stroll through the Christmas Village. Snap photos of what Ogden Holiday Season 2020 means to you during the event, and share them on your FB page and tag us in your post, post on our event page, or send them to info@ogdenpride.org and you'll be entered to win some Ogden Pride Swag!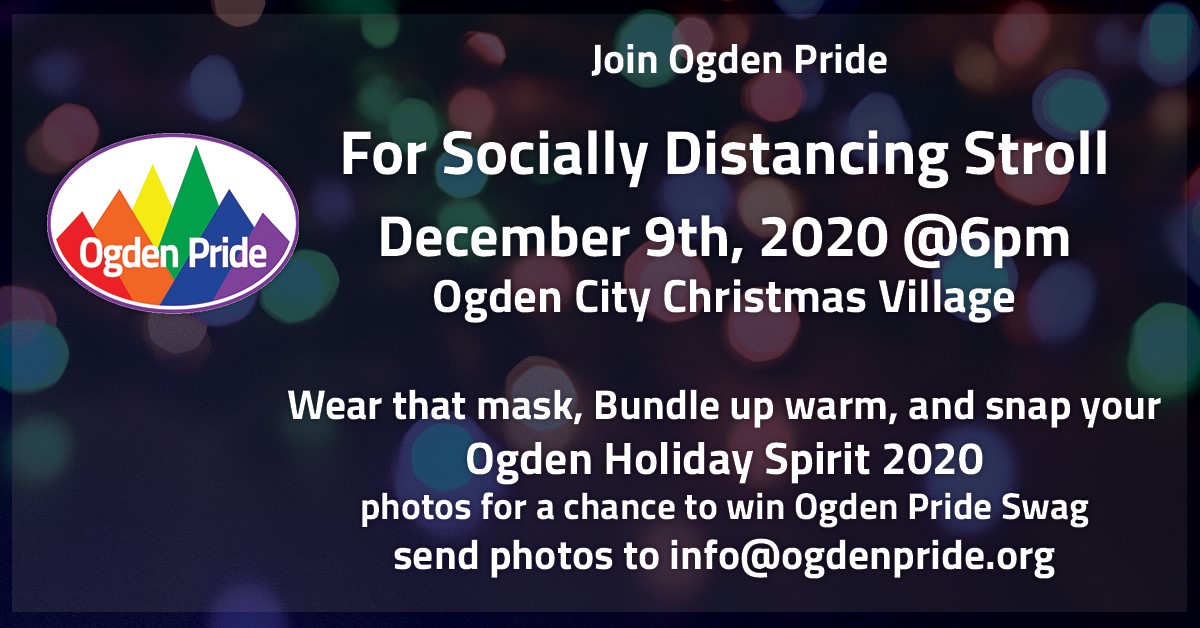 Golden Eagle Nesting and Landscape Change in Utah, 12:00-1:00 p.m. online. Hosted by HawkWatch International: "Golden Eagle populations may be in decline across the western United States. In Utah, HawkWatch International has worked with a variety of partners including government agencies, other non-profits, and private companies and volunteers to develop a comprehensive database of eagle nest monitoring data from across the state. By looking at this large, historical data set on when and where golden eagles decided to make a breeding attempt, we developed predictions about how Golden Eagles will respond to climate change, drought, wildfire, and loss of shrubland in Utah. So what did we find out? Join HWI Research Biologist Eric Chabot to find out! He'll also discuss our golden eagle transmitter study, and how prey resources affect golden eagle reproduction." Click here to register for this free online event.

Kiss the Ground - Free screening + Panel discussion. , 6:00 p.m. online. Hosted by Park City Film, Swaner Preserve and EcoCenter and Recycle Utah: "The film will be free to watch with registration Dec 4-6th. And an online panel discussion will be held on Wed, Dec 9th at 6pm with Andrea Morgan, Ranui Gardens; Dr. Jennifer Reeve, Assoc. Professor, Organic/Sustainable Agriculture, Utah State University; Craig McKnight, Bill White Farms; and Brett Denney, Summit Land Conservancy. Nell Larson, Executive Director, Swaner Preserve and EcoCenter, will moderate. Register for the film and panel here. Presented in partnership with Park City Municipal Corp Sustainability, Recycle Utah, Summit Land Conservancy and Swaner Preserve and EcoCenter as part of the Reel Community Series."
Friday, December 11:
2020 EBC Winter Food and Clothing Drive, 7:30a-6p at Eccles Broadcast Center, 101 Wasatch Dr., SLC. Hosted by PBS Utah: "Bring frozen turkeys, hams, and other food or clothing items to help Utah families in need during the holiday season. Drive up to our tent in the parking lot and EBC employees will unload your items. All employees will be wearing masks and observing CDC safety guidelines. Your monetary donation is also welcome and tax-deductible. Make checks out to Crossroads Urban Center."
Saturday, December 12:
The Divine Assembly Worship Service, 7:00-10:00 p.m. online. Hosted by The Divine Assembly: "We will connect the nodes and energize the mycelial network for a second time! On Twitch.tv TDA will broadcast worship, music, and ceremony from a few locations, but we invite everyone to plan a ceremony where you are. That can mean by yourself (painting, meditation, or doing yoga, etc., as some did during our first Assembly) or with a Covid-appropriate group (dancing, in a drum circle, or putting together a jigsaw puzzle, etc., as some nodes did). For now, the Internet will serve as surrogate for our gathering community. Please join us, and let's exchange energy and blessings!
Mon-Sat, Jan. 18-23: MLK Week Service Projects, various. Hosted by Equity, Diversity, & Inclusion - University of Utah: "Self-directed and virtual opportunities are available to anyone from the comfort of their own home or on their own time the week of January 18-23 unless a specific time is stated. These are open to the community: https://bennioncenter.org/.../mlk-jr-saturday-service. This event is part of MLK Week. This year's theme is "Good Trouble," a term often associated with former United States Representative John Lewis. As a founder and leader of the Student Non-violent Coordinating Committee (SNCC), Lewis was the youngest person to speak at the March on Washington, August 28, 1963, and taught us young people must be the change they want to see by pushing and forcing older generations for equitable change. 'I want to see young people in America feel the spirit of the 1960s and find a way to get in the way. To find a way to get in trouble, good trouble, necessary trouble.' Learn more: https://diversity.utah.edu/mlk/."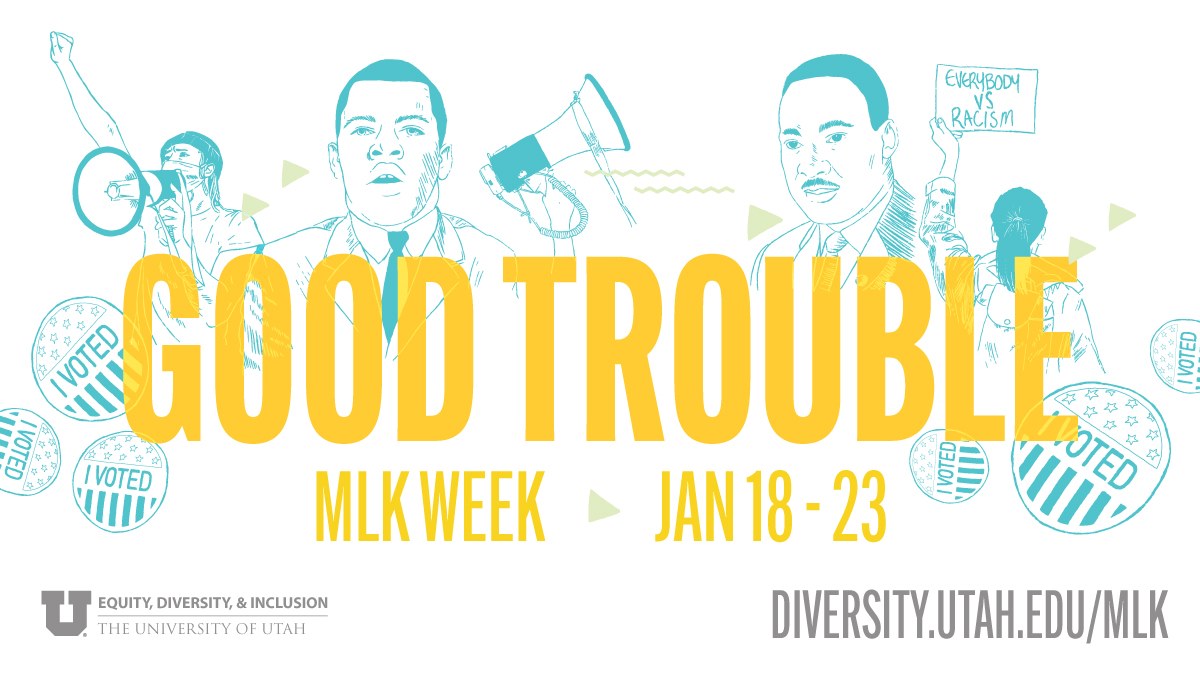 Thursday, January 21:
Ask a Foster Parent: Zoom, 6:00 p.m. online. Hosted by Utah Foster Care: "Ask local families about their experiences fostering or adopting, at this casual forum offered by Utah Foster Care—what it's like, why they do it, how to get started, and more." Click here to register for event links.
Jan. 28-Feb. 3, 2021: 2021 Sundance Film Festival. Hosted by Sundance Film Festival: "Welcome to the 2021 Sundance Film Festival. A new chapter filled with possibilities. Despite the challenges this year has brought, nothing could stop us from celebrating independent film, visionary artists, unique perspectives, and you, our adventurous audiences. So, for the first time ever, we are bringing the festival to you—both online and in the real world across the US and beyond. The heart of our festival is our community. The joining of artists and audiences forms something truly extraordinary. We invite you to explore the program, join the conversation, and experience this new festival with us." -Tabitha Jackson, Director, Sundance Film Festival.