A list of upcoming rallies and grassroots resources curated by KRCL's RadioACTive team. Featured events ≠ endorsement. Information adapted and abridged from public listings posted by organizers. All times Mountain unless otherwise indicated. Check with the organizer for the latest info on rallies and resources in this list.
*******Many events are held by organizations seeking donations or raising funds for their causes. KRCL neither vets nor endorses them, so be sure to follow best practices when evaluating such requests, consult your own advisors, and proceed at your own risk.*******
♦♦♦♦♦♦♦♦♦♦♦♦♦♦♦♦♦♦♦♦♦♦♦♦♦♦♦♦♦♦♦♦♦♦♦♦♦♦♦♦♦♦♦♦♦♦♦♦♦♦♦♦♦♦♦♦♦♦♦♦♦♦♦♦♦♦♦♦♦♦♦♦♦♦♦♦♦♦♦♦♦♦♦♦♦♦♦♦♦♦♦♦♦♦♦♦♦♦♦♦♦♦♦♦♦
NOW: MAUI WILDFIRES. Visit Maui's KMNO – Mana'o Public Radio's Maui Rapid Response site for the latest information on nonprofits on the ground supporting our Ohana as they start the long recovery and rebuild from the recent wildfires. The Maui Rapid Response site has the latest information on open shelters, where to receive or make food and clothing donations, road closures and more. To locate missing loved ones, call 1-800-RED-CROSS.
Warm Welcome Winter Clothing Drive. The The International Rescue Committee in Salt Lake City is currently collecting new and like-new winter clothing items, including winter coats, warm boots and waterproof gloves, to distribute to over 500 newly arrived refugees. Gather winter items from neighbors, start a drive in your community or make an online contribution. Volunteers are needed for the upcoming distribution event from October 9 through October 11. Sign up to gather winter clothing and volunteer here.
Festival List
Now - October 15: Invisible No More: Latinxs Dignity March in Utah, a photo documentary exhibit on display now at Mestizo Coffeehouse in SLC. In commemoration of Hispanic/Latinxs Heritage Month 2023, this photo-travel exhibit is the work of five Latinx photographers who captured more than 5,00 images of the march, which was attended by nearly 50,000 people. UoU Prof. Armando Solórzano collected the speeches made by city officials, religious leaders, and community members at the march, as well as an archive of interviews, newspaper clippings, and an analysis surrounding the event. The exhibit depicts the different actors, laws, motives, and accomplishments of the march. Each of its 60 frames contains four or more pictures, which include a caption ion both English and Spanish.
Thurs-Sat, Sept. 28-30:
Unearthed at Finch Lane Gallery, 54 S. Finch Lane, SLC. "Irishia Hubbard's Unearthed is a moving image installation that explores the unwritten history of Black moving image arts by analyzing Africanist Aesthetics in American dance, photography, and film. Themes of visibility, ancestral veneration, and Black liberation appear in this video exhibition as means of retelling and reclaiming history. The exhibit includes a series of screen dances that incorporate found footage of Black performers on screen and features a spectrum of BIPOC professional community performers, collegiate students, and female filmmakers. Hubbard is a choreographer, filmmaker, and educator from South Carolina, and is currently an MFA candidate and Graduate Teaching Assistant in the Modern Dance program at the University of Utah. As an experimental narrative filmmaker, Irishia primarily works with the embodied Black female experience. Her films have premiered nationally and internationally in festivals such as Dance Camera West, Cinevox, ADF Movie by Movers, Trinity Laban's International Screendance Festival, Auro Apaar, and Desassossego Short Dance Film Festival."
Friday, September 29:
The public comment period ends regarding 29 BLM oil and gas leases in Cedar Mesa area, 4:30 p.m. Mountain. From the Bureau of Land Management: "In accordance with the settlement agreement in Friends of Cedar Mesa v. U.S. Dep't of the Interior et al., Case No. 1:21-cv-00971, the Bureau of Land Management (BLM) is re-evaluating the potential impacts from 29 leases encompassing 46,919.91 acres on public lands managed by the BLM Monticello Field Office. These 29 challenged leases are from the March and December 2018 lease sales. Based on the analysis of the environmental assessment (EA), the BLM will decide whether to affirm the BLM's 2018 decisions to lease the 29 challenged leases, cancel these leasing decisions (or portion therein), or amend and affirm the leases with revised terms. The EA will be posted on the BLM ePlanning website for a 30-day public comment period for review starting August 30, 2023. To be considered, the BLM must receive your comments by September 29, 2023, at 4:30 PM MST." To provide your comment online, click here.
Saturday, September 30:
Maven District Block Party, 9a-1p at 900 S. 200 E., SLC. "Are you a local artist, maker, or entrepreneur? Come showcase your business at the Maven District Block Party, where vendors have the unique opportunity to connect with a new audience and market their businesses like never before! The Maven District Block Party goes beyond just selling products; it's a platform for entrepreneurs to elevate their brand visibility and build lasting connections. Immerse yourself in a dynamic, family-friendly atmosphere that highlights supporting local while also fostering collaboration and growth with other small businesses. Be a part of this transformative event and unlock new possibilities for your business. Once you register, you'll receive additional event details by email. If you have any questions about registration, please reach out to us at info@mavenslc.com."
Friday, October 6:
ACLU of Utah Block Party, 6:00-9:00 p.m. at Sugar Space Warehouse, 132 S. 800 W., SLC. "The ACLU of Utah is hosting our annual Community and Member Block party to celebrate the civil rights and liberties advocacy happening across Utah! This event is free to all and family-friendly! RSVP: https://bit.ly/partyUT. We can't wait to party with you."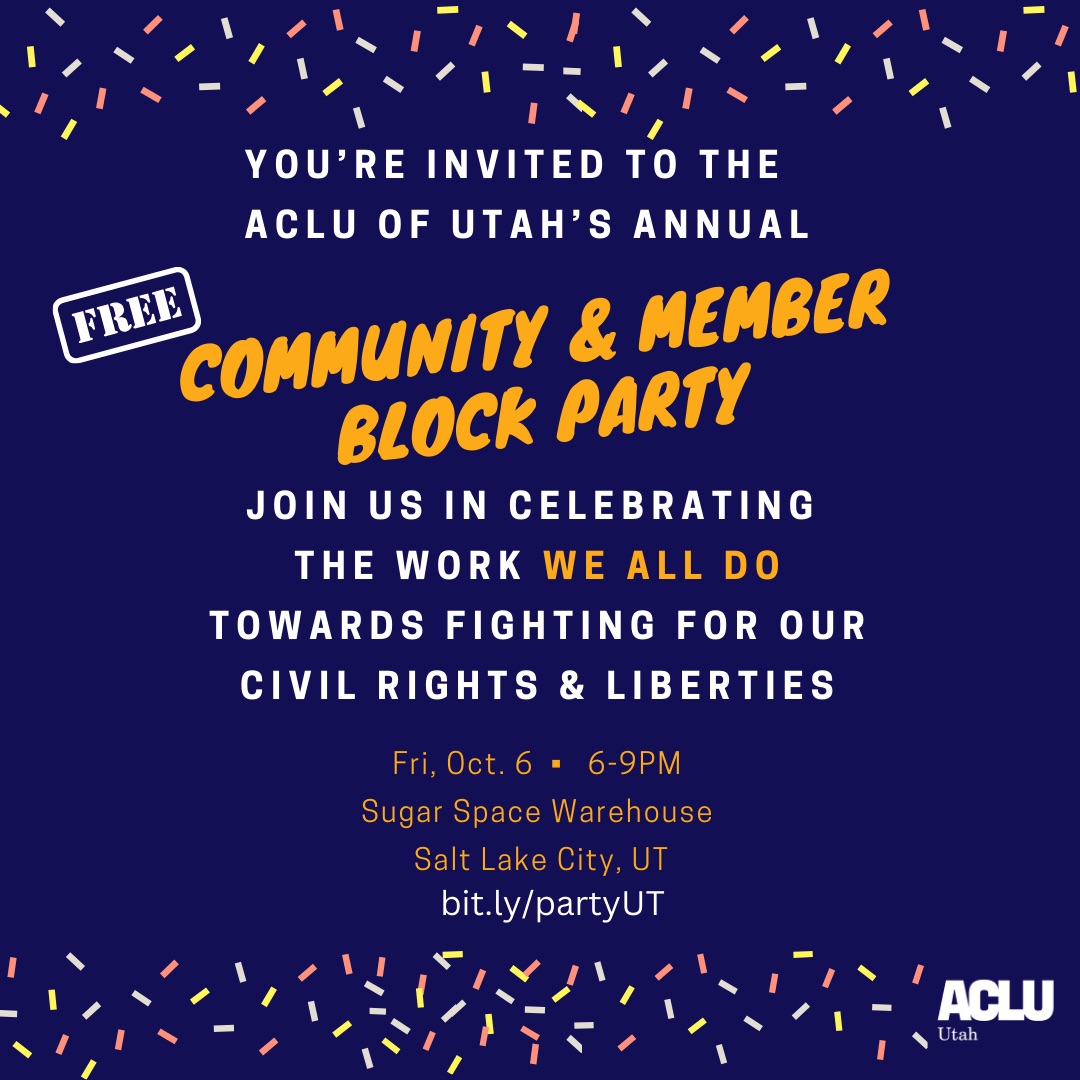 Saturday, October 7: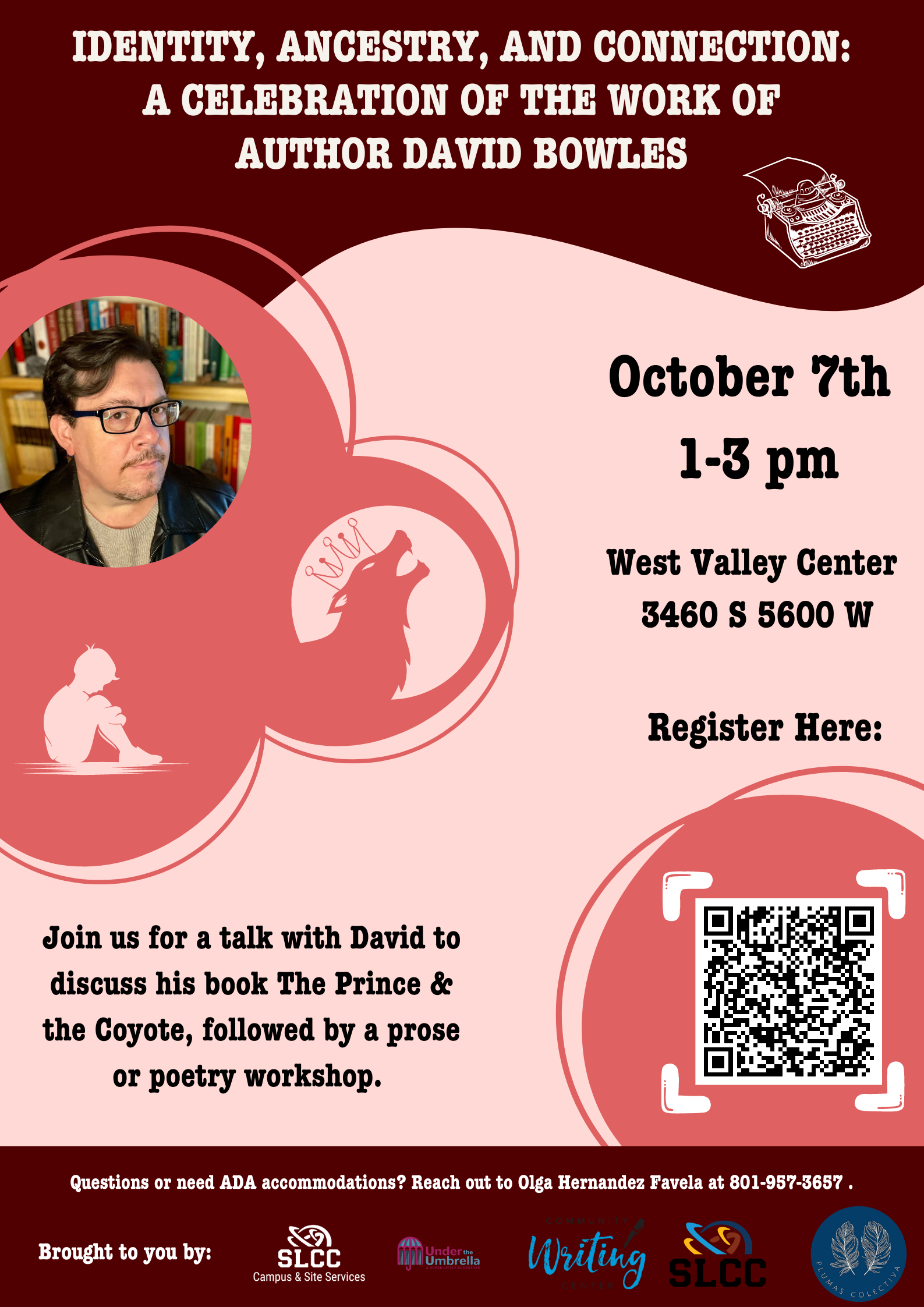 Tuesday, October 10: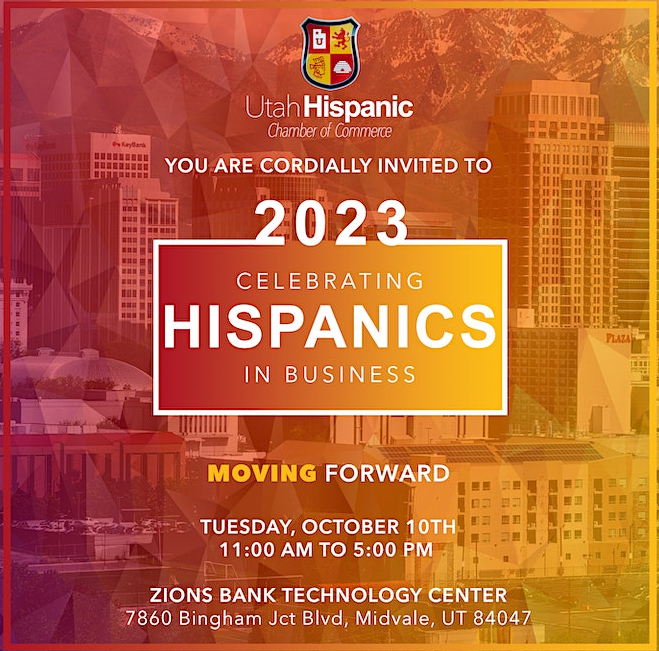 Deadline for applications to RDT's So You Think You Can Choreograph. "Calling all dance enthusiasts and aspiring choreographers! Are you ready to unleash your creative flair and imagination on the world? Join us as a choreographer for RDT's thrilling gala fundraiser, Regalia: So You Think You Can Choreograph? We are looking for a few brave souls (that are NOT dance professionals) to try their hand at being a choreographer. RDT's 2024 Regalia event will provide the perfect platform to share your passion for dance and make a difference in the lives of your community." For more details and to apply, click here.
Wednesday, October 11:
Stroller Rally, Pushing for Change for Child Care, 10a-12p at the Utah State Capitol. "On October 11th, kids from all over Utah will deliver a message to the Utah State Legislature: we need affordable and accessible child care! With federal emergency childcare funding winding down this fall, parents and providers are already feeling the strain. Centers are closing, tuition is increasing, parents are leaving the workforce, wages are stagnating, providers are being laid off, and families are facing tough decisions. It's time to recognize child care as a public good that requires public investment. Gather at the Utah State Capitol (350 N State St. SLC), on October 11 at 10 a.m. as we make some noise for childcare! We will meet on the south steps, have a rally, and then parade around the building, taking a quick lap inside to show the support for child care!"
Thursday, October 12:
Summit Land Conservancy's Annual Hoppy Hour, 6:00-9:00 p.m. at Wasatch Brew Pub, asdf. Park City. "What do you get when you brew 163 pounds of wild hops locally harvested from lands protected by the Summit Land Conservancy? Join us on October 12th at Wasatch Brew Pub to find out! Hoppy Hour is just around the corner, and we CAN'T WAIT to tap the kegs of the only beer that saves land with every pour! Come spend this special Thirsty Thursday with Summit Land Conservancy tasting the open space in this year's version of Clothing Hoptional. Because... beer tastes better when it's fresh! Tickets are $20 ahead of time or $25 at the door. (Make sure to leave the kids at home-- This event is for open space enthusiasts 21 and over!)."
Saturday, October 14: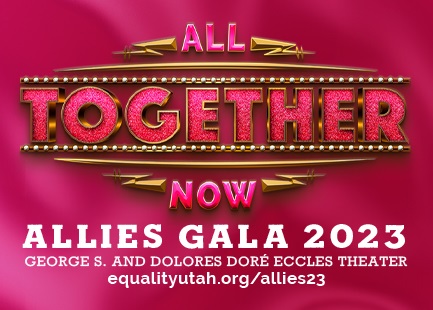 Equality Utah Allies Gala Ft. Indigo Girls, 6:00 p.m. at Eccles Theatre, 131 S. Main St., SLC. "Dinner and drinks included with ticket. Dress Theme: Western Americana Eleganza. Pull out your rhinestones, adorn your hats, and bring all the fun. Walk the runway in your best DIY to Cowgirl Couture." For tickets, click here.

, 1:00-3:00 p.m. at SLCC Community Writing Center, 210 E. 400 S. #8, SLC. "A deep dive into horror isn't only for those who have a taste for the ghoulish and the macabre. Monster stories from cultural traditions and pop culture inventions play a deeper part in our history and present than we care to admit. Come to this workshop to share, reclaim, and write monster stories from our cultural traditions from the zonbi to the windigo to La Llorona to the werewolf to the aswang and beyond. During this workshop, we'll also discuss cryptids and other pop culture monsters to discover what they say about the cultures that created them and what their stories may help us explore about our own monster writing adventures, terrors, and more. Cost: Free. Registration is required.
October 12-15: Damn These Heels Queer Film Festival, at Rose Wagner Performing Arts Center. 138 W Broadway, Salt Lake City. "Utah Film Center is proud to present its annual Damn These Heels Queer Film Festival 2023, October 12th-15th in person at the Rose Wagner Performing Arts Center in downtown Salt Lake City along with a selection of films available online starting October 15th. This year, Damn These Heels celebrates 20 years of entertaining and inspiring our local community with films, workshops, special performances, and guests that highlight queer stories, queer history, and queer joy. By walking in another's shoes, Damn These Heels symbolizes gaining a new perspective by experiencing another's journey."
Tuesday, October 17:
Thursday, October 19:
Silver & Sandstone, VOA Utah's Fall Gala, 6:30-9:00 p.m. at Natural History Museum of Utah, SLC. "Volunteers of America, Utah is thrilled to unveil our newly revamped fall gala, Silver & Sandstone. Formerly known as Silver Spurs, the updated name reflects a desire to host a celebration where we honor our community's resilience, strength, and natural beauty and surroundings. We hope you will mark your calendars and join us for an evening of fun and meaning, where we raise critical funds to support VOA Utah's important work." For tickets, click here.
Wednesday, October 25:
Saturday, October 28:
West Valley Arts Presents Day of the Dead, 11a-6p at Utah Cultural Celebration Center, 1355 W. 3100 S., WVC. "Join us for traditional Mexican dance & musical performances, traditional food, a beer garden, and a variety of complimentary, hands-on activities for the whole family. This year is going to be bigger and better than ever! You don't want to miss it! Find out more info at DayOfTheDeadUtah.com."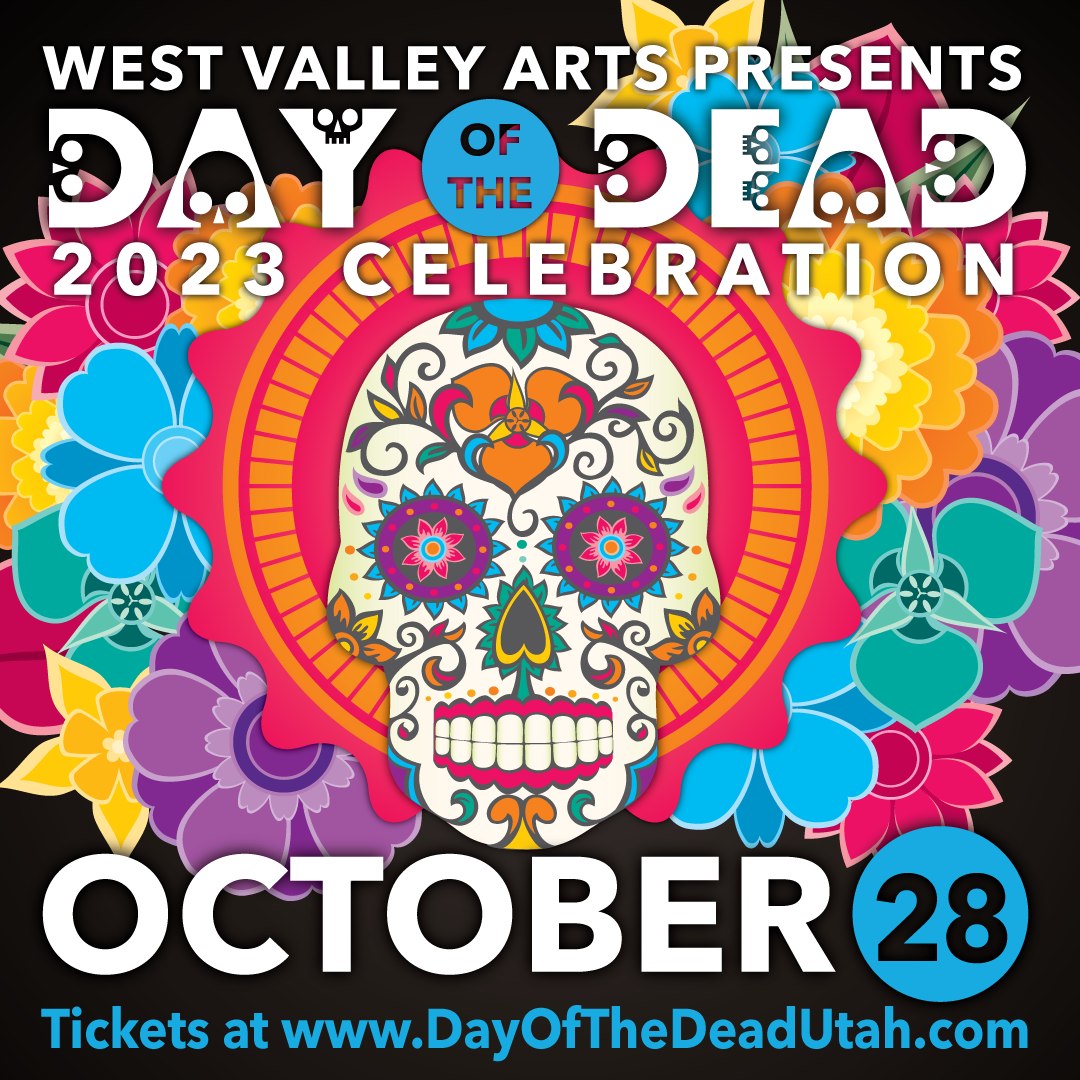 K.A.V.A. Talks 9th annual Heels 2 Heal, 12:00-2:00 p.m. at International Peace Gardens, 1160 Dalton Ave., SLC. "October is Domestic Violence Awareness Month! Each year on the last Saturday of this month, we invite men of all ages and backgrounds to participate in K.A.V.A. Talks Annual Heels 2 Heal 1 Mile Walk in high heels to raise awareness and funds for victims and survivors of Domestic Violence. This year will be our 9th hosting this community event! Heels or no heals all are encouraged to participate. Wear purple! You can bring your pets, walk as a family, or even as a business or organization to help us raise money for relief and direct services for our community members in need as well as connect individuals to the resources available like food, housing, employment, victim funding, etc.

All proceeds raised go towards our victim advocacy programming that directly assists victims, survivors and their families, with a focus on our Pacific Islander population." To register, click here.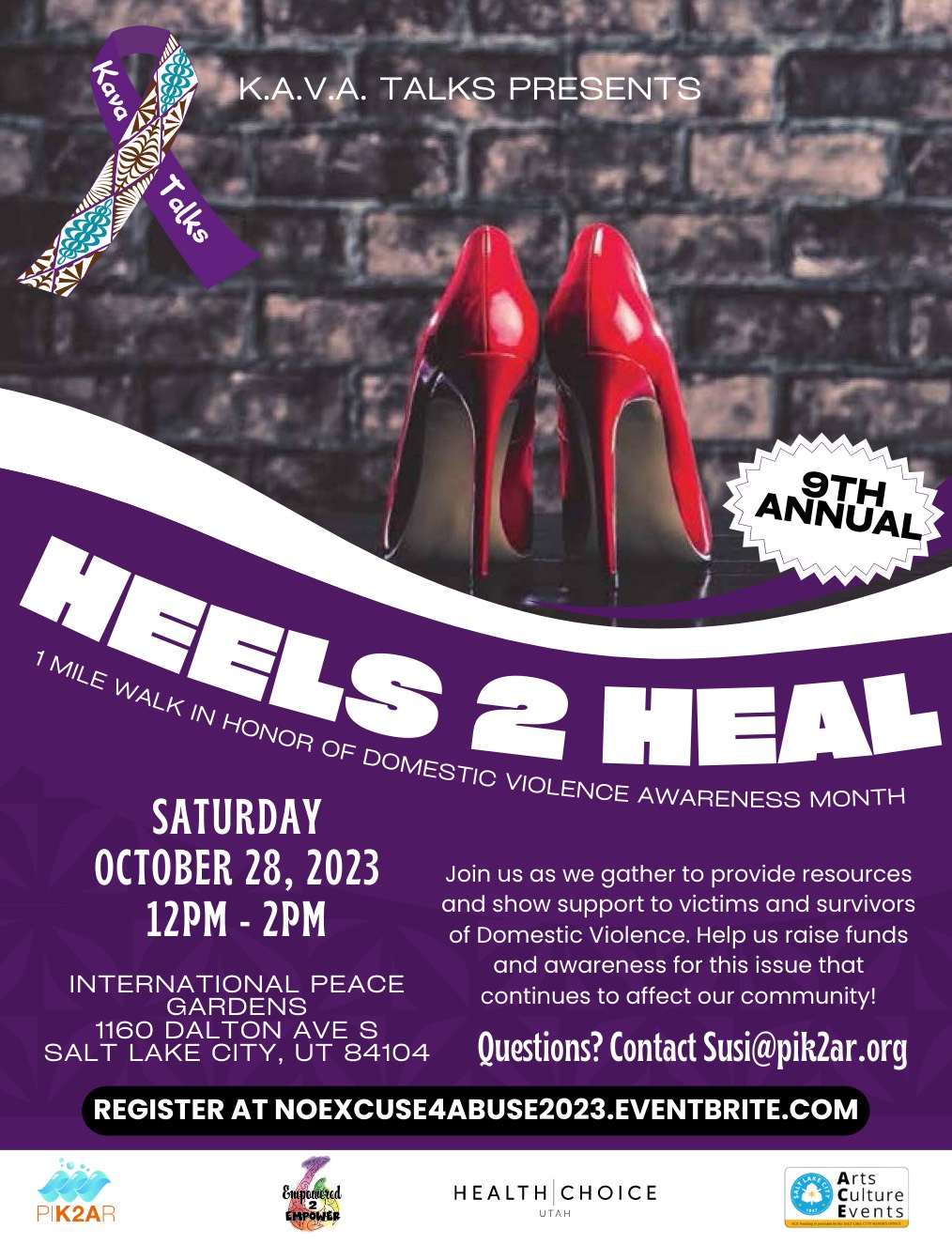 Thursday, November 2:
Wed-Thurs, November 15-16:
2023 Salt Lake County Watershed Symposium @ Utah Cultural Celebration Center 1355 W. 3100 S., WVC. Event by Salt Lake County Watershed Planning & Restoration: "Pressures on our watersheds are mounting. Climate change, development, water diversion, population growth, shrinking snowpack, loss of healthy ecosystems, and more. The Watershed Symposium provides a forum for varied perspectives on how to understand and address these issues. Free and open to all, this annual conference is one of the best opportunities to network and build relationships toward supporting a healthier watershed. Each year we welcome our community of water stewards and environmental advocates, including scholars, students, policymakers, organizations, and members of the general public. Together we are continuing the important conversations on watershed issues in our region." To RSVP for this FREE event, click here.
Utah Global Diplomacy's Annual Vivaldi by Candelight, 8:00 p.m. at First Presbyterian Church, 12 C. St., SLC. "Step into a musical time machine with us as we present a captivating journey through the ages in our Vivaldi by Candlelight concert! While the Baroque era is often said to have ended in the 1750s, tonight we challenge that notion. Prepare to be amazed as we explore the enduring legacy of Baroque music well into the 19th and 20th centuries, as inspired by dance forms from centuries past. It's not just an evening of extraordinary music—it's our signature fundraising initiative! Every ticket sold contributes to building bridges between Utah and the world, promoting mutual respect, understanding, and international goodwill." Tickets are on sale now and going fast.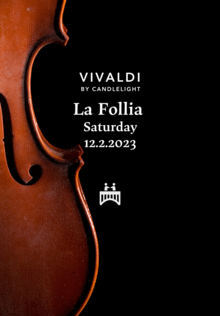 ###