A list of upcoming rallies and grassroots resources curated by KRCL's RadioACTive team. Featured events ≠ endorsement. Information adapted from public listings posted by organizers. All times Mountain unless otherwise indicated. Check with the organizer for the latest info on rallies and resources in this list.
♦♦♦♦♦♦♦♦♦♦♦♦♦♦♦♦♦♦♦♦♦♦♦♦♦♦♦♦♦♦♦♦♦♦♦♦♦♦♦♦♦♦♦♦♦♦♦♦♦♦♦♦♦♦♦♦♦♦♦♦♦♦♦♦♦♦♦♦♦♦♦♦♦♦♦♦♦♦♦♦♦♦♦♦♦♦♦♦♦♦♦♦♦♦♦♦♦♦♦♦♦♦♦♦♦
Looking for community resources and nonprofit links? Visit our CONNECT page. Don't forget to do your own research before donating time or money. Read: Before Giving to a Charity, FTC Consumer Advice.
Be prepared for spring runoff and related flooding:
Festival List (see more about each event under listings by date)
Friday, June 9:
Wild & Scenic Film Festival, 7:30 p.m. at Tracy Aviary at Liberty Park, 589 E. 1300 S., SLC. Event by Utah Film Center, Black Bold & Brilliant SLC and Tracy Aviary: "Outdoor Auntie and Utah Film Center's Black Bold & Brilliant SLC program are partnering with Tracy Aviary to present the Wild & Scenic Film Festival! Together, we are hosting a pre-Juneteenth celebration of adventure and exploration under the stars unlike any other programming currently offered in the state. Join us for this fundraising event to support Black, Indigenous, People of Color, and LGBTQ+ communities engaging with outdoor sports, public lands, and environmental activism with outdoor films and local vendors. Event is 21+ only. Can't attend the in-person event? The films will also be available online!" To purchase tickets for $15, click here.

Moab Pride Skate Night with @skatemoab from 7pm-10 pm at the Old Spanish Trail Arena (3641 S Hwy 191, Moab). All ages welcome! Roller and inline skates will be available to rent or bring your own!
Saturday, June 10:
Free Fishing Day! Today only. There are 57 community ponds located around Utah, and more information about each one can be found on the DWR website. Or visit the Fish Utah map on the DWR website to find a fishing spot with the qualities you're seeking. You don't need a license to fish on June 10, but the other fishing rules in Utah will still be in effect. Make sure you know the catch limits and other rules for the waterbody you are fishing. The rules are available in the 2023 Utah Fishing Guidebook. And wherever you go fishing on Free Fishing Day, remember to recreate responsibly by packing out what you pack in and keeping the area free of trash.

Guns to Gardens, a Safe Surrender Event, 9a-12 at Christ United Methodist Church, 2375 E. 3300 S., SLC. "Please join Gun Violence Prevention Center of Utah for our #safesurrender event, Guns to Gardens. All weapons surrendered will be broken down and crafted into beautiful and useful garden tools. This is a safe and easy option for getting rid of unwanted guns."

Heart & Soul Music Stroll, 3:00-8:00 p.m. along Atkin, Filmore and Glenmare Streets (1530 E. 2700 S.) in Sugar House. Event by Heart & Soul: "For the ninth year, Heart & Soul, along with the neighbors surrounding Imperial Park, will present our incredible, free, one-day music festival. Forty musical acts will perform on 15 porches, driveways and lawns—or on our main stage—throughout this Sugar House neighborhood (along with an ocean of food trucks). Join us as Heart & Soul celebrates 29 years of bringing the healing power of music to isolated neighbors along the Wasatch Front. Heart & Soul is a small nonprofit that brings live music to those who find it difficult if not impossible to attend a live performance on their own. Heart & Soul brings hope, healing and joy through live music and the performing arts to people living in institutions or otherwise isolated. We provide over 1,300 live musical performances a year in care communities in 13 throughout the state of Utah."
Los Muros on Main: Midvale City Mural Festival, 4p-9p, Midvale Main (7505 S Holden Street, Midvale)

"Get ready to be blown away by the power of paint and creativity at our 2nd annual Los Muros on Main: Midvale City Mural Festival! Join us as we continue to transform Main Street into a jaw-dropping canvas of imagination and wonder. But this isn't your average art show. Our festival is a full-on celebration of Midvale's thriving arts and culture scene. We're talking stunning murals that reflect the unique styles and visions of each artist, a beer garden to quench your thirst, live music to groove to, a small business pop-up marketplace to shop from, and food truck vendors to keep you fueled up and ready for action."

Helper Pride Event from 5pm-10:30pm on Helper Utah's Historic Main Street

Pride without Police from 2pm-10pm at Fairmont Park (1040 E Sugarmont Dr., SLC) *Masks Required*

June Pride Queer Market Join Under the Umbrella Bookstore (511 W. 200 S. Suite 120, SLC) from 12pm-5pm for this pride pop-up market! Also happening on June 24th. *Masks Required*

Hunstman Sportsfest activities are held at or start/finish at the Fort Douglas area of the University of Utah campus, and cheers ring out across Fort Douglas Field as the wheels and feet of friends and family cross the finish line. Celebrate your achievement with everyone at the Finish Line Festival with food, drinks, fun music, giveaways from sponsors, games, and a kid's zone play area. Join as an individual, a family, or a team on June 10 and support a day to eradicate cancer.
Sunday, June 11:
Urban Flea Market 10-4 p.m. at The Gateway,18 N. Rio Grande, SLC. "The Urban Flea Market is a year-round market and is a great opportunity for attendees to shop, browse and enjoy the experience of a Sunday in downtown Salt Lake City. It also provides a great community outlet for vendors to sell items that will be treasures for others.

The Urban Flea Market is held year-round on the second Sunday of every month. Admission: $3 per adult; children 12 and under are Free. Free parking in the Gateway North Garage parking structure."

SLC Food Fight 2.0 6pm-9pm, Publik Coffeem, 975 S. West Temple "Join us and 25 of SLC's favorite local restaurants and vendors for a night of good food, music and great company with the goal of raising money to support reproductive rights in Utah. Each restaurant will have a delicious dish for you to try and other members of our local culinary and beverage community offering up bites and pouring drinks. In addition to food and drink we'll also have some amazing raffle prizes available that have been generously donated from local businesses. ALL funds raised will go directly to organizations that support reproductive services here in Utah through Planned Parenthood and the Utah Abortion Fund."
Sat-Sun, June 10-11:
Ogden Arts Festival, Saturday – 12pm to 9pm, Sunday – 12pm – 6pm, Union Station, 2501 Wall Ave, Ogden. "Over 100 regional and local art vendors including some never-before-seen at the Ogden Arts Festvial will be taking over Union Station inside and out! The Ogden Arts Festival is set to bring artists, creatives and entertainers to Ogden, UT on June 10th and 11th. Returning to the historic Union Station located in the heart of downtown, the event is complete with artist booths, chamber music, cultural dance groups, bands, buskers, theater, kid's activities, competitions, and food vendors."Adults – $5 in advance, $10 at the gate. Under 18 Free!
Tuesday, June 13:
Salt Lake Film Society screening of Boycott, 7:00 p.m. at Broadway CEnter Cinema, 111 E. Broadway, SLC. "In 2018, when speech pathologist Bahia Amawi received a new contract with Pflugerville school district in TX, she was shocked to find a new clause in it: a mandatory pledge to not boycott Israel. Bahia refused to sign. Instead, she challenged TX's anti-boycott law in court. BOYCOTT. ONE NIGHT ONLY! TUESDAY 6/13 AT 7 PM. Includes a Q&A with Utah State Rep. Brian King on Utah's anti-boycott law SB 97 immediately following the screening. Get tix now > https://buff.ly/3IQ8yFY"
Wednesday, June 14: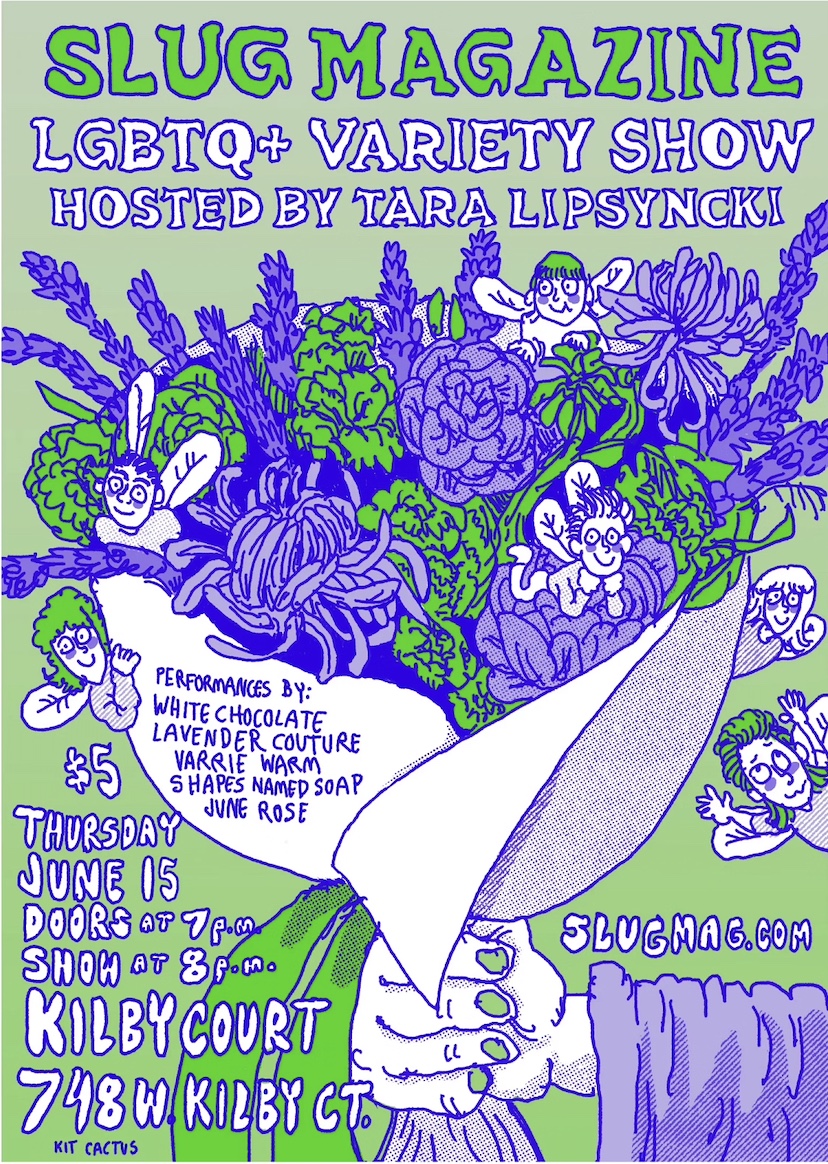 Thursday, June 15th:
SLUG Magazine LGBTQ+ Variety Show, 7:00-10:30PM, Kilby Court, 748 W. Kilby Ct. "One-of-a-kind, all-ages variety show featuring up-and-coming young'uns in Utah's LGBTQ+ community. The show is hosted by Tara Lipsyncki at Kilby Court on Thursday, June 15. Doors open at 7 p.m. and performances start at 8 p.m. Don't forget to bring cash to tip your performers!"

Friday, June 16:
The Bellwether International Bridging the Religious Divide Symposium, 9:00 a.m. at Little America Hotel, 500 S. Main St., SLC. Event by Utah Council for Citizen Diplomacy: "This symposium aims to bring leading experts, academics, policymakers, researchers, authors, and activists together to explore the complexity and intersectionality of this topic through the following subthemes: reconstruction of the term 'Religious Freedom' on a global scale; preventing religious threats that lead to extremism in the United States; and building bridges across faiths by understanding and respecting difference. For more details, such as speakers and program, visit: https://bit.ly/bridgingthereligiousdivide."

UFC Summer Outdoor Film Series, feat. Little Richard: I Am Everything, at Liberty Park, 900-1300 S. 500-700 E., SLC. Event by Utah Film Center: "Are you ready for summer fun in the sun? Utah Film Center is ready to rock into the warmer weather with films at Liberty Park that'll make you sizzle with enjoyment! Join us for a deep dive into riding whitewater in the world's deepest canyon, a fearless shell looking for a home, comic book nerds looking for love, and an Australian environmentalist with a big heart and a bigger fishy friend. We're also exploring the magic of cinema, legendary rock and soul icons, and two volcanologists and a breakdance crew that is hotter than St. George in August. See the summer movie lineup and RSVP at utahfilmcenter.org/outdoor." FREE

Nature is Queer, at Under The Umbrella Bookstore, 511 W 200 S, Suite 120, SLC. 5pm-7pm. "See special objects from the Biology, Paleontology, Anthropology, and Entomology (bugs) collections that exemplify the many ways Nature is Queer; talk to an educator about gender expression and gender roles in plants, animals, and Indigenous cultures of the past and present; and get a chance to express yourself with hands-on activities! Masks are required in the store and air purifiers will be running throughout the event."
Saturday, June 17:
SLUG Mag's Brewstillery at 230 500 W Ste. 125, Salt Lake City. 2-7pm "Celebrate Utah's breweries and distilleries by offering tastings of local beer and spirits. Featuring local food trucks, local artisans and crafters and local music—this all-ages event has something for everyone to enjoy. Purchase a Planned Parenthood commemorative mug to have a part of the proceeds go directly to Planned Parenthood of Utah and help support their goal of delivering vital reproductive health care, sex education, and information to thousands of people statewide. Cost for the event is $25 for pre-sale, $30 day-of, $7 for non-drinkers and kids 12 & under free. $30 for pre-sale and $35 day-of for the Planned Parenthood commemorative mug."
Fri-Sat June 16-17:
Fork Fest, Art Dye Park, 1200 N 550 E st. American Fork. "Fork Fest is the premiere annual showcase of Utah bands presented by Harrington Center for the Arts and Velour Live Music Gallery. June 16-17, 2023 will bring thousands of patrons to American Fork's Art Dye Park for a full day of music acts with 32 bands across 3 stages–two large concert stages as well as a smaller, acoustic stage. The festival features numerous attractions with food trucks, art installations, a hammock hangout, bounce houses, and a vendor village withbooths highlighting local artisans and craftsman."

Thursday, June 22:
Acoustic Music Stroll on the Jordan River Parkway, presented by Buskerfest 2023. "Enjoy the tunes from our roster of musicians. Bring your dogs, friends, kids, bikes, skates and smiles to enjoy the magic of our westside neighborhoods: June 22, above Constitution Park (1300 W. 300 N., SLC). The Strolls are designed to be casual, not socially taxing, and open to all members of the community. We focus on sections of the Parkway that are walkable and accessible. Along these routes, 8 - 10 acts are scheduled to perform as the audience moves through the show."

4th Annual SLCC Pride Picnic from 3pm-6pm, South City Campus Student Center (1575 State Street, SLC). Lots of great food and organizations and people to mingle with this summer. Come celebrate Pride 2023 with your community and yummy food!
Thurs-Sun, June 22-25:
Davey Fest 2023 at Brewvies Cinema Pub, 677 S. 200 W., SLC. Event by The David Ross Fetzer Foundation for Emerging Artists: "The 10-year anniversary of The Davey Foundation, featuring short films and filmmakers supported by The Davey Foundation over the last decade. For the last ten years, The Davey Foundation has supported emerging filmmakers through grant funding, equipment lending, screening opportunities, and mentorship with established filmmakers. This film festival will screen the films supported by The Davey Foundation over the last decade, as well as the feature "Must Come Down," starring David Ross Fetzer, the actor and filmmaker whose memory is honored through The Davey Foundation. Join us for five events over a four-day weekend at Brewvies Cinema Pub (21+). Tickets and full schedule available at daveyfest.org.

Thu, June 22, 7:30pm: feature film, "Must Come Down"
Fri, June 23, 7:30pm: New Shorts Showcase
Sat, June 24, 3:30pm: Retrospective Shorts I
Sat, June 24, 5:30pm: Sundance Film Festival Showcase
Sun, June 25, 2:30pm: Retrospective Shorts II

Davey Fest 2023 is supported by Utah Film Commission, Utah Film Center, Salt Lake City Arts Council, and Salt Lake County ZAP.
Fri-Sat, June 23-24:
Strength in Shades Juneteenth Day of Freedom at Publik Coffee Roasters, 975 S. West Temple St., SLC. Fri 6-9PM includes paint night, poetry, food and black-owned vendors to shop and support; Sat 10A-2P features IPOC + women-owned market with music, door prizes and face painting.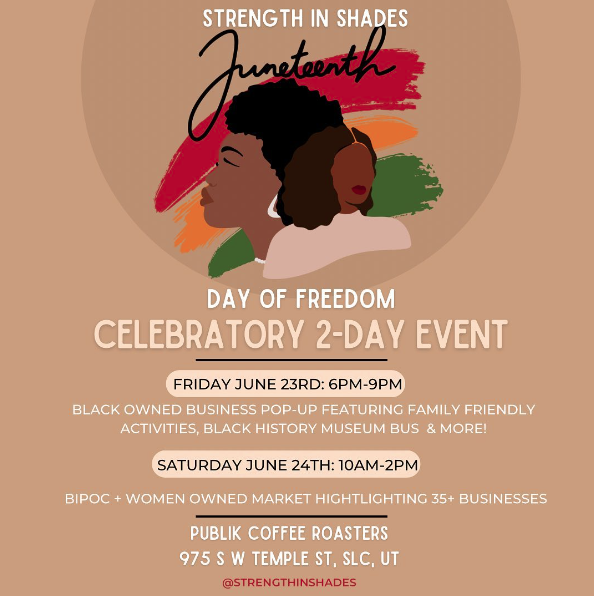 Fri-Sun, June 23-25:
Utah Arts Festival, Library Square, 200 E. 400 S., SLC. "The Utah Arts Festival is the largest outdoor multi-disciplinary arts event in Utah with attendance hovering over 70,000 each summer. Having garnered numerous awards internationally, nationally and locally, the event remains one of the premiere events that kicks off the summer in Utah each June."
Sunday, June 25:
Park City Pride Picnic from 11am – 2pm at Library Field (1255 Park Ave, Park City). There will be food, drinks and a gender-affirming clothing swap!
Monday, July 24:
Fri-Sun, Aug. 4-6:
Saturday, August 12:
Saturday, August 5:
Fri-Sun, Aug. 11-13:
The 15th Annual Craft Lake City DIY Fest at the Utah State Fairpark, 155 N. 1000 W., SLC. "Utah's largest local-centric art, music, science and technology festival. We are celebrating our 15th Anniversary with our biggest fest yet with over 350 local artisans, vintage vendors, foodies, youth entrepreneurs, performers, & STEM exhibitors over three days the second weekend of August at the Utah State Fairpark!"
Saturday, August 26:
2023 Poverty Summit, 9a-10 at St. Mark's Cathedral, 231 E. 100 S., SLC. Event by Crossroads Urban Center: "Join a community of caring and friendly people as we learn about the causes of hunger and homelessness in Utah and policies that could reduce those things. The poverty summit is free and open to all. Learn more at: www.crossroadsurbancenter.org."

, 10a-8p at Sunset Central Park, 85 W. 1800 N., Sunset City. "This is the 3rd year of Sunset City's one-of-a-kind event combining Mental Health advocacy and awareness with arts and crafts! Two peas in a pod. Mingle and meet with N. Utah nonprofit organizations and find resources for you and your loved ones, while also browsing local arts and crafts vendors. Cuddle with therapy dogs, play free lawn games, bounce down an inflatable slide for free all day, take a speed painting class, take a ride and get to know Horses Valhalla, eat from a diverse array of food trucks, see live local entertainment, get turned into a unicorn by a talented local face painter, and more!"
###