KRCL 90.9 Job Announcement: Executive Director
KRCL community radio champions building a more socially engaged Utah through locally-driven programming that promotes music discovery and civic participation.
KRCL 90.9 community radio seeks a community-connected, energetic and innovative Executive Director to lead the station into its next chapter of public service. Broadcasting in Utah since 1979, KRCL provides a hand-curated mix of music and civic engagement programming centered around Music Discovery and Community Amplified. KRCL serves 75,000 weekly listeners on-air throughout Utah, and our stream at krcl.org and the station's mobile app connect us around the world. Time spent per listener has quadrupled in the last year and we have just created the best broadcast space we've ever had. It's a great time to join this well-established station that enjoys a cooperative and supportive culture. KRCL enjoys strong community support and is located in Salt Lake City, one of the fastest growing and scenic cities in the country.
The Executive Director is guided by a Board of Trustees and a Community Advisory Board and manages a paid staff of 15 along with 40 on-air DJs and a corps of off-air volunteers. The Director ensures that the technical, legal, financial and operational requirements of KRCL as a community broadcaster and a 501(c)3 organization are followed. The position serves as the public face of KRCL, spearheading collaborations with nonprofit partners, government agencies and academic institutions as well as securing visibility through relationships with local broadcast, digital and print media organizations.
____________________________________________________________________
KRCL Executive Director Position Description
Full Time – Exempt Position
Reports to: KRCL Board of Trustees / Direct reports: full-time, part-time and volunteer staff
KRCL Mission
KRCL 90.9 community radio champions building a more socially engaged Utah through locally-driven programming that promotes music discovery and civic participation.
Job Summary
The Executive Director is responsible for the overall leadership and strategic vision of the station, including management of all areas (content, engineering, accounting, community engagement, HR, development and fundraising) while ensuring that all activities are in accordance with the station's mission and vision. Working with the Board of Trustees, the Executive Director provides strategic leadership by developing and implementing the station's strategic plan and provides monthly reports to the Executive Committee and Board of Trustees on the fiscal and operational status of the station. The Executive Director oversees a $1.2 million annual operating budget, and ensures that ongoing fundraising goals are met through all sources. The Executive Director serves as an ambassador to the community, acting as the public face locally as well as nationally through member station-supported networks (NFCB, Greater Public, NPR). As an essential service public broadcaster, KRCL broadcasts to the public 24/7. The Executive Director must be willing and able to respond to emergencies during evening and weekend hours as needed.
KRCL's Vision
KRCL just moved into the Guadalupe Neighborhood of Salt Lake City, blocks from the city's growing downtown center. Our new facility expands the studio space to better accommodate content creation and in-studio performances. It also locates us in a vibrant, growing artistic neighborhood that will nurture our mission and help KRCL remain vibrant and relevant into the future. This new studio will either be expanded to accommodate all of our administrative needs or there is an opportunity to build a separate KRCL-owned facility that would be a more visible and vibrant hub for touring artists, local musicians and community partners for live music events, lectures and gatherings. Such a project would require a capital campaign interfacing with foundations and other philanthropic groups. We estimate this capital campaign would be in the modest $2M - $3M range and that it would only begin after the new Executive Director is settled in and a dedicated capital campaign committee is established.
Qualities of KRCL's Executive Director
The successful candidate should have the following qualities:
• Understanding of and love for community broadcasting
• Superior and confident communication skills (listening, verbal, written)
• Detail-oriented management of the budget
• Strategic and visionary thinking
• Decisive management of a creative team
• Ability to shape and lead organizational culture in positive and inclusive ways
• Understanding of emerging technologies and the challenges and opportunities of the current media landscape
• Emotional maturity and discretion
• Compassion, respect and kindness in working with a staff and community with a diversity of backgrounds and life experiences
• Strong organizational skills and the ability to delegate and multi-task numerous projects at different levels
Experience and connections locally and nationally in fundraising and foundation philanthropy, desirable.
Compensation
• Salary commensurate with qualifications and experience
• Benefits include employer-paid health and dental insurance, PTO (vacation/sick), holiday pay, and 3% retirement match through Fidelity Investments
KRCL is an Affirmative Action/Equal Opportunity Employer. Women and people of color are encouraged to apply. To apply, send a cover letter, salary requirements and resume to job@krcl.
*Please, no phone calls, messages or emails. Position will be posted until filled*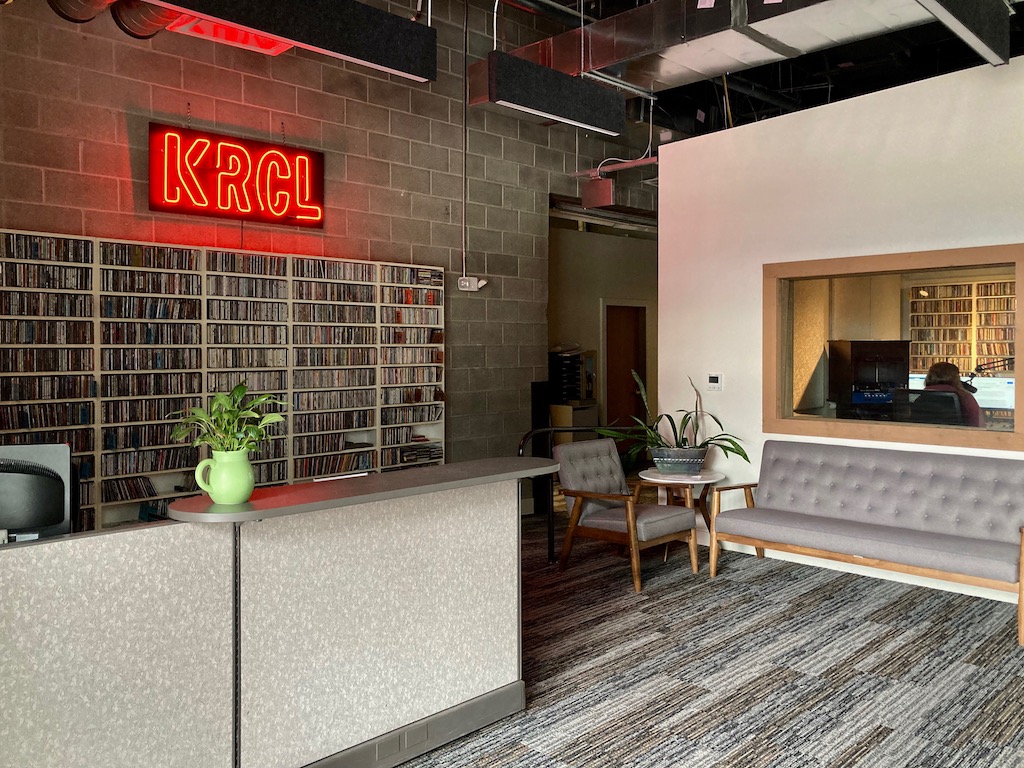 Individuals with interest in working at KRCL are encouraged to check this page regularly. Please do not send unsolicited resumes or requests to be informed of future job postings.