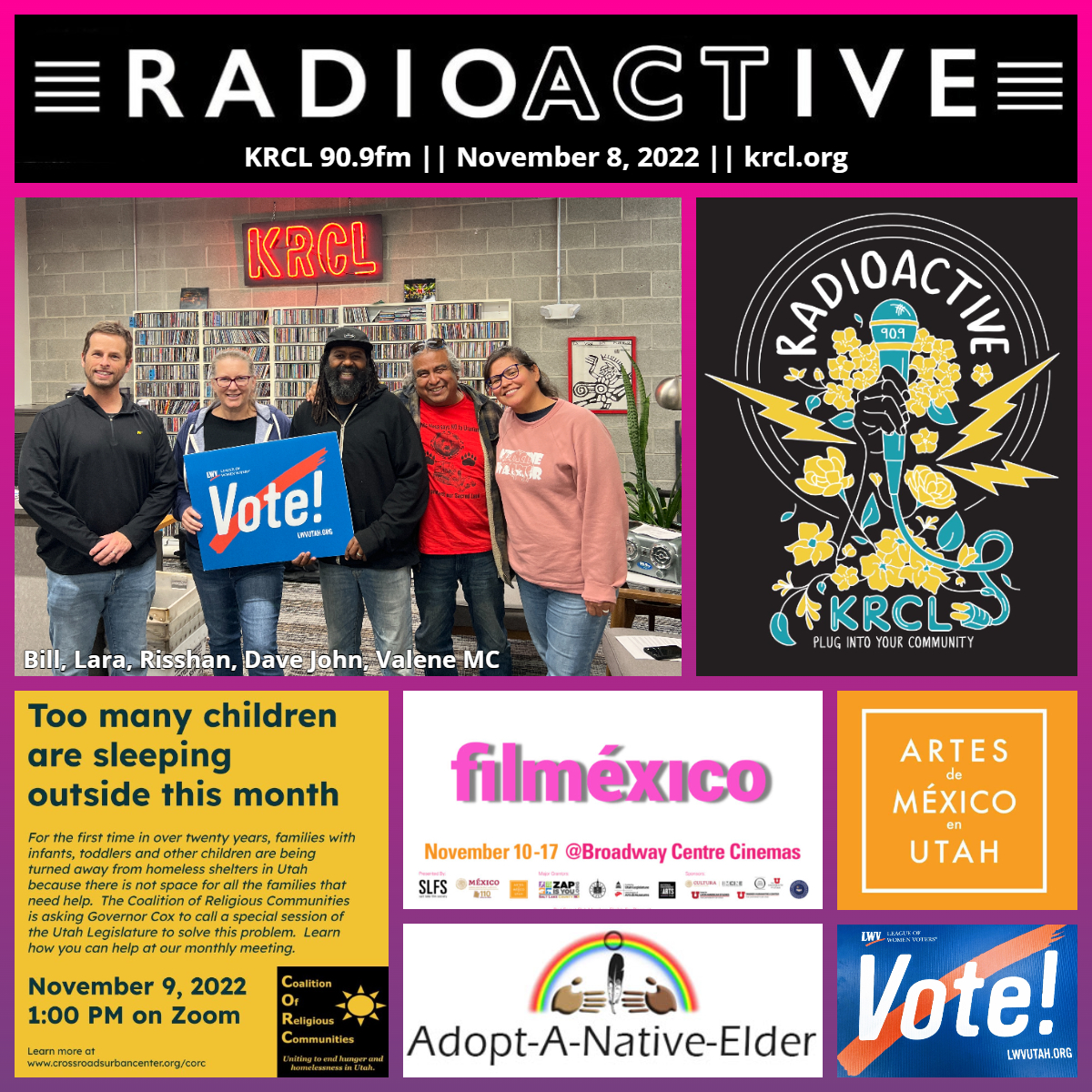 Roundtable Tuesday panel on art, movies and culture through an Indigenous lens. Featuring film director Robert Hunter and Valene MC and Dave John of KRCL's Living the Circle of Life. Plus, the 11th annual Filmexico, Adopt-a-Native-Elder annual rug sale, and CORC's call to lawmakers to offer more aid to our unsheltered relatives this winter.
Tonight's show featured the following people, organizations and/or events. Check them out and get plugged into your community!
Bill Tibbitts of Crossroads Urban Center and Coalition of Religious Communities, which tomorrow will call on Utah Gov. Spencer Cox and the Utah Legislature to step up and take care of unhoused community members with a special session.
Fanny Guadalupe Blauer of Artes de México en Utah, which is co-sponsoring a film festival with the Salt Lake Film Society.
Nov. 10-17: Filméxico 2022 kicks off Thursday with an exciting lineup that highlights both acclaimed filmmakers and emerging voices from contemporary Mexican cinema. Tickets are now available. Info on films and schedule at www.slfs.org/filmexico. Tickets for in-theater screenings at www.slfstix.org. "Join us for our opening night live Q&A with director Melissa Elizondo Moreno, following a screening of The Sower (El Sembrador) on Thursday November 10. The film begins at 7:00 pm with a live Q&A afterward. We will also have a live Q&A following Mending The Heart (Remover El Corazon) on Friday. Director Melissa Elizondo Moreno will take questions along with local filmmakers of The Bow (El Moño)." Amazing panels and some of the films will be available virtually starting Friday, Nov. 11, on SLFSathome.org.
CJ Robb of Adopt-a-Native-Elder, a nonprofit that serves to help reduce extreme poverty and hardship facing traditional Elders living on the Navajo Reservation.
Nov. 11: 2022 Adopt-A-Native-Elder Navajo Rug Show & Sale, online. "The Show will be held virtually and will be hosted on the Adopt-A-Native-Elder website, www.AnElder.org. This year's theme is "Weaving Sacred Canyons." In addition to more than 40 theme rugs woven only for this year's Rug Show, Navajo weavers have submitted more than 400 weavings that will be available during the show, including traditional rug designs, pictorial rugs, ceremonial rugs, and handspun masterpieces."
Roundtable Tuesday panel on art, movies and culture through an Indigenous lens. Featuring:
Director of Photography, Robert L Hunter (Blackfeet, Shoshone-Paiute and Washoe), a visual storyteller currently based in Tongva and Chumash territories, otherwise known as Los Angeles, CA. Robert, shared about his journey as an Indigenous filmmaker which included graduating from Salt Lake Community College Photography program to attending the premiere filmmaking program at American Film Institute. Robert also shared exciting news about Hallelujah, which he was credited as Director of Photography for the Sundance 2022 short film selection. Learn more about Hallelujah from a previous RadioACTive discussion.

Valene MC and Dave John of KRCL's Living the Circle of Life.
Guests' views, thoughts, or opinions are their own and do not necessarily reflect those of the board, staff, or members of Listeners' Community Radio of Utah, KRCL 90.9fm. Tonight's RadioACTive team included:
###