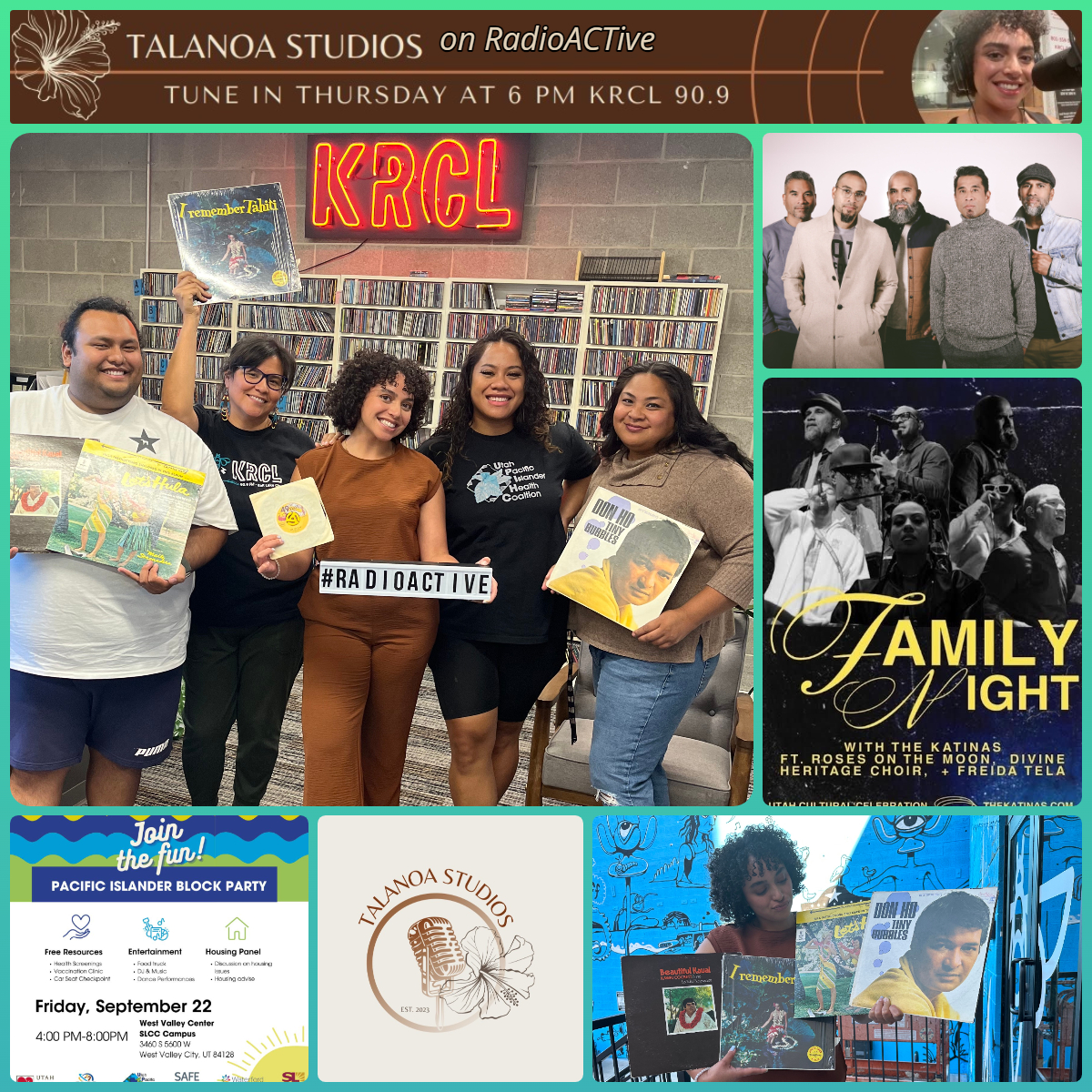 RadioACTive, the Talanoa Way with Stephanie Mahina. Tune in and dive deep into Utah from a Pasifika perspective and sit down to talk story with The Katinas and Lisia Satini + Celeste Vaifo'ou of the Utah Pacific Islander Health Coalition.
Tonight's show features the following people, organizations and/or events. Check them out and get plugged into your community!
KRCL's Record Sale is headed out on tour. Join us this Saturday at the 9th & 9th Street Festival, in Liberty Park from 10:00 a.m. to 6:00 p.m. Look for the Golden Crate to find some of the Talanoa Way picks we share in tonight's show:
Song: Kupa Landing || LP: "Beautiful Kauai" by Kawai Cockett & the Lei Kukui Serenaders || Label: Hula Records (1969)

Songs: "To Reo Iti Maru" and Upaupa Umeume" || LP: "I remember Tahiti" by Eddie Lund and his Tahitians and MILA || Label: Tahiti Records (Year unknown but likely 1950s-60s)

Song: "Holoholo Ka'a" || LP: "Let's Hula" by The Maile Serenaders || Label: Hula Records (1962)

Song: "Kawika" || LP: B Side of 7-inch, "KAWIKA Ancient Hawaiian Chant" by Emma Kahelelani Bishop || Label: 49th State Hawaii Record Co.

Song: "Love Song of Kauai" || LP: "From the Start" by Maile Aloha Singers || Label: Sinergia (1974)

Song: "Tiny Bubbles" || LP: "Tiny Bubbles" by Don Ho || Label: Reprise Records (1966)
Brothers Sam, Joe, James, John and Jesse of The Katinas preview their upcoming concert in SLC.
TICKETS: Sept. 18: Family Night with The Katinas, 6:30-8:30 p.m. at Utah Cultural Celebration Center, 1355 W. 3100 S., West Valley City. Event sponsored by Pacific Island Knowledge 2 Action Resources: "Come join PIK2AR for Family Night. The Katinas are a popular family group whose music has been a favorite of many of our community members. We hope you'll join us for a wonderful evening! The Katinas will also be supported by some amazing local acts such as Roses on the Moon, Divine Heritage Choir, & Freida Tela. Children 8 and under enter for free, so bring the whole family!" For tickets, click here.
Lisia Satini and Celeste Vaifo'ou of the Utah Pacific Islander Health Coalition, which was founded in 2011 to reduce health disparities and increase access to affordable and culturally responsive wellness services for Utah Pacific Islanders.
Talanoa Rallies + Resources:
NuaNua Collective is hosting a Healthy Relationships Workshops focused on the LGBTQIA+ Youth, and it's kicking off Tonight, Thursday (09/14) at 7:00 pm. This is an ongoing series that will happen every Thursday! Check out their ig for more information that's @nuanua.collective on insta
9/16- 9th & 9th Street Fair will be happening 10 am -6 pm, come say hi to the KRCL family and check out the treasures we have found for you all

9/16- Burning Sissy Valley "Pop up Market" @ Kearns Library 11am- 4 pm

9/16- USA Rugby vs Stade Toulousain 7pm at the Utah First Stadium in Sandy -

Tongan rugby start Roy Helu will be inducting into the USA Rugby Hall of Fame, tune in next week for a special interview with Roy himself, as I will be in attendance to catch up with him and this momentous occasion (https://www.usrugbyfoundation.org/hall-of-fame-members/roy-helu)

You can buy tickets through Seat Geek, this is an incredible event and very big for the Rugby world

9/18 "Family Night with The Katina's" at The Utah Cultural Celebration Center in WVC 6-9 pm, you can reserve your tickets on eventbrite, we will link in the show notes

9/19 & 9/20- "Red White and Brass" screening Khyris Tonga Foundation - Speaking of RUGBY, this film is about a Tongan kid trying to take a band to the Rugby World Finals in France, and gets a band together so he can attend his dream sporting event! This event is a two day event at the WVC Cinemark!

9/22: Pacific Islander Block Party, 4:00-8:00 p.m. at Salt Lake Community College, 3460 S. 5600 W. West Valley City. Event by Utah Pacific Islander Health Coalition - UPIHC: "Free health screenings, vaccination clinic, car seat checkpoint; food trucks, DJ & music, dance performances; housing panel discussion and housing advice." FREE!

9/23- Mana Wahine Rising hosting an Event at Kearns Library rediscovering time through the Kaulana Mahina or Hawaiian Moon calendar check out manawahine rising on ig for more details and upcoming events
Guests' views, thoughts, or opinions are their own and do not necessarily reflect those of the board, staff, or members of Listeners' Community Radio of Utah, KRCL 90.9fm. Questions, comments or suggestions for the show? Email talanoastudios@gmail.com. Tonight's RadioACTive team included:
###