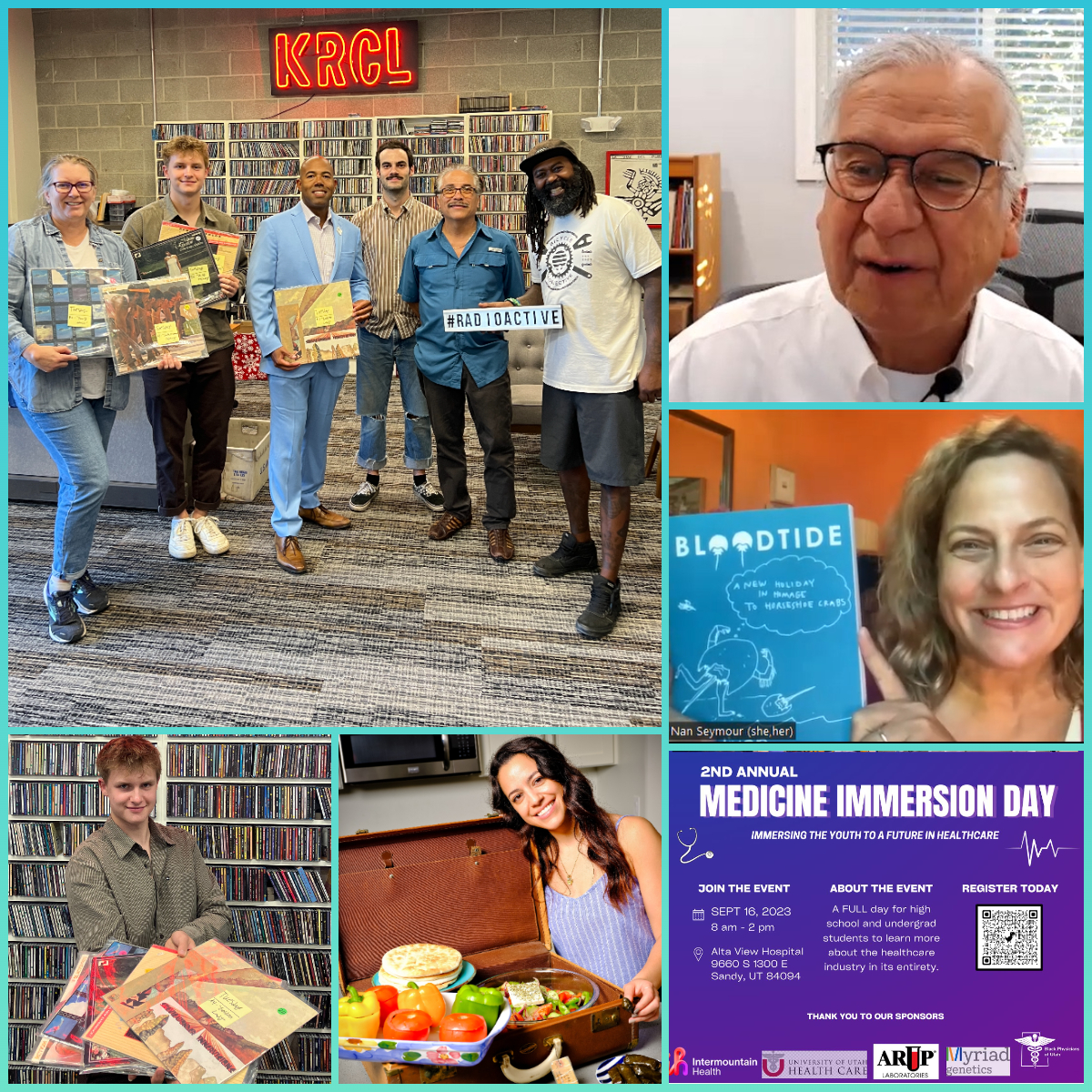 Black Physicians of Utah return to talk about diversity in medicine and what happens when that quality is lacking in education and practice. Plus, Invisible No More, Making Waves for Great Salt Lake, and more Crate Digging 101!
Tonight's show features the following people, organizations and/or events. Check them out and get plugged into your community!
Crate Digging Part 2, featuring KRCL Intern Quinn Shumway's latest finds in advance of KRCL's 909 Day Block Party and Record Sale. Tonight's featured picks:
Song: "Supernatural Lady" || LP: "Action" by The Blackybyrds || Label: Fantasy Records (1977)
Song: "You & Music" || LP: "Places and Spaces" by Donald Byrd || Label: Blue Note
Song: "Oh, By the Way" || LP: "Come to My Garden" by Minnie Ripperton || Label: Janus Records (1974)
Song: "Breezin" || LP: "Breezin" by George Benson || Warner Bros. Records (1976)
Song: "Golden Lady" || LP: "Innervisions" by Stevie Wonder || Label: Tamla/Motown Records (1973)
Prof. Armando Solórzano on Invisible No More: Latinxs Dignity March in Utah, a photo documentary exhibit on display now through Oct. 15 at Mestizo Coffeehouse in SLC. In commemoration of Hispanic/Latinxs Heritage Month 2023, this photo-travel exhibit is the work of five Latinx photographers who captured more than 5,00 images of the march, which nearly 50,000 people attended. Solórzano collected the speeches made by city officials, religious leaders, and community members at the march, as well as an archive of interviews, newspaper clippings, and an analysis surrounding the event. The exhibit depicts the different actors, laws, motives, and accomplishments of the march. Each of its 60 frames contains four or more pictures, including a caption in English and Spanish.
Poet Nan Seymour with an invitation to join her for a day of art making in support of Great Salt Lake.
Sept. 8: Making Waves for Great Salt Lake Family Art Hour, 3:30-5:30 p.m. at Day-Riverside Branch, Salt Lake City Public Library, 1575 W. 1000 N. "Create flocks, flags, and parades for Great Salt Lake with the group River Writing. You can make hand puppets of some of our favorite Great Salt Lake creatures, the Brine Fly, Brine Shrimp, and Eared Grebes. There will also be an opportunity to help make large-scale blue and white sun prints (cyanotypes) as part of public art for the Lake. FREE. Register here."

Sept. 27: Our Collective Capacity to Mobilize Love: A Discussion with Terry Tempest Williams and Eli Nixon. 6:00-7:30 p.m. online. Event by River Writing: "Join us for a discussion with author Terry Tempest Williams and Eli Nixon, author and illustrator of BLOODTIDE- A New Holiday in Homage To Horseshoe Crabs. Free Registration, open until 4 pm MST/ 6 pm EST on 9/27/23, the day of our conversation. Everyone is welcome! Meeting on Zoom. (You will receive the link via email one hour before.)." To reserve your FREE virtual seat, click here.
Dr. Richard Ferguson of Black Physicians of Utah returns to talk about diversity in medicine and what happens when that quality is lacking in education and practice.
Sept. 16: BPOU's 2nd Annual Medicine Immersion Day, 8a-2p at Intermountain Alta View Hospital, 9660 S. 1300 E., Sandy. Event by Black Physicians of Utah: "Dive into a day of insight, inspiration, and innovation as we explore the dynamic world of medicine. Engage with accomplished Black physicians, gain valuable mentorship, and unlock a pathway to your medical dreams. From enlightening workshops to impactful networking, this immersive experience is your gateway to a brighter medical future. Join us in shaping a diverse and inclusive medical community. Let's redefine medicine together at Medicine Immersion Day!" FREE. To reserve your seat, click here.
Greek Festival Alert: Eleni Saltas, author of All You Can Greek, previews the annual SLC Greek Festival — which happens Sept. 8-10 at Holy Trinity Cathedral, 279 S. 300 W., SLC. She also shares the Greek staples you should stock in your kitchen, as well as her recipe for loukoumades, aka Greek doughnuts!
Guests' views, thoughts, or opinions are their own and do not necessarily reflect those of the board, staff, or members of Listeners' Community Radio of Utah, KRCL 90.9fm. Questions, comments or suggestions for the show? Email radioactive@krcl.org. Tonight's RadioACTive team included:
###