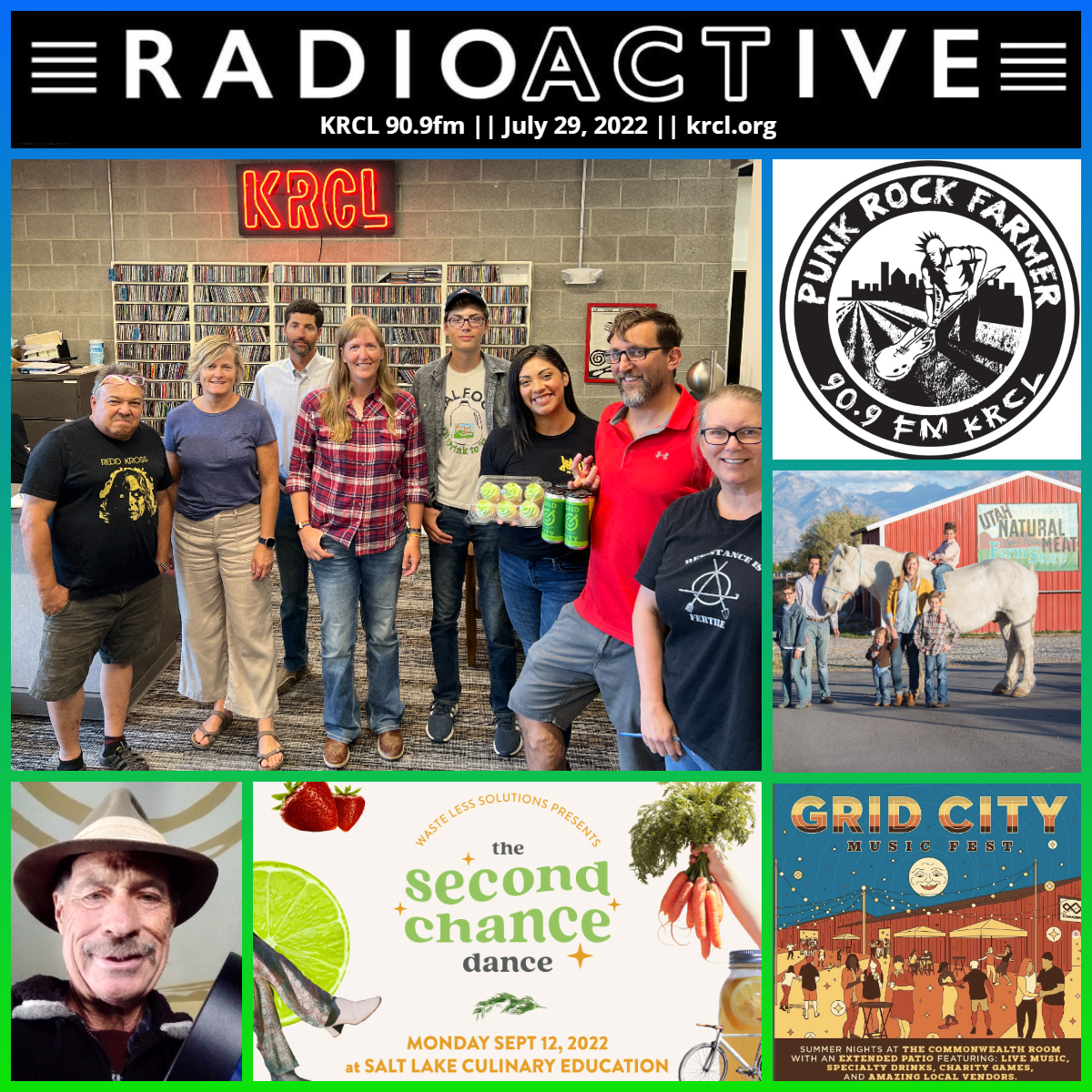 More true tales from the agrihood with Aldine, KRCL's Punk Rock Farmer, featuring Utah Natural Meat and Milk and Dana Williams of Waste Less Solutions. SkyWatcher Leo T, and an 801 Day preview with homegrown music from the Punk Rock Farmer archives.
Tonight's show featured the following people, organizations, and/or events. Check them out and get plugged into your community!
Monday is KRCL's first-ever 801 Day, featuring nothing but homegrown music. So Al and Lara offered a preview from the Punk Rock Farmer archives, featuring:
Car Warm by Sammy Brue & The Grinders. To hear more from this October 8, 2021, live broadcast at Maud's Cafe, click here. To catch up with Sammy's new band, Brue Band, click here.

The Great Escape by Psychedelic Purple. Download or stream their first full-length album: Too Close to the Sun.

She-Devil by The Zissous. Download or stream their debut EP, She-Devil.
#ManyCulturesOneSky with SkyWatcher Leo T, a RadioACTive volunteer-contributor who shares his love for the night sky, cultural tales of the constellations, and more during #PunkRockFarmerFridays.
Dana Williams of Waste Less Solutions, preventing and diverting food waste in Utah through food rescue, education and consulting.
Sept. 12: Second Chance Dance, 6:00 p.m. at Salt Lake Culinary Education, 2233 S. 300 E., SLC, SLC. Event by Waste Less Solutions: "How does an evening of good food from talented local chefs, libations, music and learning about food waste while supporting a local nonprofit sound? We are hosting our first ever large-scale fundraising event and want you to come and enjoy bites prepared by six local chefs using rescued food with the challenge of producing minimal waste. The next spoke in our strategic plan is to purchase a refrigerated mobile grocery store van to take fresh nutritious food into various neighborhoods of greater need to help meet their basic needs. Your attendance and support at this event will help us reach that goal. Everything about the event will be sustainable, we are even asking you to wear your best thrifted/vintage/well-worn attire! Prepare to have a fun evening, a unique type of event where you will also leave inspired to make change happen!" For tickets, click here.
Drew Reynolds of Grid City Beer Works and Diaz of Sweet Vinyl BakeShop stopped by to pair some boozy cupcakes and beer. You can check them out at Grid City Music Fest. With two more weekends to go at Held the next three weekends at The Commonwealth Room, you can check out live music, cold drinks, games, and local vendors.
"This summer, Grid City Beer Works, in collaboration with The State Room Presents, brings you Grid City Music Fest (GCMF). GCMF encompasses everything that South Salt Lake's The Creative Industries Zone stands for – blending arts with craft. That is why we are working with (and bringing you) local businesses from The Zone. Each weekend will feature different businesses, breweries and distilleries in the community." Check out the remaining dates:

Aug. 5-6: Weekend 2, 7:30p- 12a both nights. Friday: Kaleta & Super Yamba x Moodlite; Saturday: Micky & The Motorcars x Jordan Young Band.

Aug. 20-21: Weekend 3, 7:30p- 12a both nights. Friday: Lost Dog Street Band; Saturday: Shamarr Allen x TBA
Aldine's #UrbanFarmReport, featuring Shayn & Kristen Bowler of Utah Natural Meat & Milk. They're a fifth-generation farming and ranching family. Today, they run a back-to-basics farm in Salt Lake County where they "raise food the old-fashioned way. No antibiotics. No added hormones. A lot of grass and a lot of space." Currently offering:
Grass-fed beef, lamb & goat

Pastured pork, turkey, chicken, and eggs

Bulk orders and separate cuts available

Raw milk now available
Guests' views, thoughts, or opinions are their own and do not necessarily reflect those of the board, staff, or members of Listeners' Community Radio of Utah, KRCL 90.9fm. Tonight's RadioACTive team included:
###