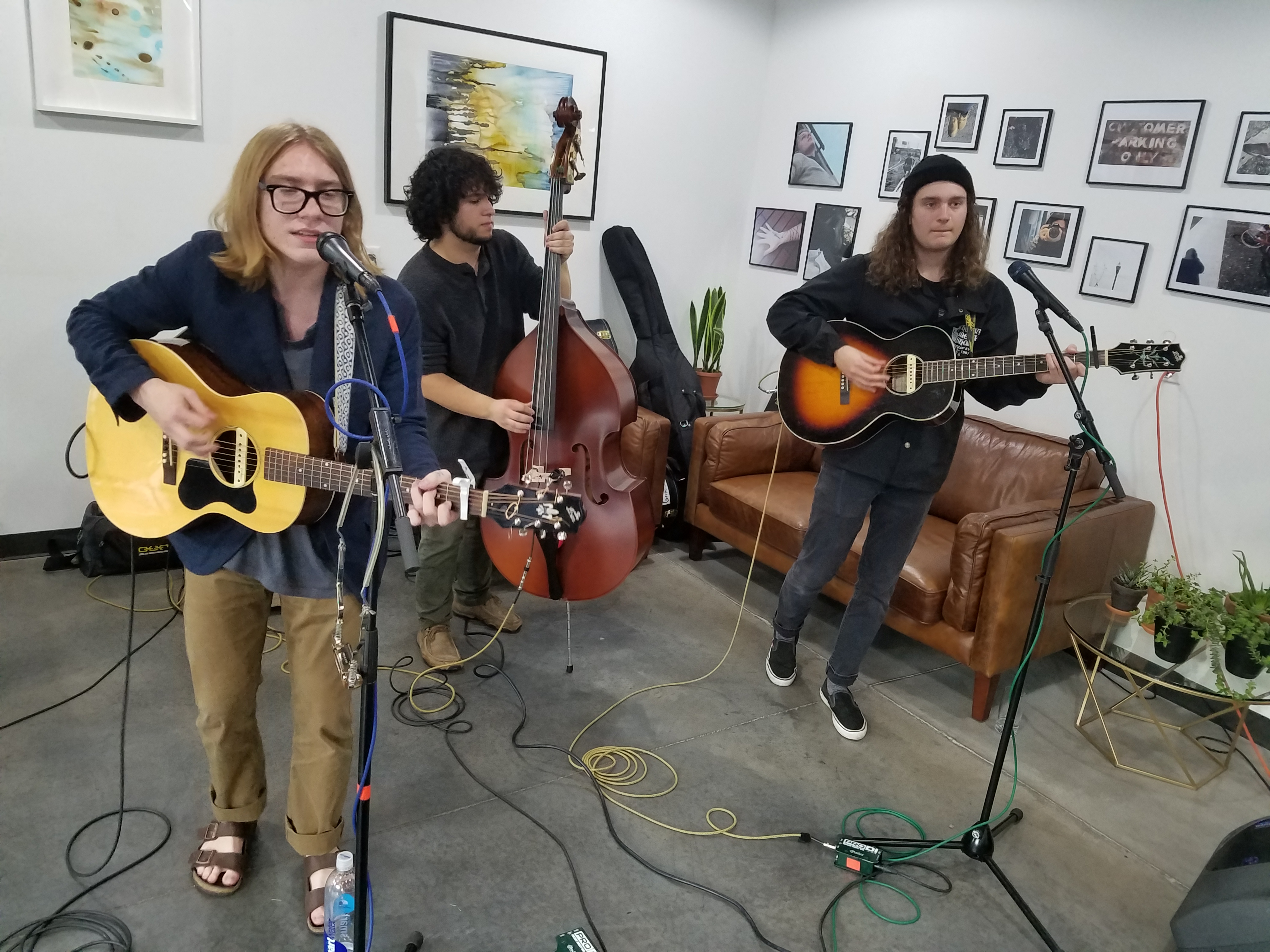 Spring Radiothon kickoff at Maud's Cafe, featuring Sammy Brue and the Grinders, IRC's New Roots farm, Green Team farm, League of Accidental Bicyclists, VOA's Youth Resources Center update
Tonight's lineup, live from Maud's Café, 422 W. 900 S., SLC:
Live music from Utah's own Sammy Brue and the Grinders.
Maud's Café manager-in-training Aubrey Snyder and baristas-in-training Kat and Austin with an update on the coffee shop, which is working to end teen homelessness one cup at a time.
Megan Hallett of Framework Arts talked about the League of Reluctant Bicyclists, her latest participatory art project. Click here to sign up.
Greg Lee, founder of a Slow Foods Student Chapter at the University of Utah.
Urban Farm Report, featuring:
James Loomis of the Green Team Farm, which needs your help to rebuild after a fire destroyed two outbuildings earlier this week. If you'd like to help, click here to donate. For in-kind contributions, email james@wasatchgardens.org to make arrangements.
James Hunter of the IRC-SLC New Roots in Salt Lake City, which seeks to build a healthier community through the development of small scale, urban farms and community gardens while providing access to food literacy education to refugees in Salt Lake City. The farmers in the program sell their produce at Sunnyvale Farmers Market, which will expand to a second location this summer.

April 16: Journey to the Wasatch - 2019, the International Rescue Committee in Salt Lake City's annual fundraising party celebrating refugees in our community who survive conflict and disaster to call Utah their home. This year, the IRC in Salt Lake City looks back at 25 years of serving refugees in our community since opening in 1994. Click here for tickets.

Megan Robertson of Johnny's Selected Seeds. Established in 1973, Johnny's Selected Seeds is a 100% employee-owned company and purveyor of high-quality seeds and tools.
Got a story you'd like to share on the show? Record a voice memo on your smart phone, then email it to radioactive@krcl.org. Keep it under 3 minutes and be sure to include a name and phone number in the message.
RadioACTive is a production of Listeners' Community Radio of Utah. Tonight's team included:
Exec. Producer/Host: Lara Jones
Assoc. Producer: Billy Palmer
Community Co-Host: Aldine, KRCL's Punk Rock Farmer
Audio Engineer: Sullivan Phetchanpheng, Bill Ramsay, Trevyn Porter
Volunteers: Sarah Thacker, Shell Danis, Sue Berger
###