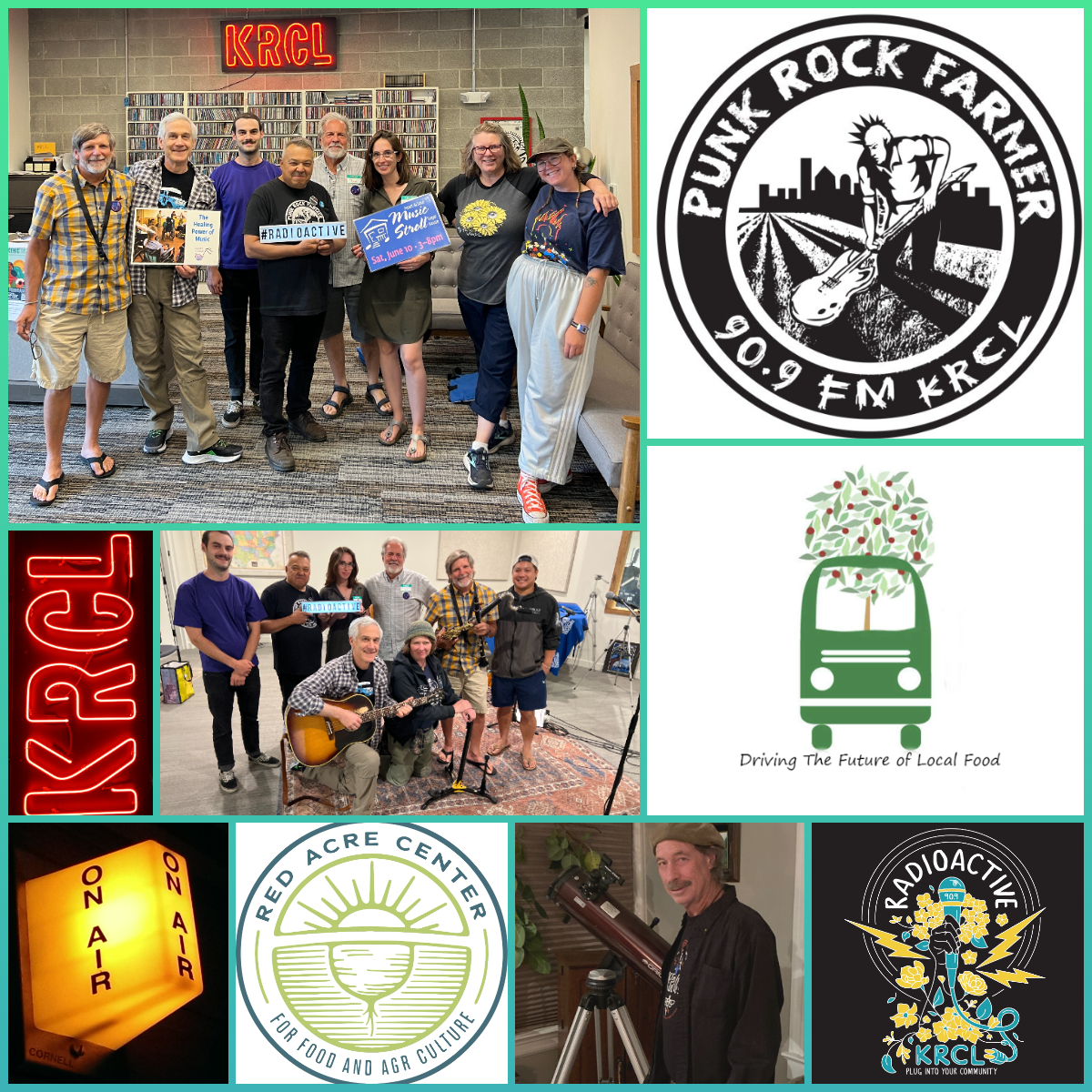 True tales from the agrihood with KRCL's Punk Rock Farmer, featuring Red Acre Center and The Green Urban Lunch Box. Plus, Skywatcher Leo T, and fresh and homegrown music from the folks putting on the Heart and Soul Music Stroll.
Tonight's show features the following people, organizations and/or events. Check them out and get plugged into your community!
Fresh and homegrown music from the folks putting on the Heart & Soul Music Stroll with Ainsley McLaughlin, Tom Stilinger, and live music from the band Side By Side (featuring Phil Triolo and Craig Schrieber).
June 10: Heart & Soul Music Stroll, 3:00-8:00 p.m. along Atkin, Filmore and Glenmare Streets (1530 E. 2700 S.) in Sugar House. Event by Heart & Soul: "For the ninth year, Heart & Soul, along with the neighbors surrounding Imperial Park, will present our incredible, free, one-day music festival. Forty musical acts will perform on 15 porches, driveways and lawns—or on our main stage—throughout this Sugar House neighborhood (along with an ocean of food trucks). Join us as Heart & Soul celebrates 29 years of bringing the healing power of music to isolated neighbors along the Wasatch Front. Heart & Soul is a small nonprofit that brings live music to those who find it difficult if not impossible to attend a live performance on their own. Heart & Soul brings hope, healing and joy through live music and the performing arts to people living in institutions or otherwise isolated. We provide over 1,300 live musical performances a year in care communities in 13 throughout the state of Utah."
Red Acre Center's Symbria Patterson with a reminder to call your Congressman and Senator about The PRIME Act. Currently, it sits in the U.S. House and needs sponsors in the U.S. Senate.
Many Cultures One Sky with SkyWatcher Leo T. Tonight: A reading of the night sky including Arcturis, Vega, Epsilon, and more. Space history, news of cosmic filaments, NASA's Message in a Bottle campaign complete with a poem for Europa by U.S. Poet Laureate Ada Limón. Plus, an invite to Skywatcher Leo T: Stansbury Park Observatory Starparty on July 8th.
July 8: Skywatcher Leo T Star Party at SPOC, dusk til you've had enough at Stansbury Park Observatory Complex, 252 Utah 138, Tooele, UT 84074. Event by SkyWatcher Leo T: "Skywatcher Leo T at Stansbury Park Observatory with Astronomers from the Salt Lake Astronomical Society. Come before dusk. Take I-80 from Salt Lake City West Bound to Tooele and take Exit 99 and go south on Hwy 36. Go past 2nd traffic light. At the third traffic light, turn right onto Stansbury Parkway. Head west until you see the Plaza and Observatory signs in the central median. Turn left onto the plaza and park. SPOC is just to the west of the skateboard park and adjacent to the lakefront. This event is FREE and open to the public. Come join us!"
Aldine's Urban Farm Report, featuring Soni Scheig, Community Farm Manager/SFI Program Coordinator at The Green Urban Lunch Box.
CSA: "When you become a part of our CSA program, you are supporting: educational opportunities for aspiring farmers who are learning how to farm while growing vegetables for your CSA, an equitable food system in our community, and creative ways for revitalizing urban spaces, all while eating the freshest, most delicious food all season long. Purchase A Share Now."

VOLUNTEER: "We love all of our volunteers, and would love to see you join us! There are many ways you can volunteer—from picking fruit, helping in a garden, to sitting on one of our committees. To learn more about these opportunities and the other fun things going on, sign up for our weekly newsletter."

JOB: "We are hiring a Harvest Leader Position in our FruitShare program! Have you always wanted to get your foot in the door with local food, gleaning, or non-profit organizations? This might be the position for you! The FruitShare Harvest Leader is an essential team member who will support our mission to harvest and rescue fruit from residential fruit trees to feed hungry families while educating the community on the importance of local food. This is a great opportunity to learn about local fruit and local food, fruit trees, community organizing, and hunger relief efforts in our community. Join us this season and apply today! This is a seasonal 20-week position that will begin on June 12th and end in mid-October. This position is 20 hours/week at $17/hour.
Guests' views, thoughts, or opinions are their own and do not necessarily reflect those of the board, staff, or members of Listeners' Community Radio of Utah, KRCL 90.9fm. Questions, comments or suggestions for the show? Email radioactive@krcl.org. Tonight's RadioACTive team included:
###