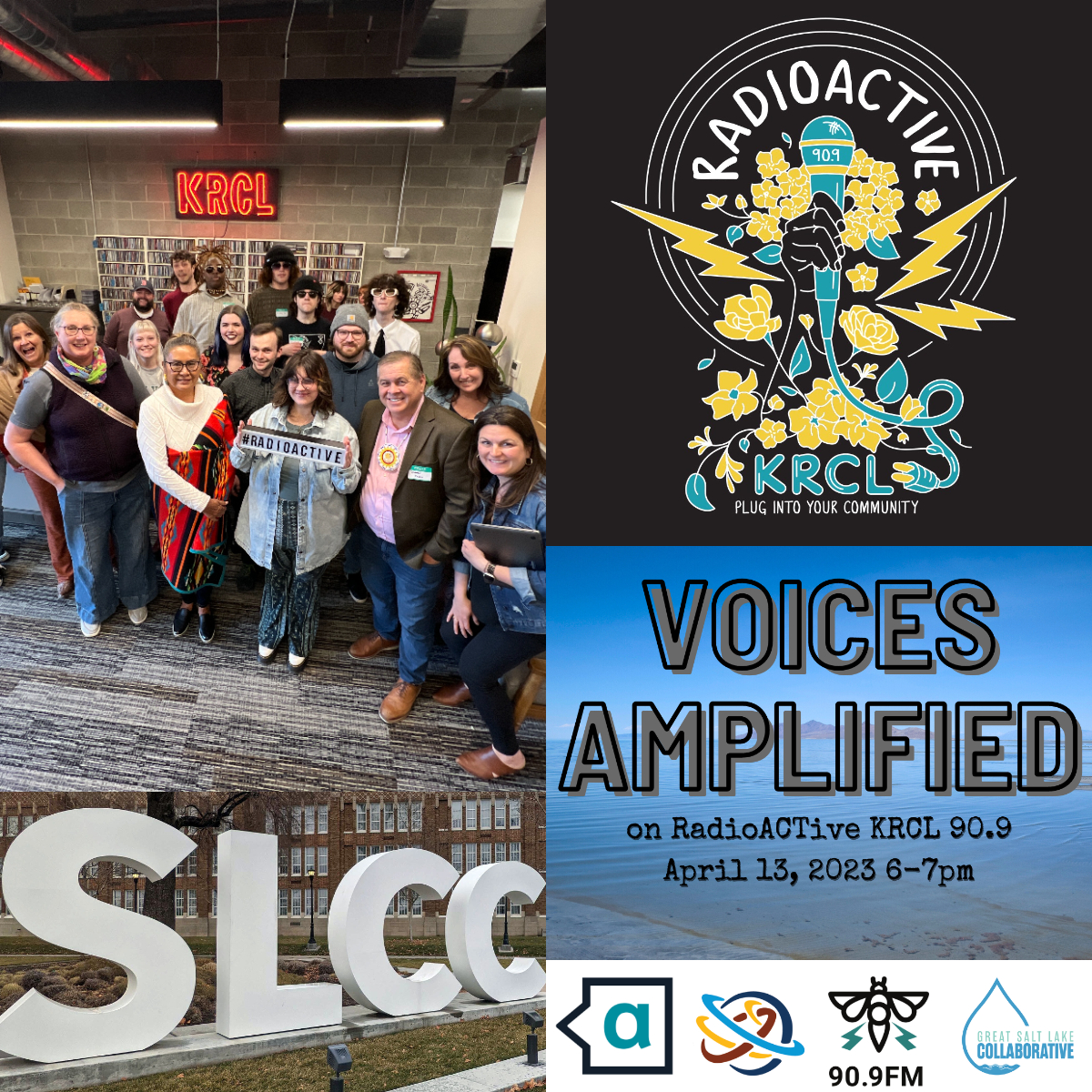 Rising student journalists from SLCC takeover RadioACTive. Tune in to hear host McCaulee Blackburn revisit the Great Salt Lake crisis, air quality activism, and settler-colonialism and the climate crisis. Plus, homegrown music from DRAG!
Tonight's show features the following people, organizations and/or events. Check them out and get plugged into your community!
Sandbagging stations in SLC:
April 15 & 16: Sugarhouse Park (Big Field - 1330 E. 2100 S., SLC) and Rosewood Park (1400 N. 1200 W., SLC). Fill stations will be open from 9a-5p or until the sand runs out. Volunteers are needed to help fill sandbags. Please bring gloves and a shovel. Click here to sign up to receive future communication regarding volunteer needs.
Fresh, homegrown music from DRAG.
Great Salt Lake Crisis update with Shoshone Tribal Leader Darren Parry.
Clean air in Utah with Linda Jim, President of Salt Lake City Air Protectors, Air Protector volunteer Stacey Hubacher, and Cherise Udell from Utah Moms for Clean Air.
The intersection of settler-colonialism and the climate crisis with Carl Moore, founder of PANDOS.
Sports with Sean, covering baseball news.
Larry H. Miller announced their intentions to bring a Major League Baseball team to Utah. Read the full story on KSL Sports.
Check out the #VoicesAmplified playlist:
Guests' views, thoughts, or opinions are their own and do not necessarily reflect those of the board, staff, or members of Listeners' Community Radio of Utah, KRCL 90.9fm.
Questions, comments or suggestions for the show? Email radioactive@krcl.org and put "Voices Amplified" in the subject line. Tonight's RadioACTive team included:
Executive Producer: Lara Jones

Production Assistant: Valene Peratrovich

Academic Advisor: Marcie Young Cancio, Assistant Professor of Journalism and Digital Media at Salt Lake Community College; Executive Director of Amplify Utah

Lead Producer: John Kohles

Assoc. Producer: Kyle Forbush

Host: McCaulee Blackburn

Booking Producer: Haily Askerlund

Digital Producer: Mavaney Burnham
###