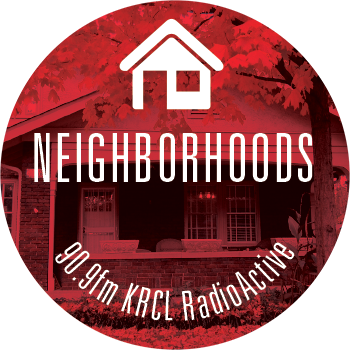 Suicide and Utah's Teens
Tonight's show was hosted by Lara Jones and Billy Palmer:
On the RadioActive Report (begins at 10:40):
Volunteering opportunities with KRCL Volunteer Coordinator Eric Nelson:
Puncturevine Weevil Release Party: July 8 at Millrace Park in Taylorsville (1150 W. 5400 South) at 8:00 a.m. Pick up a cup of puncturevine biological control weevils and help release them in the most problematic sections to help clear the parkway trail.
REVERB.org's Eco-Village: July 13 at Red Butte Gardens. Volunteers will support a local environmental nonprofit, help eliminate single use plastic bottles and learn about sustainability in music. Fill out the application HERE.
Tour of Utah: August 1-7. Volunteer registration through the end of July.
News and events:
Addressing the use of excessive force by police officers, with Deeda Seed from the Community Coalition for Police Reform
Meet the Maker, with Craft Lake City's Jessica Thesing and Andy Schoenberg and Chris Harris from Sunzeecar

Sat., July 9: Utah Against Police Brutality will hold a rally from 6-7 p.m. in front of the SLC Public Safety Building, 475 S. 300 E., SLC, to support the protests in Baton Rouge.

Remember to register to vote for the general elections on November 8
Guests and topics included on the show (begins at 39:00):
Music from the show:
Stevie Wonder -- Black Man
Nickie Lee -- And Black is Beautiful
Lucinda Williams -- I Lost It
If you're interested in responding to Ellek's call to action, the following is his sample letter for your lawmaker:
- To find/contact your local Utah State Senator, visit http://senate.utah.gov and under "Your State Senator", enter your ZIP code and your senator will be shown.
- To find/contact your local Utah State Representatives, visit http://le.utah.gov/house2/representatives.jsp and scroll to your county, located in the fourth column.
Letter template:
To my Utah state representatives, senators and governor:
My name is ____________,
There is a huge problem plaguing Utah's teens, and it does not appear that the state of Utah has done anything about it.
Utah's teen suicide rate has nearly tripled since 2007 and is now the leading cause of death among Utah's 10-17 year olds. Utah's rate per capita is nearly double the national average. LGBT youth are more than twice as likely to attempt to end their own lives as their straight, cisgender peers, according to the CDC.
From November 2015-January 2016, 32 LGBT youth in Utah took their lives. 32 kids with families. 32 kids who could have grown up to change the world. 32 kids who are now dead because lawmakers are not willing to acknowledge that Utah has a massive problem with depression and suicide.
As a citizen of Utah, and as someone who pays taxes to employ my state legislators, I am pleading with you to please take action and make a clear statement. Raise awareness about suicide and depression, and declare the teen suicide epidemic as a public health crisis because that is exactly what it is. If you continue to ignore this and do nothing, this problem will only escalate.
I am passionate about this because:
Please take some time to think about these facts, the desires of those you represent and the lives that have been lost. The citizens of Utah want you to take action.
(your name)