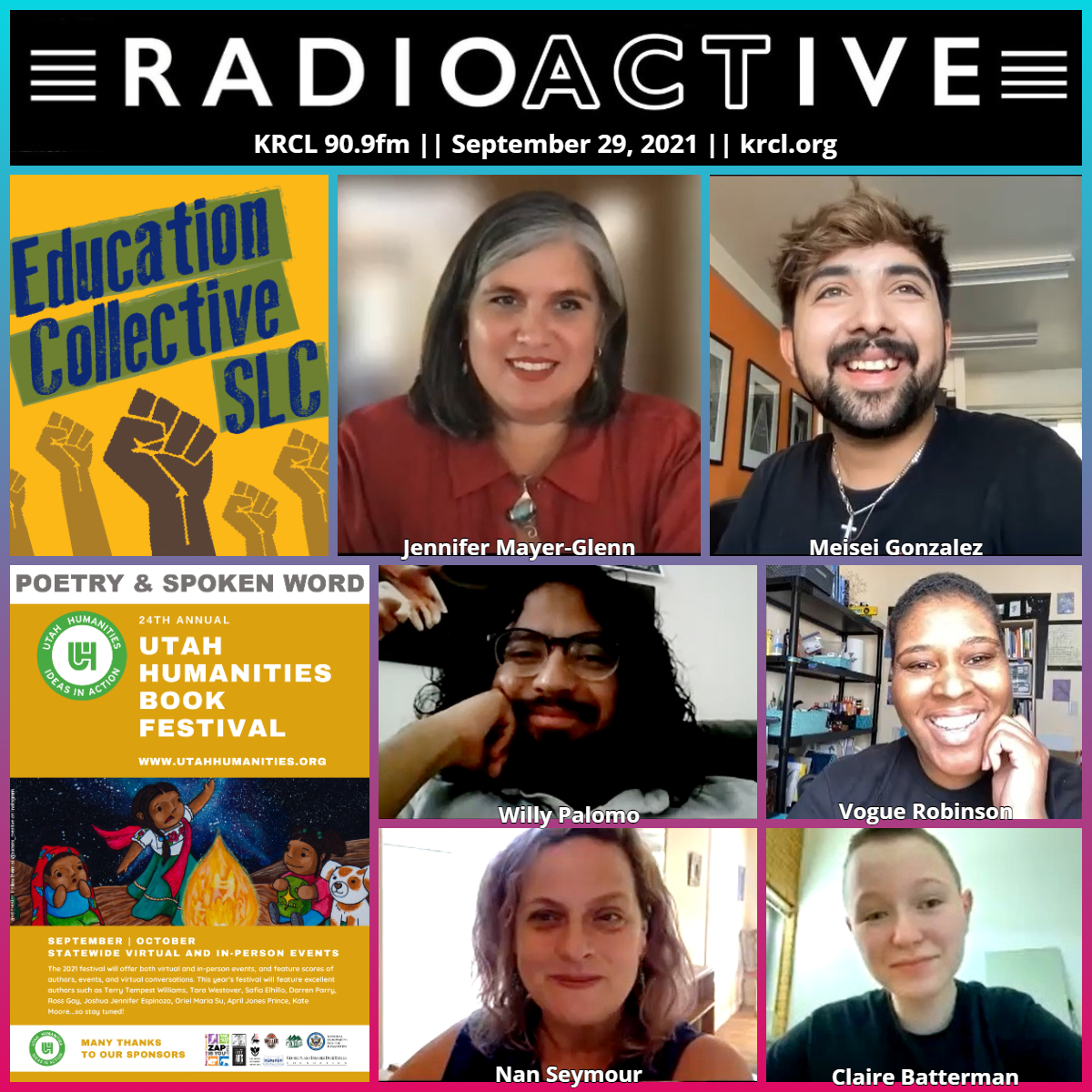 Education Collective SLC on its campaign to build a high school on SLC's westside. Grassroots activist Meisei Gonzalez in the debut of First Person, a new one-on-one series on the show. Poetry Still Happens meets up with the Utah Book Festival
Tonight's show featured the following people, organizations and/or events. Check them out and get plugged into your community!
Jennifer Mayer-Glenn of Education Collective SLC, which is advocating for a new high school on the west side of SLC. To learn more, visit edcollectiveslc.org.
Oct. 1: Education Collective SLC presents A High School in Glendale, 3:15 and 6:45 p.m. at the Glendale Branch, Salt Lake City Public Library, 1375 S. Concord St., SLC. "Each day, 1,385 high school students travel from west of I-15 across the entire city to attend school. This is a barrier to after-school participation, family engagement, a sense of belonging, and student success. Imagine, instead, a community-driven high school right here in Glendale. Imagine a school rooted in the cultures of our neighborhood; a school with strong family and community relationships; a school that can lift up all our students. Join us to learn more about this campaign, which is led by local parents, educators, alumni, and community members. And sign our petition at edcollectiveslc.org."
First Person, a new RadioACTive series spotlighting community members. Tonight's inaugural edition featured grassroots activist Meisei Gonzalez, whose passions meet at the intersection of environmentalism, social justice and LGBTQ+ rights.
To nominate someone for First Person, send an email to radioactive@krcl.org. Tell us who you'd like to hear from, why, or what questions or issues you'd like them to address. You may also call 385-800-1889 and leave us a voicemail message if you prefer. Fair warning, we may use your message on the air!
Utah Humanities Book Festival is going on now, with dozens of events across the state through October. In its 24 years, the festival offers both virtual and in-person events and features scores of authors, events, and virtual conversations. RadioACTive got some hit picks from Festival Coordinator and poet Willy Palomo, who also brought poets Vogue Robinson, Claire Batterman and Nan Seymour along for a preview of their reading events.
Views, thoughts or opinions shared by guests are their own and do not necessarily reflect those of the board, staff or members of Listeners' Community Radio of Utah, KRCL 90.9fm. Tonight's show was produced and hosted by Lara Jones.
###