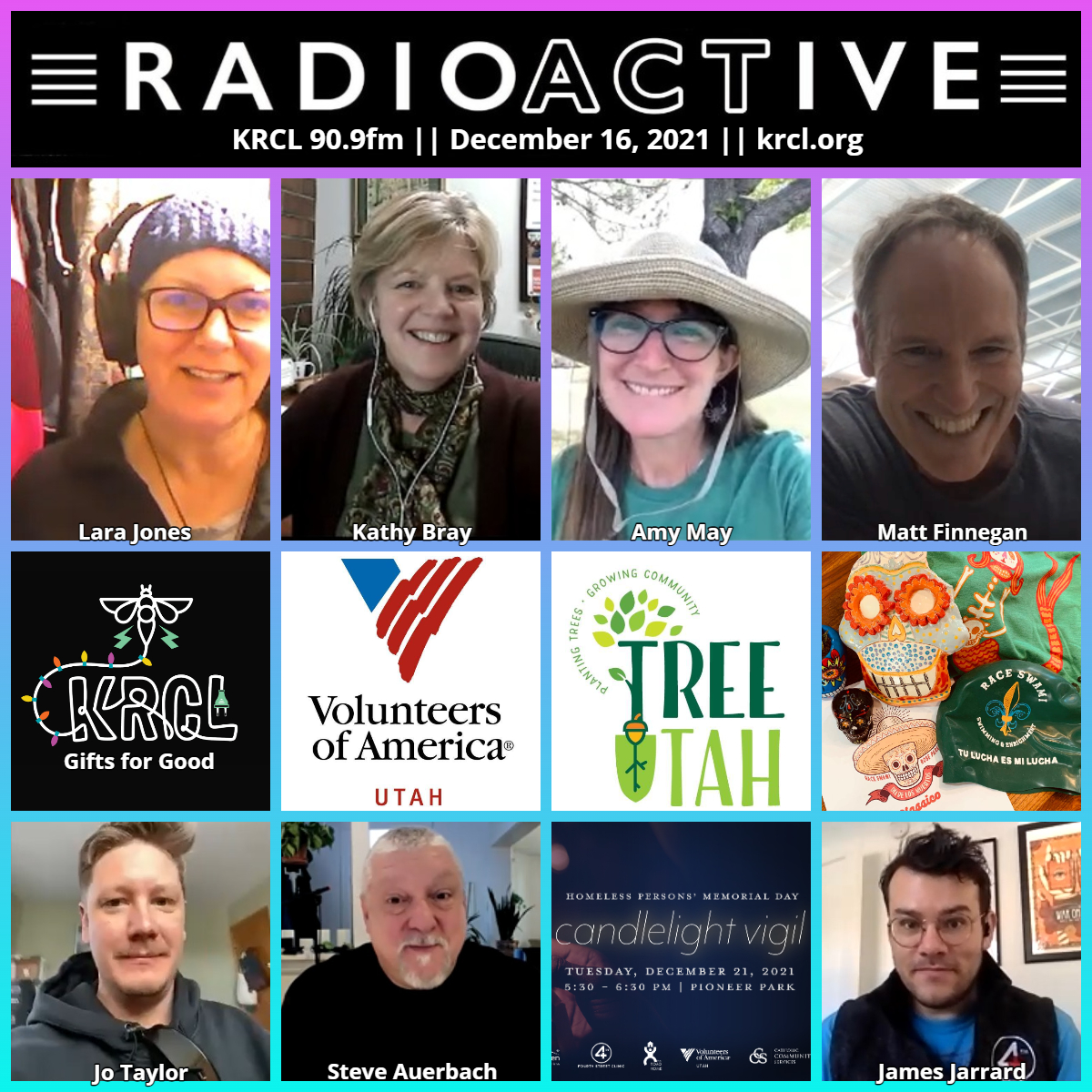 Meet KRCL's Gifts for Good partners, VOA-Utah, Race Swami and Tree Utah. Plus, Fourth Street Clinic and the Homeless Persons Memorial Candlelight Vigil, Connect SLC's Master Transportation Plan survey, and spotlight on Salt Lake Academy of Music.
Tonight's show featured the following people, organizations and/or events. Check them out and get plugged into your community!
James Jarrard of Fourth Street Clinic, which helps homeless Utahns escape poverty and vulnerability through extensive health care services.
Dec. 21: Homeless Persons Memorial Candlelight Vigil, 5:30 p.m. at Pioneer Park, 350 S. 300 W., SLC. Event by The INN Between, The Road Home and Fourth Street Clinic: "To remember and honor homeless persons who have died in Salt Lake City in 2021, and to prevent additional loss of life or suffering caused by homelessness through advocacy, education and other initiatives. Join us as members and leaders of our communities gather together to remember those we love and lost. This event is free and open to the public and members of all communities. Thank you to our wonderful community partners for helping to host this event and honor those who passed."
Joe Taylor of Salt Lake City's Transportation Division, which wants to know your priorities as the city updates its 25-year-old master transportation plant.
Dec. 31: Deadline to take Connect SLC survey. "Connect SLC will consider our sidewalks and streets holistically. We seek to use our streets not just as a means for person and vehicle mobility, but also as our shared living space. To accomplish this, we want to work with the community to learn about past and current transportation barriers and opportunities to improve connections and the streetscape in the City. We seek to understand how our diverse residents travel to places like work and the grocery store, what they like and don't like about the streets they use, and what our system of streets and roadways could and should be." Click here to take the survey.
RadioACTive talked about Gifts for Good with our year-end partners, including:
Kathy Bray of Volunteers of America, Utah, Homeless Youth Resource Center, which provides meals, emergency shelter, case management, and support for homeless and at-risk teens ages 15-22. Your Gifts for Good donation will support the nonprofit's ID kits program, ensuring homeless youth obtain the documents needed to apply for housing, a job, and higher education.

Amy May of TreeUtah, which plants trees on public lands across Utah. Your Gifts for Good donation means more trees in Utah's high mountain desert.

Matt Finnegan of Race Swami, a swimming and enrichment program serving SLC's west side communities. Your Gifts for Good donation will help kids get the coaching and tools they need to be competitive in the pool and successful in life.
Nonprofit spotlight on SLAM: Salt Lake Academy of Music, which offers inclusive and equitable access to quality instruments, instruction, performance, production, recording and touring programs on a free-to-fee sliding scale for all. Executive Director Steve Auerbach looked back on 2021 and ahead to a new year.
Views, thoughts, or opinions shared by guests are their own and do not necessarily reflect those of the board, staff or members of Listeners' Community Radio of Utah, KRCL 90.9fm. Tonight's show was produced and hosted by Lara Jones.
###