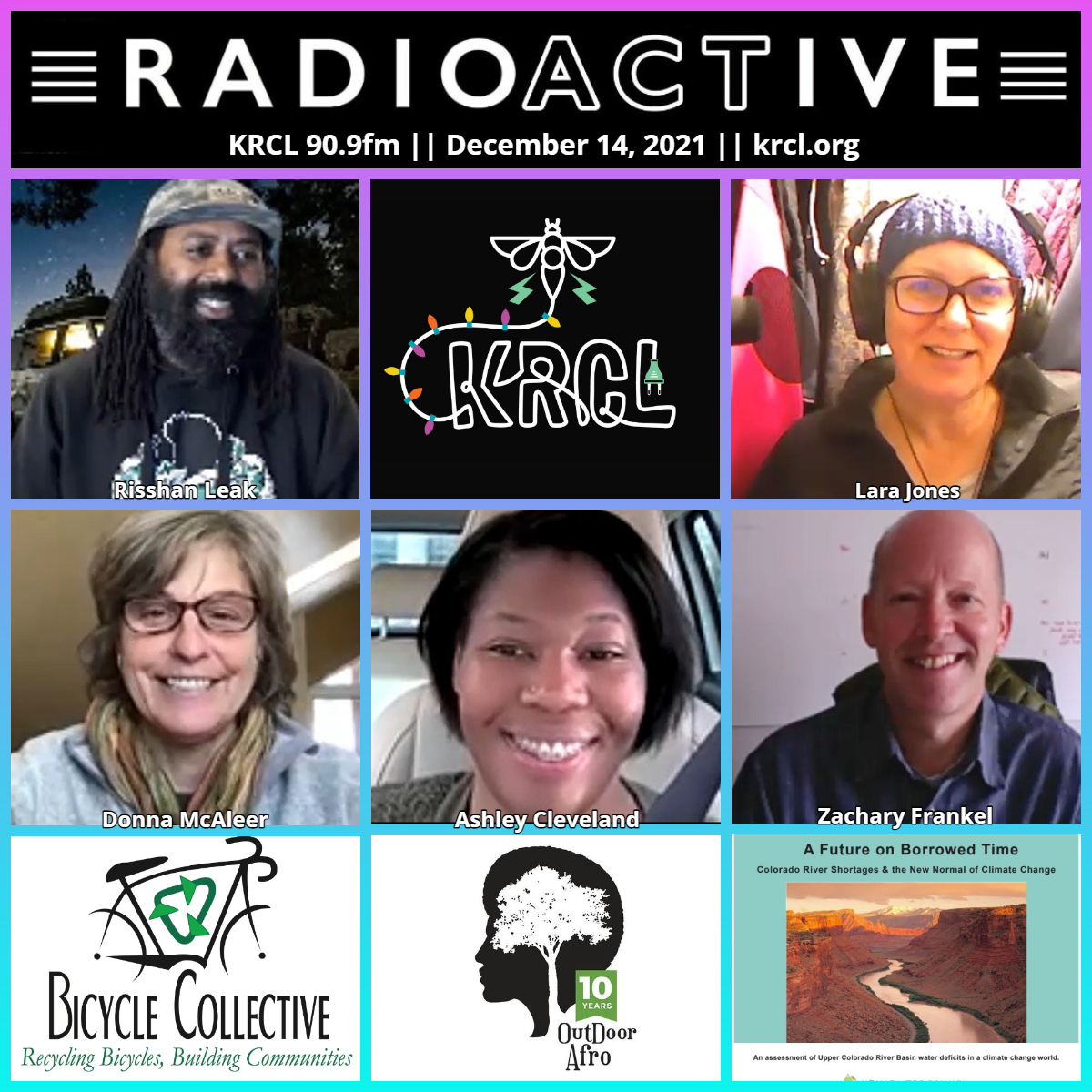 #RoundtableTuesday with Risshan Leak takes to the outdoors with Bicycle Collective and Outdoor Afro SLC. Plus, the Utah Rivers Council on Utah's overuse of the Colorado River.
Tonight's show featured the following people, organizations and/or events. Check them out and get plugged into your community!
Donna McAleer of the Bicycle Collective, a nonprofit recycling bicycles, building community, & saving the planet two wheels at a time. They now have community bike shops in SLC, Ogden, Provo and St. George.
Dec. 18 (Ogden) and 21 (SLC): Holiday Kids Bike Giveaway 2021: "The SLC Bicycle Collective wants to give bicycles to families who aren't able to afford them this holiday season! Every year our volunteers repair hundreds of bikes to give away to folks in need, and we'd like to send the year out in style! Signups are available now through December 14th (or while supplies last). This giveaway is only for families who cannot afford a bicycle and is intended for children ages 4 - 10 years old in the Salt Lake Valley. Please only register children who are in this age range. IMPORTANT: If you are requesting a bike for multiple children, fill out the form once for each child. We plan to schedule pickups on or before December 21st, 2021." Click here for more details.

GIVE: Bicycle Collective is building a new SLC HQ. "With a permanent home, Bicycle Collective will have both the space and resources to grow our award-winning and inspiring programming. Our center will provide a safe place for all members of our community to work on their own bikes, learn bicycle mechanics, and attend a host of classes. It will bring cultural vitality to the neighbor and will connect the west and east quadrants of the Salt Lake Valley." Click here to learn more and donate.
Ashley Cleveland of Outdoor Afro Salt Lake City, which has become the nation's leading, cutting edge network that celebrates and inspires Black connections and leadership in nature. Nationally, the nonprofit has more than 100 leaders in 56 cities around the country.
Zachary Frankel of the Utah Rivers Council, a non-profit, grassroots organization dedicated to the conservation and stewardship of Utah's rivers and sustainable clean water sources for Utah's people and wildlife.
READ: New Report: Upper Basin States Overusing Colorado River Water. "A groundbreaking new research report demonstrates that our changing climate has resulted in a 19% decline in Colorado River flows in the last two decades. The report also shows that three of the four Upper Basin states (Utah, Colorado and New Mexico) are overusing their rights to Colorado River water and have not reduced their use in the face of a declining water supply.

CONSERVE: Keep an eye out for URC's 2022 rain barrel program. "Contact us and we'll let you know about upcoming rain barrel sales and municipal partnerships."

TAKE ACTION: "Let your voice be heard! Commit to at least one action and join the thousands of others who stand against the destructive and costly Lake Powell Pipeline." Click here for URC tips.
Founded in 1994, we work to protect Utah's rivers and clean water sources for today's citizens, future generations and healthy, sustainable natural ecosystems. We implement our mission through grassroots organizing, direct advocacy, research, education, community leadership and litigation.
Views, thoughts, or opinions shared by guests are their own and do not necessarily reflect those of the board, staff or members of Listeners' Community Radio of Utah, KRCL 90.9fm. Tonight's show was produced and hosted by Lara Jones and Risshan Leak.
###