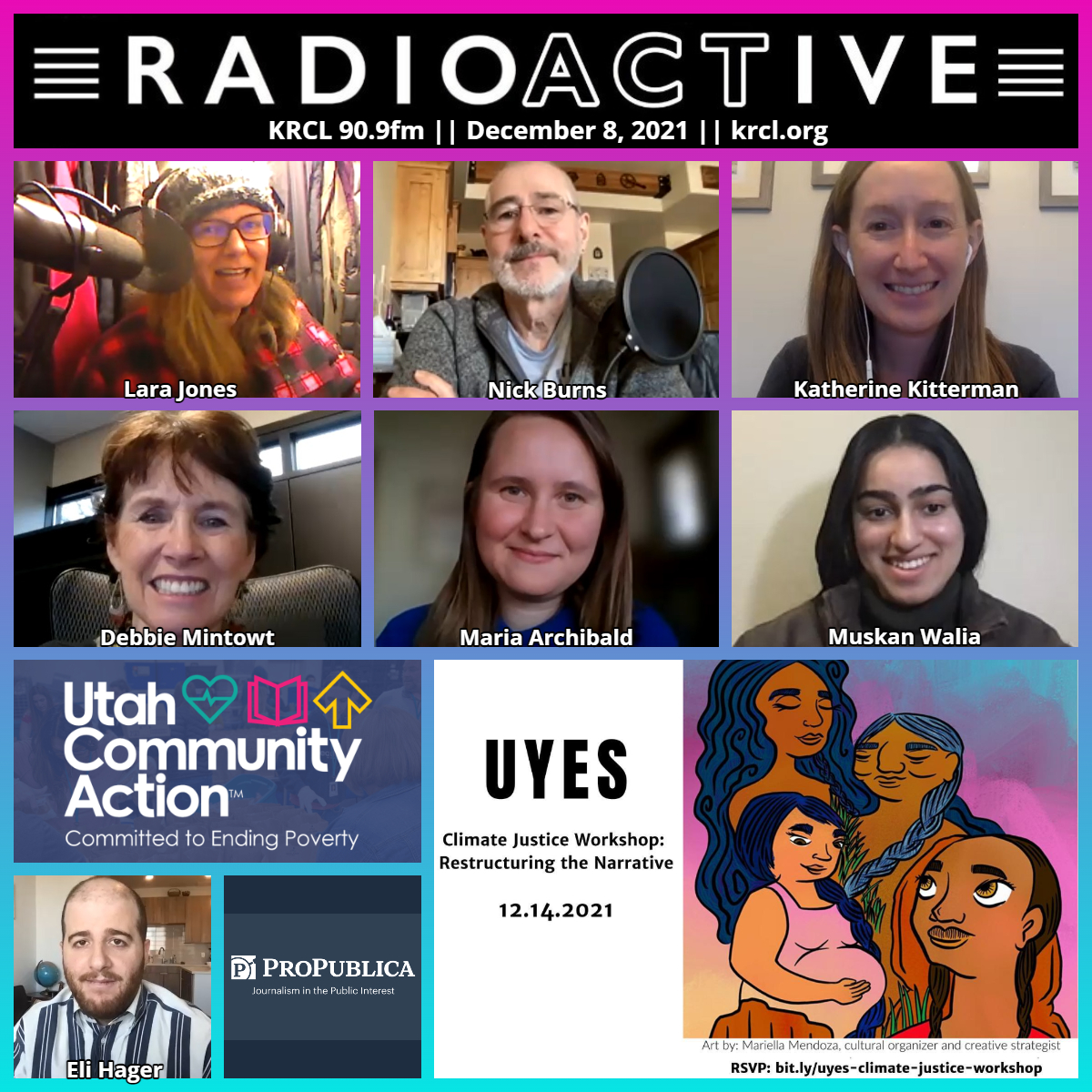 Utah Community Action's Operation Chimney Drop and other ways to help out this holiday season. ProPublica's Eli Hager on his story about public assistance in Utah and the state's MOU with the predominant religion. Better Days' She Started It art contest. Community Co-Host Nick Burns talks with UYES organizers about an upcoming virtual workshop to restructure the narrative about climate justice.
Tonight's show featured the following people, organizations and/or events. Check them out and get plugged into your community!
Debbie Mintowt of Utah Community Action, a nonprofit that empowers individuals, strengthens families and builds communities through self-reliance and education programs. Thanks to community support, UCA's annual Operation Chimney Drop will help 850 + children and seniors this Friday. Donors purchase holiday necessities and gifts for children, families, and the elderly each year. Utah Community Action's staff and volunteers then organize and distribute the donations in time for the holiday season.
VOLUNTEER OR DONATE: Founded in 1965, Utah Community Action is a nationally recognized provider of comprehensive services for income-eligible families. Their six core programs—Early Head Start and Head Start, Adult Education, Case Management and Housing, Nutrition, HEAT, and Weatherization—address barriers to self-reliance to empower individuals, strengthen families, and build communities. For more information, visit www.utahca.org to volunteer, donate or inquire about services.
Pro Publica reporter Eli Hager talked about his story published in collaboration with The Salt Lake Tribune: How has Utah saved $75 million on welfare? By providing next to none and taking credit for LDS welfare instead (Dec. 2, 2021).
Katherine Kitterman of Better Days, a nonprofit dedicated to popularizing Utah women's history in creative and communal ways. Check out their shop for great stocking stuffer ideas, including Utah Women Making History trading cards, Pioneering the Vote: The Untold Story of Suffrafists in Utah and the West, RADification stickers and pins, and more.
Community Co-Host Nick Burns spoke with organizers of Dec. 14th virtual Climate Justice Workshop, Restructuring the Narrative. The online community workshop will be hosted by Utah Youth for Environmental Solutions (UYES) and facilitated by Movement Building Medicine, a collaborative project led by artists, storytellers, and community caregivers in Utah and the surrounding regions. Tonight's guests included:
Muskan Walia of UYES. She is a second-year student at the University of Utah Honors College, studying math and philosophy. As a leader and mentor with UYES, she supports the development of a new youth-based climate curriculum aimed at providing educational resources, mentorship, and organizing tools to young people in Utah to advance climate justice.

Maria Archibald, a second-year student in the University of Utah's Environmental Humanities Graduate Program (EH). For her master's thesis, she has partnered with UYES to develop a climate justice and political education curriculum that will mobilize young people. Archibald has organized regionally and nationally with youth-led climate justice groups, including Uplift and the Power Shift Network, and spent four years coordinating the Rising Leaders Program at the Grand Canyon Trust.
Views, thoughts, or opinions shared by guests are their own and do not necessarily reflect those of the board, staff or members of Listeners' Community Radio of Utah, KRCL 90.9fm. Tonight's show was produced and hosted by Lara Jones and Nick Burns.
###