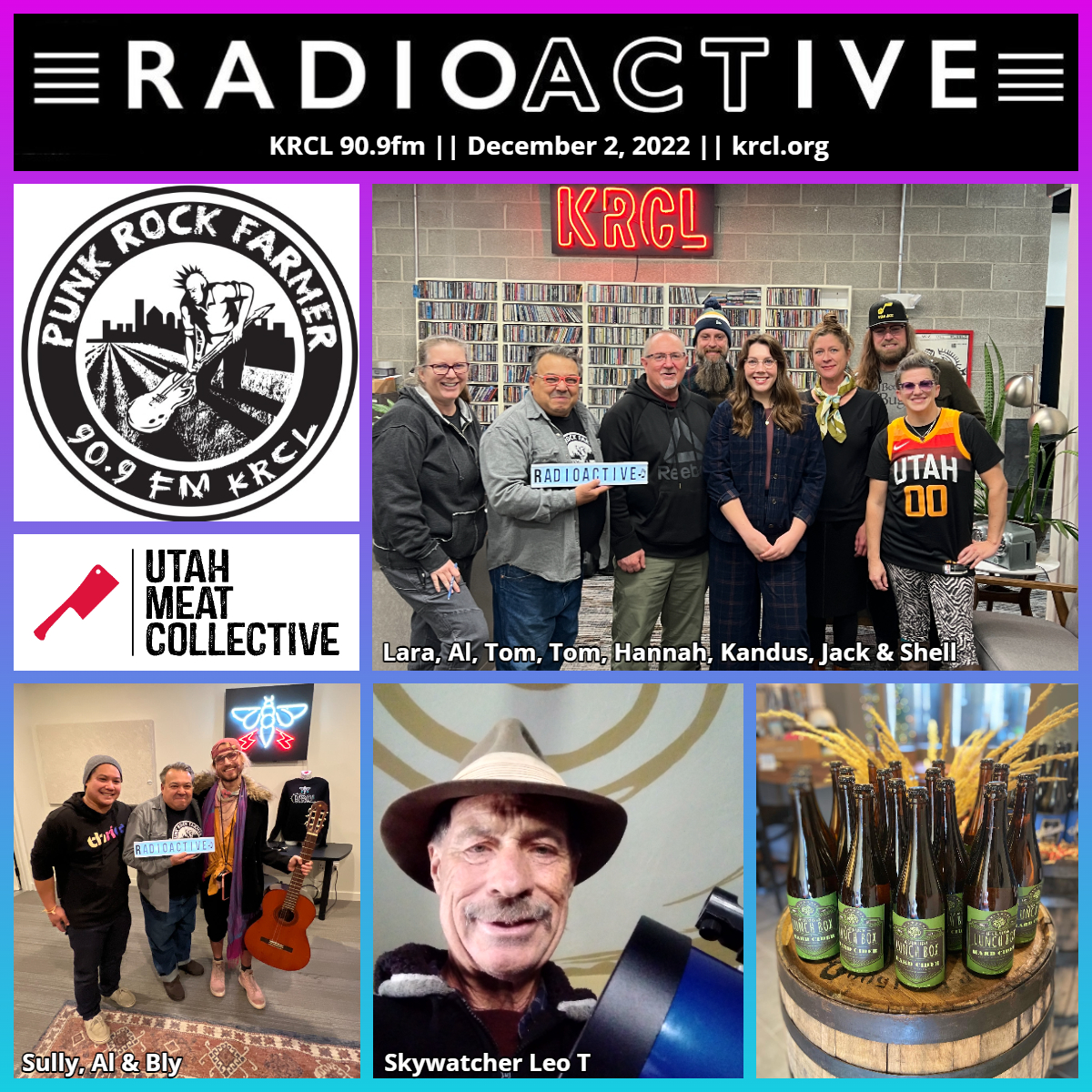 Punk Rock Farmer Friday, featuring true tales from the agrihood with Aldine, KRCL's Punk Rock Farmer, and Lara. Tom Wheatley of the Utah Meat Collective returns. Plus, The Green Urban Lunch Box cider release update, Skinwalker Ranch stops in, Many Cultures One Sky with SkyWatcher Leo T and fresh, homegrown music from Bly Wallentine.
Tonight's show featured the following people, organizations and/or events. Check them out and get plugged into your community!
Fresh, homegrown music from Bly Wallentine, who will release I Found My Foot on Monday, their 33rd birthday. To pre-order a CD, with beautiful artwork by @contemporaryike, then you should click here.
Dec. 5: Bly Wallentine release party at Rugged Grounds, 156 W. 500 S., Provo. @ruggedgrounds
Dec. 9: Bly Wallentine at ABG's, 190 W. Center St., Provo.
Many Cultures One Sky with SkyWatcher Leo T, a RadioACTive volunteer-contributor who shares his love for the night sky and cultural tales of the constellations during #PunkRockFarmerFridays. Tonight: Europa Clipper getting ready to launch, a star-forming region in the Orion Nebula, Poet Margret Pettis from Hyrum, Utah, and the Lakota constellation Tayamni.
Hannah Goggin of The Green Urban Lunch Box, which will release its annual cider made from Fruit Share harvests during a party at Mountain West Hard Cider, 425 N. 400 W., SLC, on Dec. 15.
KRCL's Shell Yeah and Skinwalker-Ranch caretakers Kandus Linde and Tom Lewis stopped by to say hello. Linde is an anthropologist and archaeologist, while Lewis is a technologist. They've been living on homestead 1 on the ranch, which is located in a remote part of the Uintah Basin. To hear the Halloween show with Shell Yeah and Eric P. Nelson, which featured clips of their recent visit to the supernatural site, click here.
Al's #UrbanFarmReport with Tom Wheatley of the Utah Meat Collective. Based in Spanish Fork, the collective inspires responsible meat production and consumption through hands-on, transparent, experiential education. It's one of many independent meat collectives in the U.S., with classes taught by seasoned butchers and chefs.
Sign up to get notified of upcoming classes or other news from Utah Meat Collective.
Guests' views, thoughts, or opinions are their own and do not necessarily reflect those of the board, staff, or members of Listeners' Community Radio of Utah, KRCL 90.9fm. Questions, comments or suggestions for the show? Email radioactive@krcl.org. Tonight's RadioACTive team included:
###