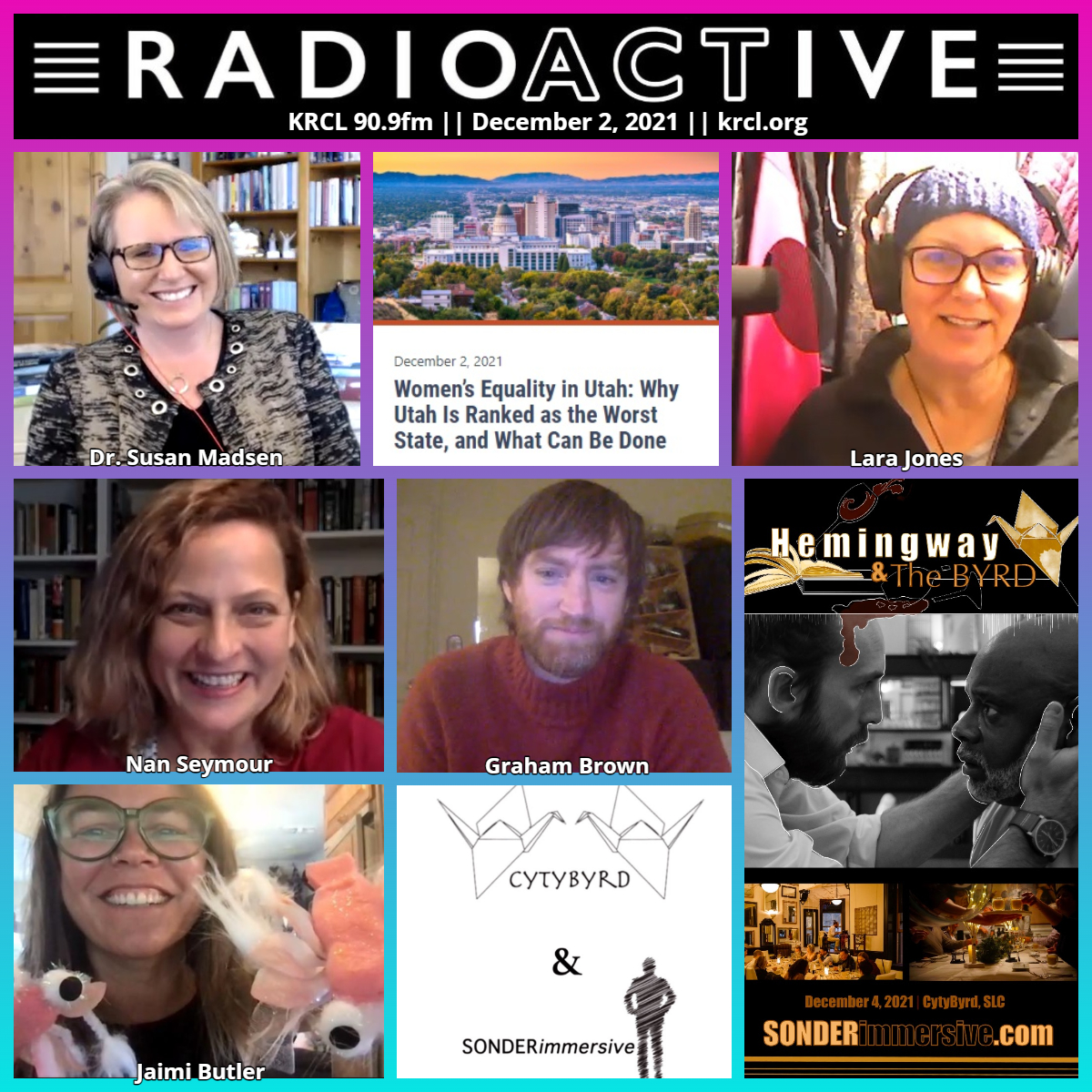 Women's Equality in Utah: Why Utah Is Ranked as the Worst State, and What Can Be Done with Dr. Susan Madsen of the Utah Women and Leadership Project. Hemingway and the Byrd with SONDERimmersive. Poet Nan Seymour and the Great Salt Lake Institute issue a call to KRCL listeners to join them in a collective praise poem to bring forth a restored Great Salt Lake.
Tonight's show featured the following people, organizations and/or events. Check them out and get plugged into your community!
Dr. Susan Madsen of the Utah Women & Leadership Project - UWLP. She spoke about her latest white report, which analyzed the metrics used to rank states in WalletHub's "2021's Best & Worst States for Women's Equality." Utah ranked last.
DIY Creatives Spotlight: Graham Brown of SONDERimmersive, which creates immersive, three-dimensional performances where the audience does more than watch. If you're shopping local this holiday season, consider giving art!
Dec. 4 and Jan. 15: Hemingway & The Byrd, a fine dining, immersive theatre experience. Event by SONDERimmersive and CYTYBYRD Cafe: "Sail into the rocky life and fictional writings of Ernest Hemingway through this four-course wine and cocktail fine dining experience within the historic Salt Lake City & County Building. CytyByrd's specially designed menu interweaves within SONDERimmersive's blend of physicality and immersive storytelling for an unforgettable evening like nothing you've ever experienced." Click here for tickets.
Poet Nan Seymour and Jaimi Butler of the Great Salt Lake Institute at Westminster College issued a call for KRCL listeners to take part in a collective praise poem called "irreplaceable" — meant to swell to 1700 lines. If successful in quantity, the epic communal poem would match in lines the square mile size of a restored Great Salt Lake. Click here to read community contributions to date. Find inspiration for your verse from the following:
Views, thoughts, or opinions shared by guests are their own and do not necessarily reflect those of the board, staff or members of Listeners' Community Radio of Utah, KRCL 90.9fm. Tonight's show was produced and hosted by
Lara Jones
.
###