With the regulated use of psychedelic mushrooms approved by Colorado voters last month, RadioACTive checks in on the Utah movement to legalize it. Plus, World AIDS Day with Dr. Adam Spivak.
Tonight's show featured the following people, organizations and/or events. Check them out and get plugged into your community!
Rallies & Resources shout-outs:
Dec. 1: Today is World AIDS Day. Looking for testing resources in Utah? Click here for a list of free and low-cost testing in Utah.

Dec. 5: Community Perspectives on Housing & Gentrification Open House, 5:30-7:30 p.m. at Sorensen Unity Center, 1383 S. 900 W., SLC. Meet in the Black Box Theater. Hosted by NeighborWorks Salt Lake and City and Metropolitan Planning. Please contact Sara Hoy, sarah@nwsaltlake.org, with concerns about the I-15 expansion.

Dec. 6: NeighborWorks Salt Lake hosts a "Meet the I-15 Project Team and Ask Your Questions" Session, 5:30-7:30 p.m. at Mestizo Coffee House, 631 W. North Temple, SLC. "UDOT is in the middle of a comment period regarding their proposed expansion alternatives that will directly impact the homes, business, and people in the Guadalupe and Jackson Neighborhoods." 

Dec. 8: Community Listening Session on UDOT's proposed I-15 expansion and EIS, 6:30 p.m. in the Zions Building at the Utah Fairpark, 155 N. 1000 W., SLC. Hosted by Sen. Luz Escamilla, Rep. Angela Romero and Rep. Sandra Hollins.
Adam Spivak of the HIV PrEP Clinic at the University of Utah, which offers free PrEP if you don't have insurance.
PrEP (also known as Truvada or Descovy) is a pill you take every day that helps you prevent getting HIV. You must also, however, also use other harm reduction and safe-sex practices. When the medication builds up inside your bloodstream, it can stop HIV from spreading inside your body. The key is that you must take the medication every day in order for it to work. Learn more about how PrEP works.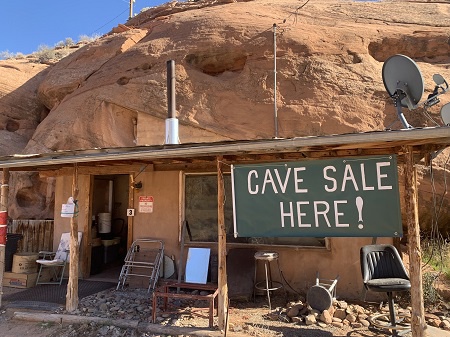 Last year a number of residents were forced to leave their homes on the bank of the Colorado River in Utah after a developer purchased the land. That included one man living in a cave. For Rocky Mountain Community Radio, Justin Higginbottom with KZMU visited the spot to learn more about this uniquely-Moab former residence.
This story from KZMU was shared with us via Rocky Mountain Community Radio, a network of public media stations in Colorado, Wyoming, New Mexico and Utah, including KRCL. Photo credit: Justin Higginbottom/KZMU.
With the regulated use of psychedelic mushrooms approved by Colorado voters last month, RadioACTive checked in on the Utah movement to legalize it. Featuring:
Christine Stenquist of TRUCE, a non-profit focused on safe access to ethically grown and processed cannabis for patients.

Steve Urquhart of The Divine Assembly, a community that believes in the power of responsible religious use of psilocybin to connect people and to cultivate health and healing.
Guests' views, thoughts, or opinions are their own and do not necessarily reflect those of the board, staff, or members of Listeners' Community Radio of Utah, KRCL 90.9fm. Tonight's RadioACTive team included:
###