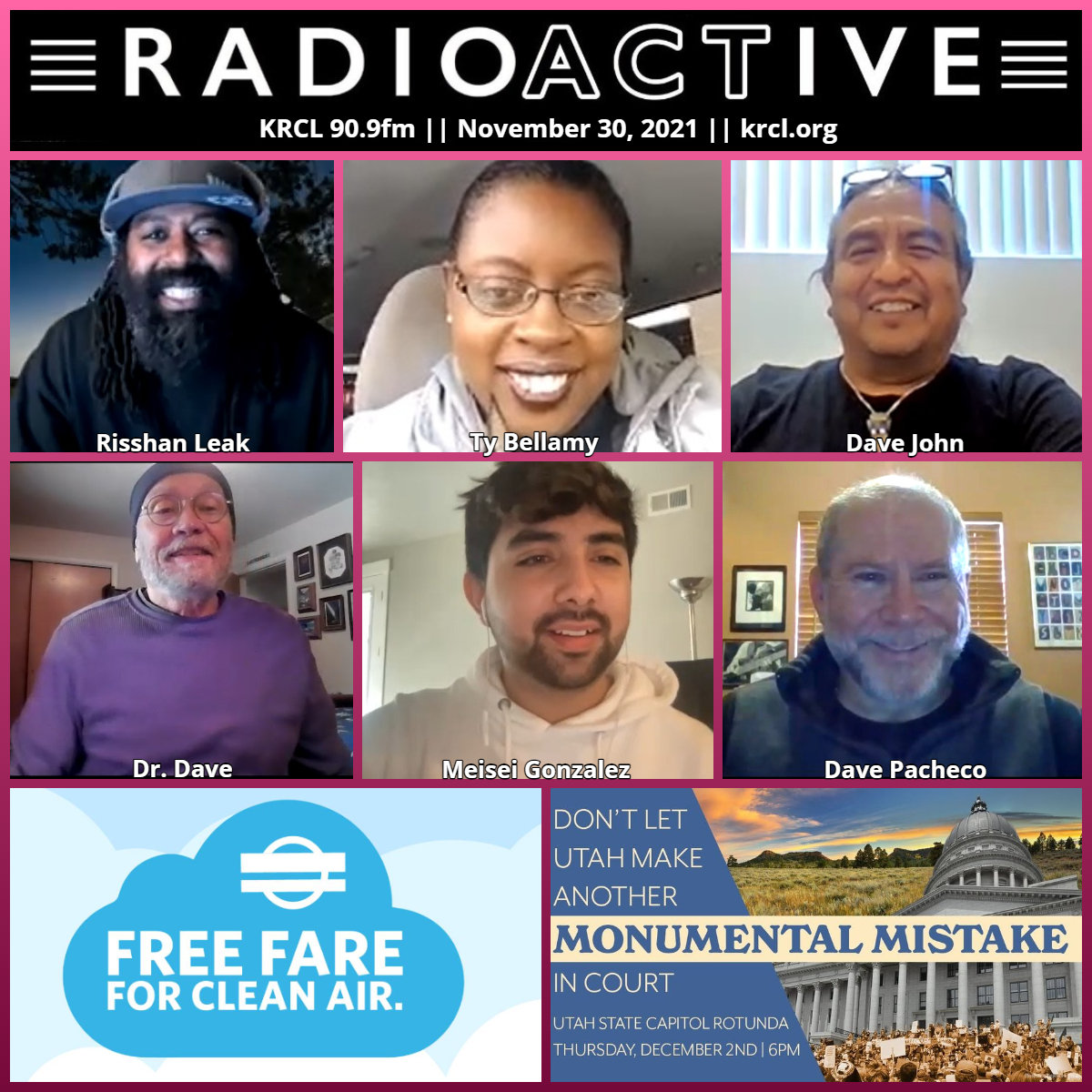 It's #GivingTuesday. Check out tonight's show for some ideas from Dr. David Derezotes, Southern Utah Wilderness Alliance, HEAL Utah, Black Lives for Humanity Movement and Our Unsheltered Relatives.
Tonight's show featured the following people, organizations and/or events. Check them out and get plugged into your community!
Dr. David Derezotes, who will host a virtual community dialogue on Community Mental Health During the Holidays tomorrow night at 6:30 p.m. To sign up and get the Zoom link, click here. It's a guided dialogue with the folks who participate. Get some insights to manage the stress of the holidays!
Dave Pacheco of Southern Utah Wilderness Alliance (SUWA), a non-partisan, non-profit organization working full time to defend Utah's redrock wilderness.
Dec. 2: Protest: Don't Let Utah Make Another Monumental Mistake in Court, 6:00-7:30 p.m. at Utah State Capitol Rotunda, 350 N. State St., SLC. Event by Southern Utah Wilderness Alliance and Bears Ears Inter-Tribal Coalition: "The state of Utah intends on spending millions of taxpayer dollars to pursue a lawsuit over the restoration of Bears Ears and Grand Staircase-Escalante National Monuments. You're invited to join tribal leaders and the conservation community to protest this out-of-touch lawsuit pursued by Utah Governor Cox and Attorney General Reyes. This protest is about more than showing support for our national monuments. It's about standing for tribal sovereignty. We will rise as allies to the tribes who have consistently stood up for these landscapes despite being ignored by condescending Utah politicians. Please attend to show the Governor and Attorney General that spending millions of your tax dollars on efforts that re-open wounds of the past is unacceptable. This protest is indoors—please wear a mask."
Meisei Gonzalez of HEAL Utah, which earlier this week announced its "Free Fare for Clean Air" partnership to combat this winter's inversion season. In partnership with the Utah State Legislature, the Utah Department of Environmental Quality (DEQ), Utah Clean Air Partnership (UCAIR), and The Healthy Environment Alliance of Utah (HEAL Utah), the Utah Transit Authority (UTA) will offer Free Fare for Clean Air days this upcoming winter inversion to combat bad air quality days.
The fare will be free on all UTA bus and rail services, including the Ski Bus, paratransit, the Park City-SLC Connect, and UTA's On-Demand micro-transit service in southwestern Salt Lake County.

Visit Healutah.org/freefaredays to learn more and text "FreeFareDays" to (855) 801-2906 to receive alerts on the next free fare day.
#RountableTuesday panel with Community Co-Host Risshan Leak, who spoke with two people engaged in direct action to feed and clothe folks living on the streets:
Views, thoughts, or opinions shared by guests are their own and do not necessarily reflect those of the board, staff or members of Listeners' Community Radio of Utah, KRCL 90.9fm. Tonight's show was produced and hosted by Lara Jones and Risshan Leak.
###