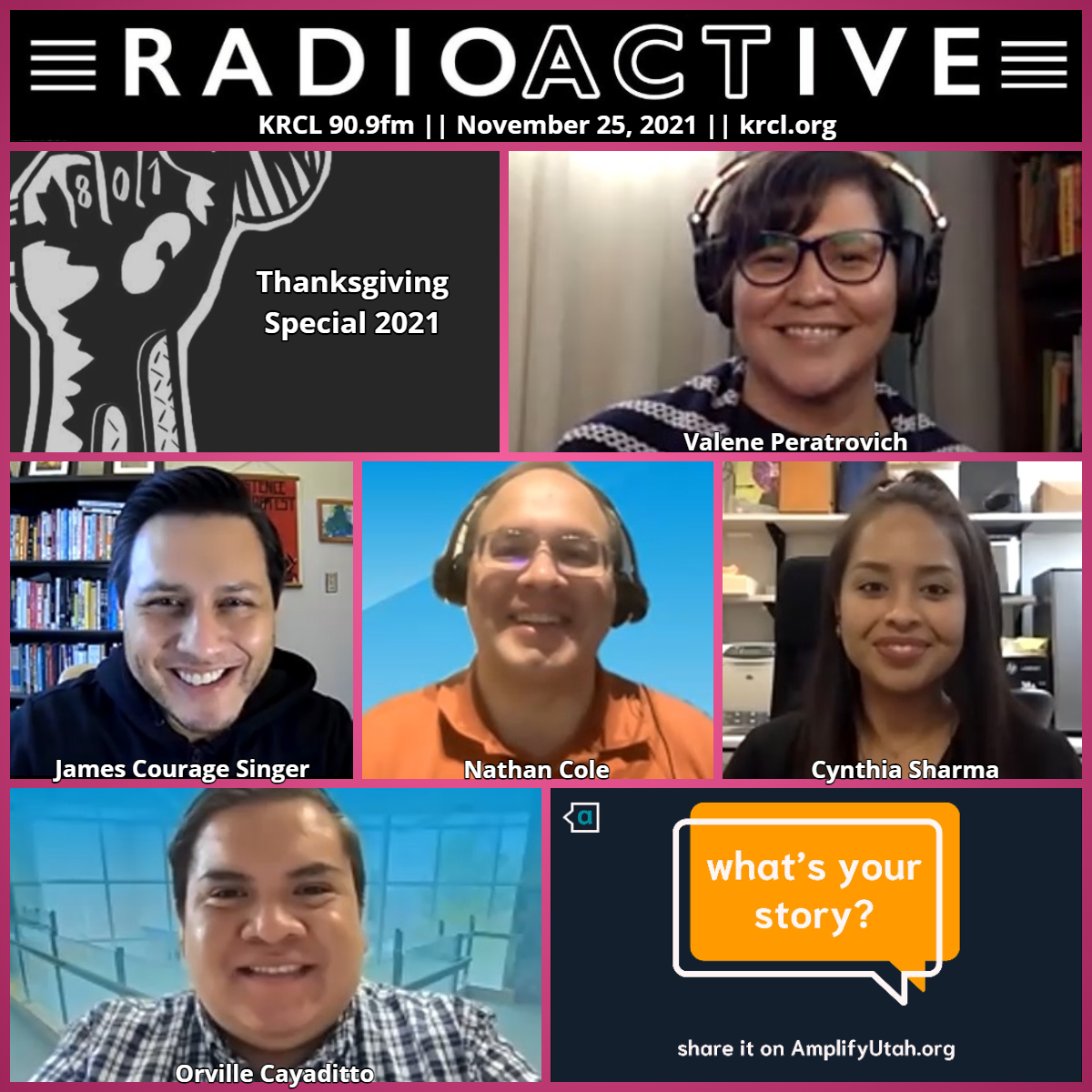 A RadioACTive Thanksgiving Special, featuring local Indigenous leaders and community members exploring the truths of this most American of holidays and their modern experiences.
Tonight's show was a collaboration with Radio SLCC, The Globe Newspaper and Amplify Utah. The latter is a new journalistic storytelling and media literacy project with a focus on storytelling by and about under-represented groups.
As tonight's show host Valene Peratrovich (Tlingit-Eagle Clan, Unungan and Athabascan Nations) said, the show was "fully Indigenous-powered." Panelists included:
Prof. Nathan Cole, Professor of English and faculty advisor of the American Indian Student Leadership club at SLCC. Cole is an enrolled member of the Akwesasne Mohawk Tribe, in northern New York State and Ontario, Canada. Aside from English Composition courses, he also teaches a Native American Literature & Experience class. Click here to read the Haudenosaunee Thanksgiving Address Greetings to the Natural World mentioned by the professor.

Orville Cayaditto, Director of Native American student success at SLCC and Staff advisor to American Indian Student Leadership club at SLCC. Cayaditto is an enrolled member of the Diné/Navajo Nation and a first-generation college graduate. He is a Multicultural Student Success Coordinator in the Office of Diversity & Multicultural Student Affairs with a designated focus on Native American and American Indian students.

Prof. James Courage Singer, Professor of Native American Ethnic Studies at SLCC and a local activist. Singer, who is Diné, is an assistant professor of sociology and ethnic studies at Salt Lake Community College. He researches how power, culture, religion, and institutional mis/representation of Natives intersect in public education. In his most recent publication in Teach For America's One Day magazine, Singer recounts his father's experience in a Native American boarding school during the 1960s.

Cynthia Sharma is Diné and part of the Native Club and is also the Vice President of SLCC's Pre-Med Club. She received her bachelor's in English and is currently applying to medical school.
Views, thoughts or opinions shared by guests are their own and do not necessarily reflect those of the board, staff or members of Listeners' Community Radio of Utah, KRCL 90.9fm. Tonight's show was produced Lara Jones and hosted by Valene Peratrovich, a radio and journalism student at Salt Lake Community College.
###