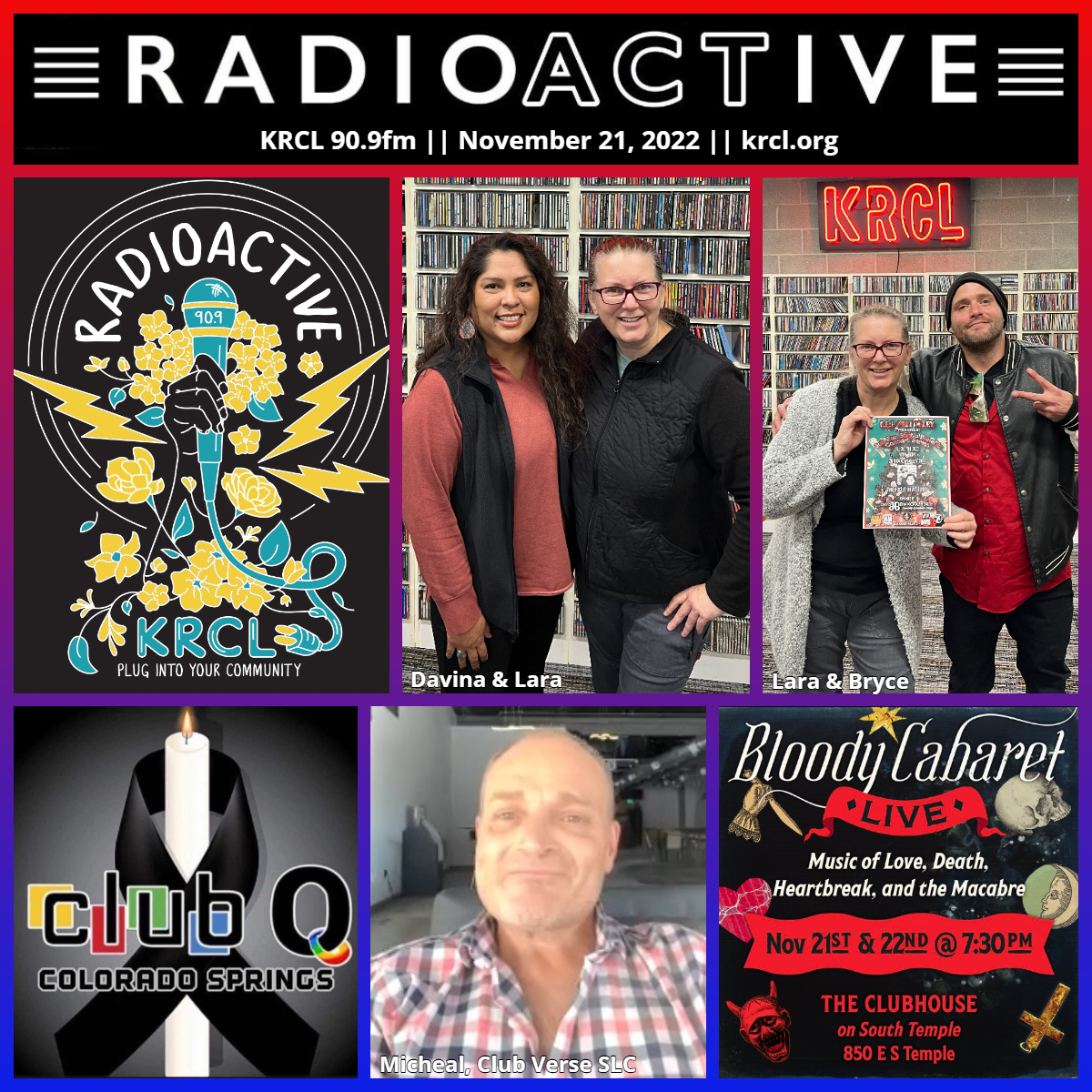 Music Meets Activism, featuring Davina Smith, a Diné mother of four who's completed prayer runs and an election run. Tune in to hear more of her story with a playlist to match. Plus, Club Q and Club Verse SLC, Bloody Cabaret, and R.A.P. 2 Recovery.
To hear tonight's show with full music, click here to listen on demand for the next 2 weeks. Otherwise use the player below.
Tonight's show featured the following people, organizations and/or events. Check them out and get plugged into your community!
KDNK News and Rocky Mountain Community Radio's Morgan Neely with a report on Colorado's Club Q, which was attacked by a lone shooter late Saturday evening, minutes before the start of Sunday's Transgender Day of Remembrance.
Micheal Repp of Club_Verse_SLC, a new nightclub serving the LGBTQ+ community. In the wake of the shooting in Colorado, the club has remained open but is increasing its security measures.
Megan Joy and Kagan Breitenbach on the two-night run of their debut musical film, Bloody Cabaret.
Nov. 21-22: Bloody Cabaret, 7:30 p.m. at The Clubhouse on South Temple, SLC. Tickets can be purchased at www.bloodycabaret.com/live. "The event will premiere 90 minutes of original compositions and arrangements taking the audience on an immersive journey through love, death, heartbreak, and the macabre. The group, fronted by powerful emotional vocals by Megan Joy and kagan Breitenbach, will be driven by an acoustic chamber string ensemble blurring the lines between rock and classical music. The performance will contain lyrical content some may find disturbing as well as some explicit language and may not be appropriate for all children. No children under 8 will be admitted and the creators advise that the event is most suitable for ages 13 and up."
Bryce Conaster of R.A.P 2 Recovery, which will host a Sub for Santa benefit concert next month.
Dec. 9: R.A.P. 2 RECOVERY SUB 4 SANTA BENEFIT CONCERT, 4:00-9:00 p.m. at Annie's Diner, Kaysville. "r.a.p. 2 recovery is teaming up with Davis behavioral health and bringing together some of the best local artists to help raise funds for the families who are in need this year. FREE !! BUT DONATIONS ARE APPRECIATED. there will be live entertainment, food, and more."
Music Meets Activism, featuring Davina Smith, a Diné mother of four who's completed prayer runs and, in the recent midterms, a run for elected office in San Juan County. Hit play on the Soundcloud file above to hear more of her story.
Davina's MMA Playlist:
"A Woman's Journey," by Rad Milda Cody
"Optimistic," Sound of Blackness
"Life Me Up," Rihanna
"In the Air Tonight," Phil Collins
Guests' views, thoughts, or opinions are their own and do not necessarily reflect those of the board, staff, or members of Listeners' Community Radio of Utah, KRCL 90.9fm. Tonight's RadioACTive team included:
###