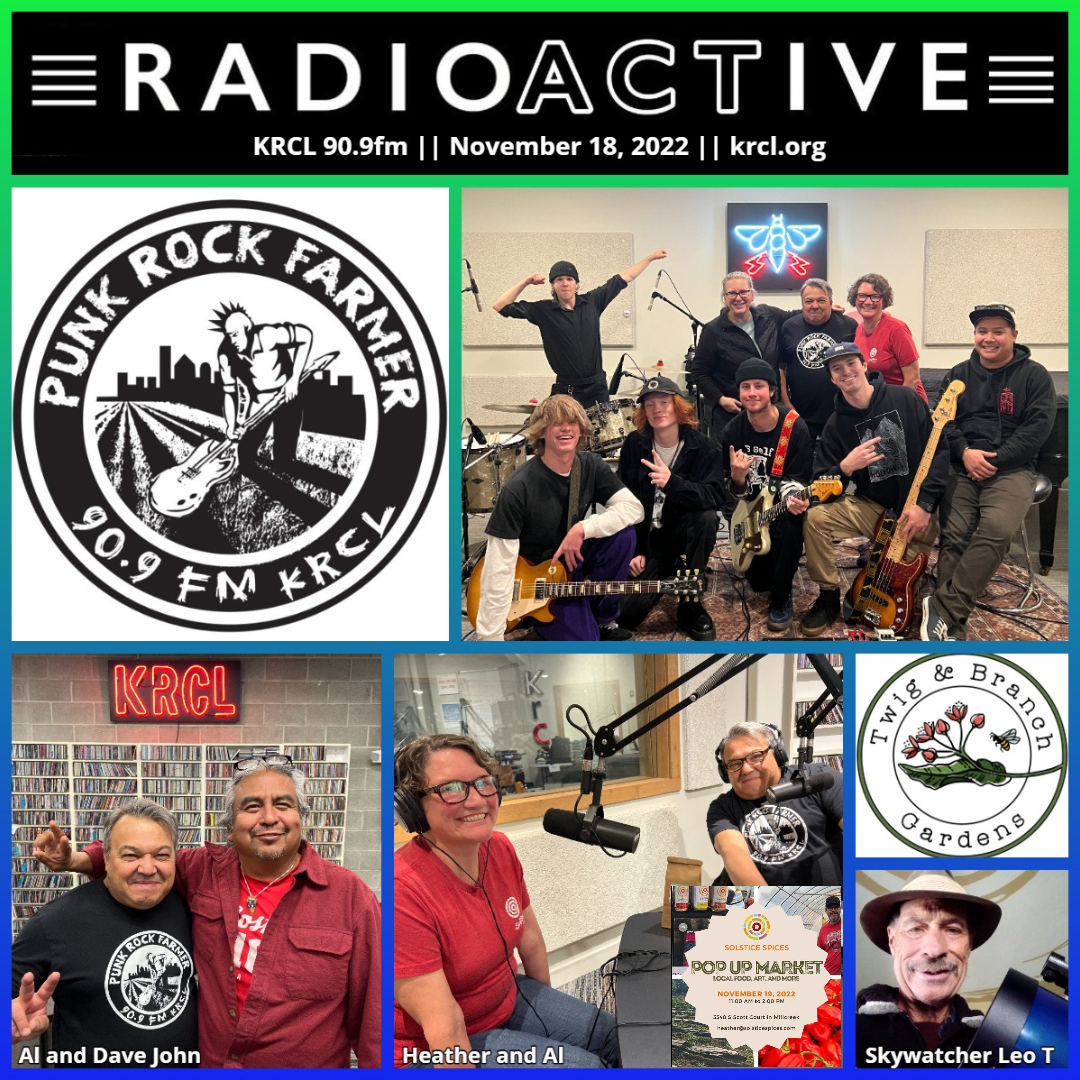 More true tales from the agrihood with Aldine, KRCL's Punk Rock Farmer, and Lara. Featuring Solstice Spices and Twig and Branch Gardens on the Urban Farm Report. Plus, OUR's and PANDOS Pre-UN-Thanksgiving, a Navajo seed keeper, SkyWatcher Leo T, and fresh, homegrown music from Portraits.
Tonight's show featured the following people, organizations and/or events. Check them out and get plugged into your community!
Fresh, homegrown music from Portraits, a hardcore punk band out of SLC. Check them out:
#ManyCulturesOneSky with SkyWatcher Leo T, a RadioACTive volunteer-contributor who shares his love for the night sky and cultural tales of the constellations during #PunkRockFarmerFridays. Tonight: Artemis launches and "we rise together, back to the moon and beyond!"
Dave John of OUR's & PANDOS Pre-UN-Thanksgiving, Saturday's feeding, 12:00 p.m. at The Island, 350 South 500 West SLC. Volunteers and food suppliers wanted to make Indian tacos for folks living on the streets. Contact Dave John:
KSUT Report Clark Adomaitis: A Navajo seedkeeper shares his ancestors' food with the world. Story shared with us via Rocky Mountain Community Radio, a network of public media stations in Colorado, Wyoming, New Mexico and Utah, including KRCL.
Aldine's Urban Farm Report, featuring Heather Peeters of Solstice Spices and Rob Gilmore of Twig & Branch Gardens.
Guests' views, thoughts, or opinions are their own and do not necessarily reflect those of the board, staff, or members of Listeners' Community Radio of Utah, KRCL 90.9fm. Questions, comments or suggestions for the show? Email radioactive@krcl.org. Tonight's RadioACTive team included:
###