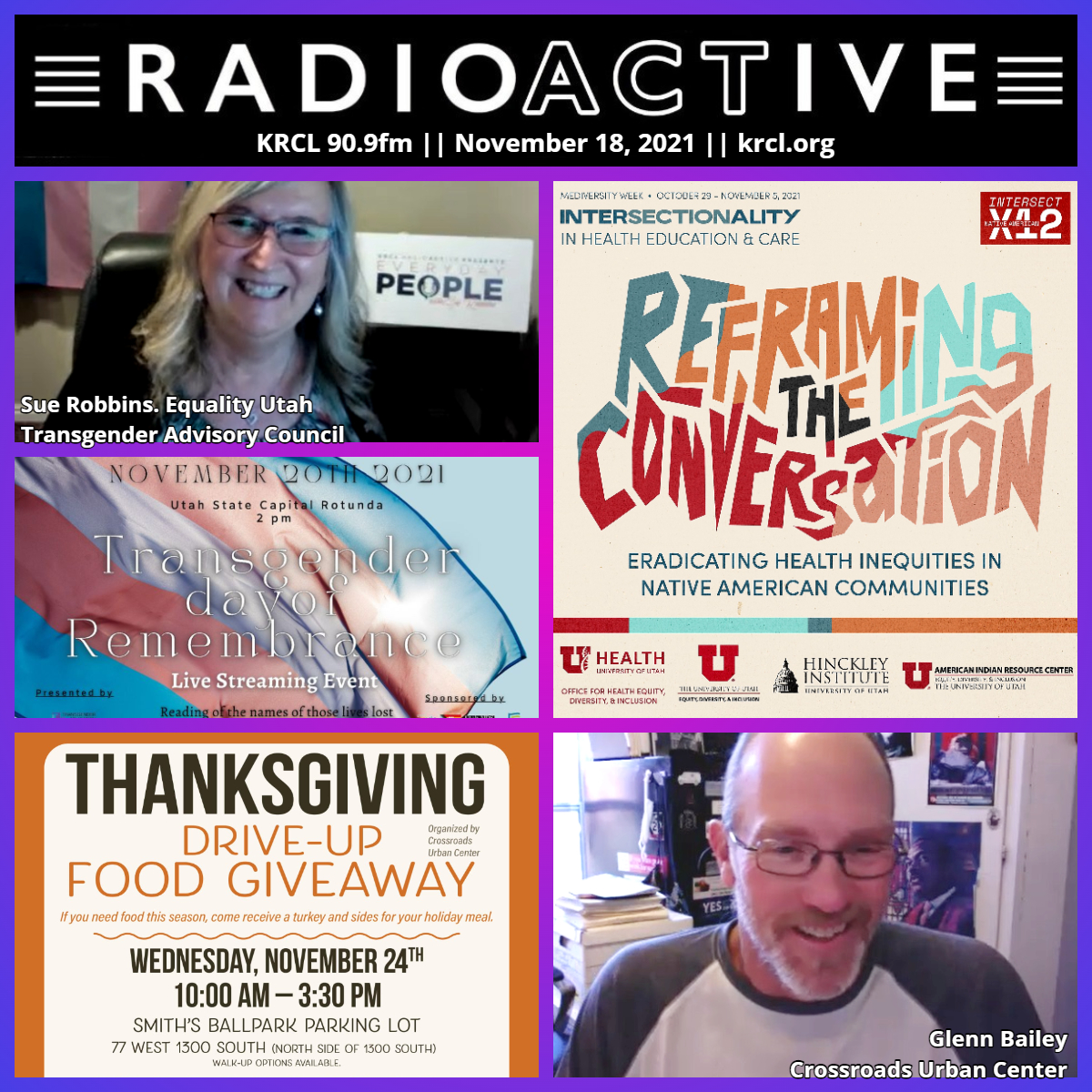 Reframing the Conversation: Eradicating Health Inequities in Native American Communities. The Coalition of Religious Communities needs your help to eliminate the sales tax on food. Crossroads Urban Center's Thanksgiving food giveaway. Equality Utah's Sue Robbins on Transgender Day of Remembrance and an update on legislation affecting transgender youth's participation in school sports.
Tonight's show featured the following people, organizations and/or events. Check them out and get plugged into your community!
City Weekly readers name KRCL 90.9fm the Best RadioStation in Utah! Click here to read more.
Glenn Bailey of Crossroads Urban Center provided an update on the nonprofit's work to eliminate the sales tax on food, get lawmakers to spend ARPA funds on affordable housing, and giving away food to those in need this Thanksgiving.
Nov. 24: Thanksgiving Meal Drive-Up Giveaway, 10a-3:30p at Smiths Ballpark Parking Lot, 77 W. 1300 S., SLC. If you know a person or family who needs help having a happy Thanksgiving please let them know about Crossroads Urban Center's Thanksgiving Turkey Giveaway. Each family will receive a turkey and three sides, with support from Harmon's. At approximately 1:00 p .m., there will also be a press conference, It is time to eliminate the sales tax on food, with the Coalition of Religious Communities and other faith and community organizations.
Sue Robbins, chair of Equality Utah's Transgender Advisory Council, provided an update on legislation regulating transgender youth's participation in high school sports.
Nov. 20: Transgender Day of Remembrance (TDOR), 2:00-4:00 p.m. in the Rotunda of the Utah Capitol Bldg. 350 N. State. St., SLC, and online. Event by Utah Pride Center, University of Utah Transgender Health Program and Transgender Education Advocates - TEA of Utah: "Join us as we read the names of those we've lost and memorialize the lives they've lived. Live stream will be available, more details to come. Seating is first-come, first-serve. Masks are required for those not vaccinated and recommended for those that are. The reception will be at the Utah Pride Center following the service at 4:30 pm. Check out Project Rainbow's memorial from November 13th - 21st at the Salt Lake City-County Building facing State Street. Candles will be lit at 6pm November 20th in memory of the lives we've lost."
Views, thoughts or opinions shared by guests are their own and do not necessarily reflect those of the board, staff or members of Listeners' Community Radio of Utah, KRCL 90.9fm. Tonight's show was produced and hosted by Lara Jones.
###