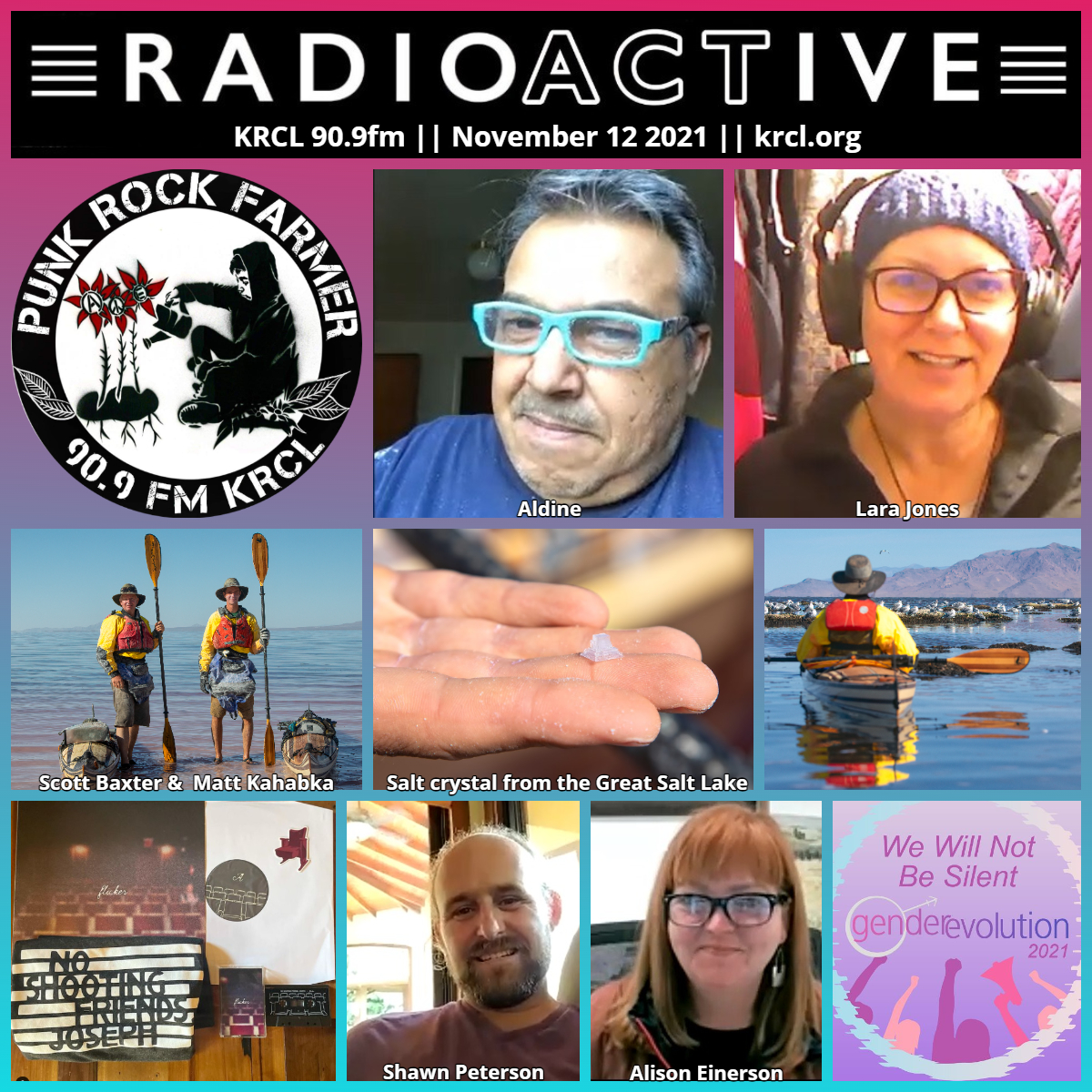 #PunkRockFarmerFriday tackles gleaning, Choose SLC at the Winter Market. Al's #UrbanFarmReport takes a trip to the Great Salt Lake with Scott Baxter. Plus, SkyWatcher Leo T, Sundance Film Festival's Local Lens, GenderEvolution, and fresh, homegrown music from No Shooting Friends Joseph.
Tonight's show featured the following people, organizations and/or events. Check them out and get plugged into your community!
Fresh, homegrown music from No Shooting Friends, Joseph, a band that came together during quarantine. The NSFJ album Flicker is available for download here. And expect something new in 2022, as the band is headed back into the studio soon.
#ManyCulturesOneSky with SkyWatcher Leo T, featuring skywatching tips! Leo says look to the southwest horizon after sundown Friday and Saturday to "discover Jupiter, Saturn, the Moon, and Venus forming a long, ragged diagonal line in the south to southwest, from upper left to lower right. Then later, dazzling Orion peaks its head up above the horizon and rises in the SE above the sea cliffs, the Mountains, or the Red swells of Wingate sandstone...where the Magical, Orion Nebula resides...Thousands of stars are forming in the cloud of gas and dust. A mere 1,300 light-years away, binoculars will accentuate the experience even from your kitchen window! For cool photos and maps, visit Leo's FB page — click here.
Betsy Wallace of Sundance Film Festival shared details of the new Local Lens program for the 2022 fest. Click here for details and get signed up today for free screenings and other opportunities just for local indie film lovers.
Stacey Jackson-Roberts and Amanda Darrow of the Utah Pride Center. The nonprofit serving the LGBTQ+ community will host a virtual GenderEvolution Conference tomorrow. Click here for tickets. Scholarships are available.
Shawn Peterson of the Association of Gleaning Organizations, a nonprofit that builds the capacity of organizations recovering fresh fruits and vegetables from farms, gardens, and backyards across North America. Before joining AGO, Peterson led Green Urban Lunch Box in SLC.
Alison Einerson of Downtown SLC Farmers Market, which opens its Winter Market on the north end of Pioneer Park, 350 S. 300 W., SLC, tomorrow from 10a-2p. Starting Nov. 20th, find the market on the north end of The Gateway every Saturday through April 23.
Aldine's #UrbanFarmReport, featuring Scott Baxter, who earlier this summer circumnavigated the Great Salt Lake in a kayak he made.
Views, thoughts or opinions shared by guests are their own and do not necessarily reflect those of the board, staff or members of Listeners' Community Radio of Utah, KRCL 90.9fm. Tonight's show was produced and hosted by Lara Jones and Aldine, KRCL's Punk Rock Farmer.
###