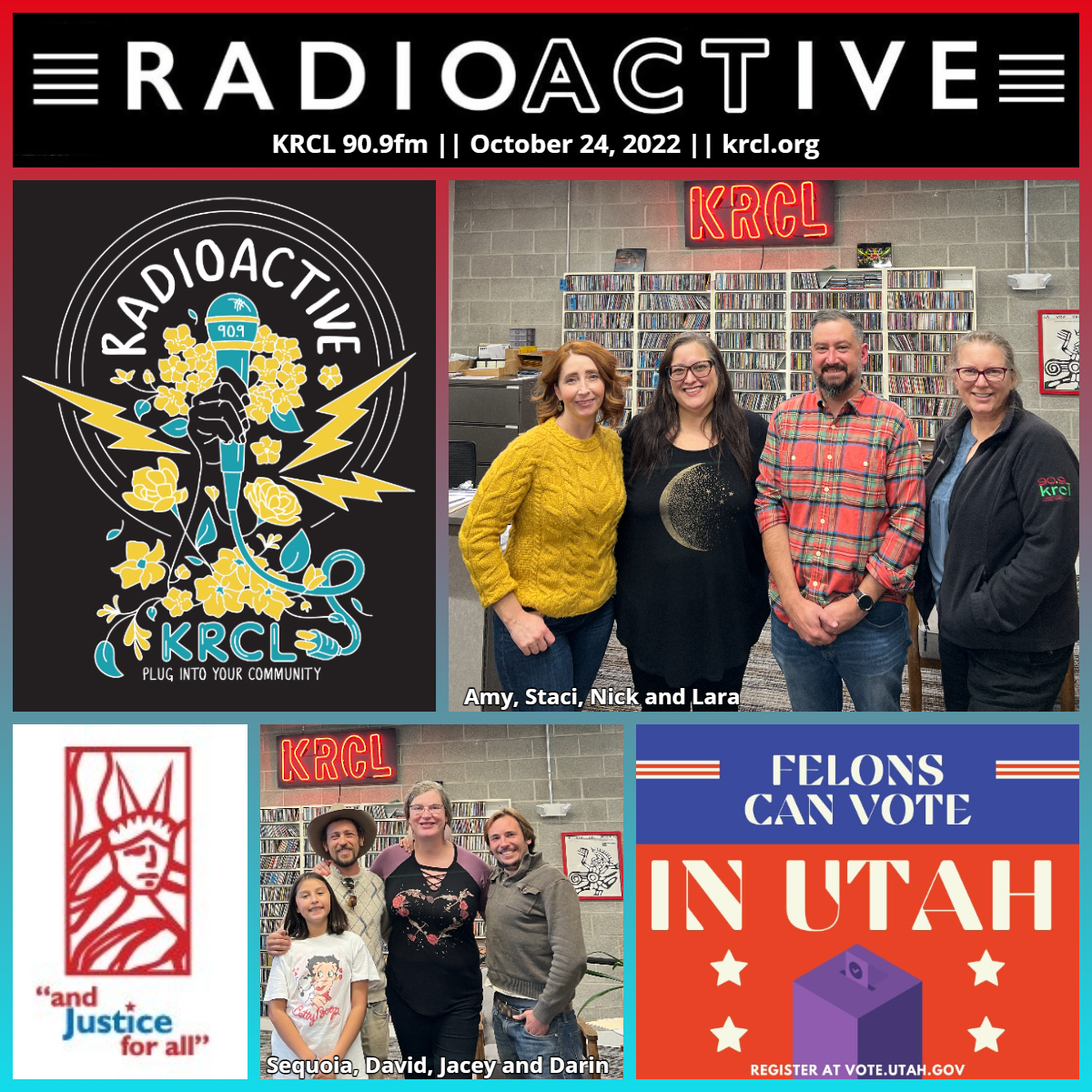 And Justice For All, a collaboration of Utah's primary providers of civil legal aid. Dane Bland of Rainbow Railroad on the LGBTQi+ Global Crisis. Journey of Hope on voting rights for Utahns with felony convictions. By the People on the 2022 Local Initiatives Summit.
Tonight's show featured the following people, organizations and/or events. Check them out and get plugged into your community!
Jacey Thornton of Journey of Hope with a reminder that Utahns with felony convictions can, and should, vote. To find out more, click here.
David Schutt and Darin Mann of By The People, a Utah nonprofit that aims to educate and empower folks to combat radicalization & fatalism in politics.
Nov. 5: Local Initiatives Summit 2022, 3:00-8:00 p.m. at Church & State, 370 S. 300 E., SLC. Event by By The People: "A cordial event for citizens, community leaders and elected officials to discuss local issues and potential solutions beyond partisan politics. Featured speakers: Darin Mann, Village Cooperative; Deeda Seed, Public Lands Sr. Campaign Manager; Rocky Anderson, former SLC Mayor."
Dane Bland of Rainbow Railroad. He's in town tonight for the Ambassador John Price & Marcia Price World Affairs Speaker Series.
Oct. 24: The LGBTQi+ Global Crisis: Addressing an Epidemic of Violence and Persecution, 7:00 p.m. at Westminster College, 1840 S. 1300 E., SLC. Event by Utah Council for Citizen Diplomacy: "In a time when there are more displaced people than ever before, LGBTQI+ people are uniquely vulnerable due to systemic, state-enabled homophobia and transphobia, resulting in an epidemic of violence and persecution. Join Utah Council for Citizen Diplomacy as we welcome Dane Bland with Rainbow Railroad as he discusses how they help LGBTQI+ individuals worldwide find safety and access lives free from persecution, and what individuals in Utah can do to be part of the solution."
Music Meets Activism with the folks from And Justice for All, a nonprofit created in 1999 by Utah's primary providers of civil legal services – Disability Law Center, Legal Aid Society of Salt Lake and Utah Legal Services. Under the umbrella of AFJA, these groups provide free and low-cost legal services to Utah's most vulnerable citizens. Guests included:
Here's the full MMA playlist from AJFA:
Fast Car, Tracy Chapman
Imagine (John Lennon)
Lean on Me (Club Nouveau)
I Will Survive (Gloria Gaynor)
Here Comes the Sun (Richie Havens)
Get Up Stand Up (Bob Marley)
A Change is Going to Come (Sam Cooke)
Ain't Nothing Wrong With That (Robert Randolf & The Family Band)
You'll Never Walk Alone (Gerry & The Pacemakers)
He Ain't Heavy, He's My Brother (The Hollies)
Wake Me When It's Over (The Cranberries)
Fight Song (Rachel Platten)
The Joke (Brandi Carlisle)
Let it Be Me (Indigo Girls)
You've Got a Friend in Me (Toy Story Soundtrack / Randy Newman)
Unbreakable (Ugly Dolls Soundtrack / Janelle Monae & Kelly Clarkson)
Rise Up (Imagine Dragons)
Free (Florence + the Machine)
Gaslighter (The Chicks)
Give Me a Sign (Breaking Benjamin)
How Did You Love (Shinedown)
Sound of Silence (Simon & Garfunkel)
Look Up (Joy Oladokun)
Guests' views, thoughts, or opinions are their own and do not necessarily reflect those of the board, staff, or members of Listeners' Community Radio of Utah, KRCL 90.9fm. Tonight's RadioACTive team included: