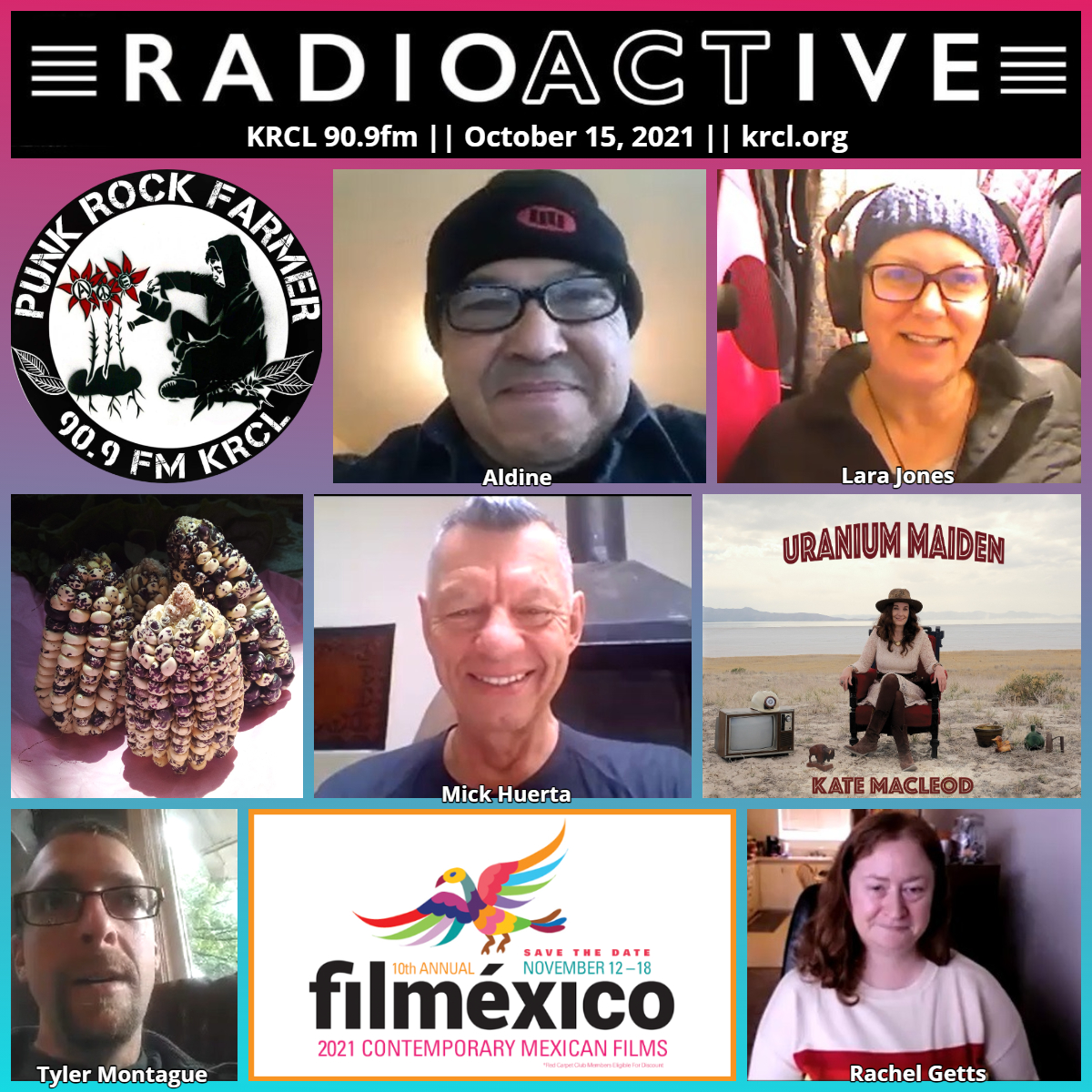 #PunkRockFarmerFriday with Mick Huerta, Our Man in South America. Time to plant garlic. Salt Lake Film Society set to reopen. #3QuickPicks in the park while the weather holds. Skywatcher Leo T's Pluto update. Fresh, homegrown music from Kate MacLeod, who's set to release her new album -- Uranium Maiden.
Tonight's show featured the following people, organizations and/or events. Check them out and get plugged into your community!
Fresh, homegrown music with Kate MacLeod, who shared three songs from her new album, Uranium Maiden.
Oct. 20: Kate MacLeod Recording Release Concert, 7:30 p.m. "In concert, and online, this concert is FREE to the public. It will be held at the Gallivan Center, on the second floor of the north building. This concert is hosted by Excellence in the Community, www.excellenceconcerts.org. Joining me will be some of the musicians who are on the recording."

Oct. 22: Uranium Maiden Beer/Recording Release, 4-6/8-10 at Fisher Brewery, 320 W. 800 S., SLC. See Kate MacLeod live and get your share of the limited batch of Uranium Maiden beer!
SkyWatcher Leo T, a RadioACTive volunteer contributor who shares his love for the night sky, cultural tales of the constellations and more during #PunkRockFarmerFridays. Tonight: how to find the Big Dipper, Draco the Dragon, the Draconids meteor shower transition into the Orionid meteor display by Oct. 21, Kirk in Space, a Chinese rover on the far side of the moon, Perseverance Rover on Mars, Lucy Spacecraft launch, Planet X, Pluto, and more.
Community Garden Update from Wasatch Community Gardens: "We are thrilled that Salt Lake City has approved funding for a new community garden at Harrison and 700 E. through the city's Capital Improvement Program. We are currently working with garden neighbors and City staff on the next steps of design and construction, with an open date goal of May 2022. Opportunities to participate in each of these design and building steps are open to the community, and neighbors who do participate in this early process will receive priority in plot rental assignments for 2022. To learn more and get involved, please contact Van Hoover, Green City Growers Manager, van@wasatchgardens.org or 801-359-2658 x26."
Rachel Getts of Salt Lake Film Society, which is set to reopen screens at Broadway on Oct. 22. Tower to follow, people! Check out the opening weekend lineup at Broadway Dune (2021); Jodorowsky's Dune documentary (2013); The Harder They Fall; Bergman Island; The Rescue; Velvet Underground (2021); Possession (1981). Tickets and showtimes will be available online only on Friday 10/22. Look for updates on SLFS social media and at SLFS.org.
Oct. 15: SLFS Studio Backlot Motor Cinema: THE THING (1982). A research team in Antarctica is hunted by a shape-shifting alien that assumes the appearance of its victims. Directed by John Carpenter. Starring: Kurt Russel, Wilford Brimley, Keith David.

Oct. 16: SLFS Studio Backlot Motor Cinema: HALLOWEEN (1978). Fifteen years after murdering his sister on Halloween night in 1963, Michael Myers escapes from a mental hospital and returns to the small town of Haddonfield, Illinois to kill again. Directed by John Carpenter. Starring: Donald Pleasence, Jamie Lee Curtis, Tony Moran.

Nov. 12-18: Filméxico 2021 at SLFS, panels and films virtually and in person that feature Mexican artists and voices. Partners include Consulado de México en Salt Lake City and Artes de México en Utah.
Liz Sollis of Salt Lake County Parks and Recreation offered #3QuickPicks in the parks, while the weather holds! But first, she'd like everyone to take the SL County Parks & Rec Community Needs Survey to help determine recreational facilities, parks, open space, and program priorities for our community. Now to the picks:
Magna Regional Park, Magna Township, 4042 S. 7200 W., Magna. Phase 1 is now open to the public, including splash pad and playground, walking paths, multi-purpose field, pavilions.
Central City Recreational Center, Salt Lake City, 615 S. 300 E., SLC. Hiking program, Martial arts, youth and adult sports, fitness programs like Zumba and yoga.
Wheeler Historic Farm, 6351 S. 900 E., Murray. Animals, tours, tractor rides, walking paths, Pumpkin Days (family-friendly, not so scary) through October 31, maze, pumpkin patch, pedal tractor track. The last farmers' market of the season is this Sunday from 9a-1p!
#UrbanFarmReport: Ending and starting the growing season, featuring:
Tyler Montague, Keep It Real Vegetables, who's ready to plan 10,000 garlic starts. For garlic nerds, he recommends checking out the True Garlic Seed Forum on Facebook.

Mick Huerta, Our Main in South America™, all the way from the Sacred Valley of the Incas in Peru. A former Salt Laker, Huerta's helping to start Sacred Valley Foods, purveying the best of the Andes to the world. The project will help farmers realize more of the profits from their labor by making food products — jams, jellies, hot sauce and chocolate bars — from what they grow.
Views, thoughts or opinions shared by guests are their own and do not necessarily reflect those of the board, staff or members of Listeners' Community Radio of Utah, KRCL 90.9fm. Tonight's show was produced and hosted by Lara Jones and Aldine, KRCL's Punk Rock Farmer.
###