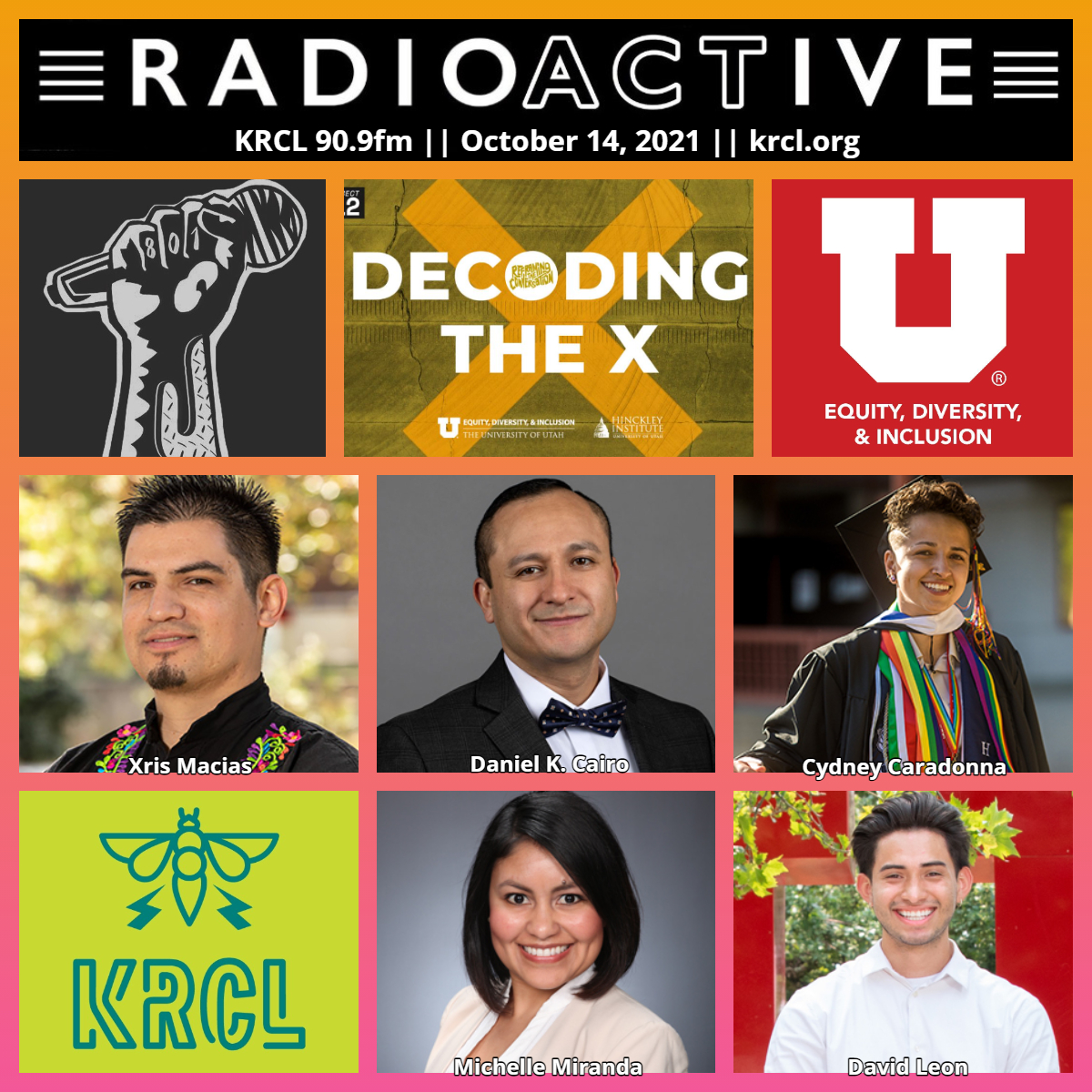 Reframing the Conversation: Decoding the X with experts from across the University of Utah campus and community to spark important conversations around racism, othering, and safety.
Tonight's show featured the following people, organizations and/or events. Check them out and get plugged into your community!
Reframing the Conversation: In our partnership with Equity, Diversity, & Inclusion - University of Utah, RadioACTive shared Decoding the X, recorded Oct. 6, 2021 (edited lightly for time and other broadcast considerations): "What does the "x" mean at the end of identity-based terms like Latinx or Chicanx? How does it fit with other self-selected identities, and why is there conflict surrounding the use of these expressions? Learn more and join the conversation at the October iteration of Reframing the Conversation: Decoding the X."
Decoding the X panelists included:
Xris Macias, Med, Director, Dream Center: Xris Macias is a first-generation son of immigrants and the Director of the Dream Center at the University of Utah where he works with undocumented students, and mixed-status families. He has a master's degree in Education Culture and Society, where his research emphasis was on Lowriders being educational tools for marginalized communities. Xris is a Foreign Language and Area Studies (FLAS) fellow, with the focus area of Latin America. Xris is Vice-Chair of Chicana/o Scholarship Fund. He is fluent in Spanish and well-versed in Portuguese.

Daniel K. Cairo, Special Assistant – Strategy and Operations, Equity, Diversity, & Inclusion: Dr. Daniel K. Cairo (he/him/el) brings over 10 years of experience in leading programs that support diversity, equity, and inclusion. As an educator and organizational leader, he has developed successful equity and inclusion programs at multiple institutions.

Cydney Caradonna, MA, Graduate Assistant for New Leadership Academy, PhD Student in Educational Leadership and Policy: Cydney Caradonna (she, her hers) is a CA grown Queer Chicana with a bachelor's degree in Spanish from the University of California Merced, and a Master of Arts in Higher Education Administration and Leadership from California State University Fresno. She is now pursuing a Ph.D. in Educational Leadership and Policy here at the University of Utah. During her undergraduate career, she played intercollegiate Basketball for the University of California, Merced while also working for the institution's transfer student support program. Her passion for student affairs, and specifically equity leadership, was born and drove her to pursue a graduate degree in the field. Her career goals include becoming faculty and an administrator, with hopes of producing research surrounding critical leadership studies, while maintaining engagement with community organizing efforts. Cydney firmly identifies as a scholar/activist. Additional interests include R&B/rap music, tattoos, reading, good food (all kinds), and spoken word poetry.

David Leon, First-Gen Scholars Friday Cohort Leader, Service Desk Manager, ASUU Speakers: David M Leon is a fourth-year first-generation student majoring in Recreational Therapy with a minor in Psychology with aspirations of working in the medical field. In his free time, he enjoys hiking, working out, and taking part in multiple on-campus organizations, including but not limited to First-Gen Scholars, Recreational Therapy Student Association, Dream Center, ASUU, and Leap Scholars.

Michelle Miranda, PhD, MPH, Assistant Professor, Department of Neurology, Division of Neuropsychology, University of Utah: Dr. Miranda is an Assistant Professor at the University of Utah Department of Neurology, Division of Neuropsychology. She developed the first fully Spanish-speaking service in neuropsychology at the University of Utah, and she also provides presurgical evaluations for patients with epilepsy. Her career special interests include cross-cultural neuropsychology, bilingualism in epilepsy, Wada evaluations for non-English speakers, and mapping of language function. She is passionate about the role of a neuropsychologist as an advocate and thus is the Co-Chair of the Hispanic Neuropsychological Association's Social Justice and Advocacy Committee, and she is also the Chair of the Utah Psychological Association's Diversity Committee.
Reframing the Conversation is a monthly hybrid series. Attendees can join in person at S.J. Quinney College of Law (Level 6) or virtually at diversity.utah.edu/rtc.
Nov. 3: Reframing the Conversation: Eradicating Health Inequities in Native American Communities, 12:00 p.m. in person at the Hinckley Caucus Room (Gardner Commons 2018), University of Utah, or virtually at diversity.utah.edu/rtc. Event by U of U American Indian Resource Center, Equity, Diversity, & Inclusion - University of Utah and Office for Health Equity, Diversity, & Inclusion, University of Utah Health. This event is part of the U's MEDiversity Week, which highlights the equity, diversity, and inclusion work within U Health; while addressing health care disparities and offering solutions for the training of our current and future providers.
Views, thoughts or opinions shared by guests are their own and do not necessarily reflect those of the board, staff or members of Listeners' Community Radio of Utah, KRCL 90.9fm. Tonight's show was produced and hosted by Lara Jones.
###