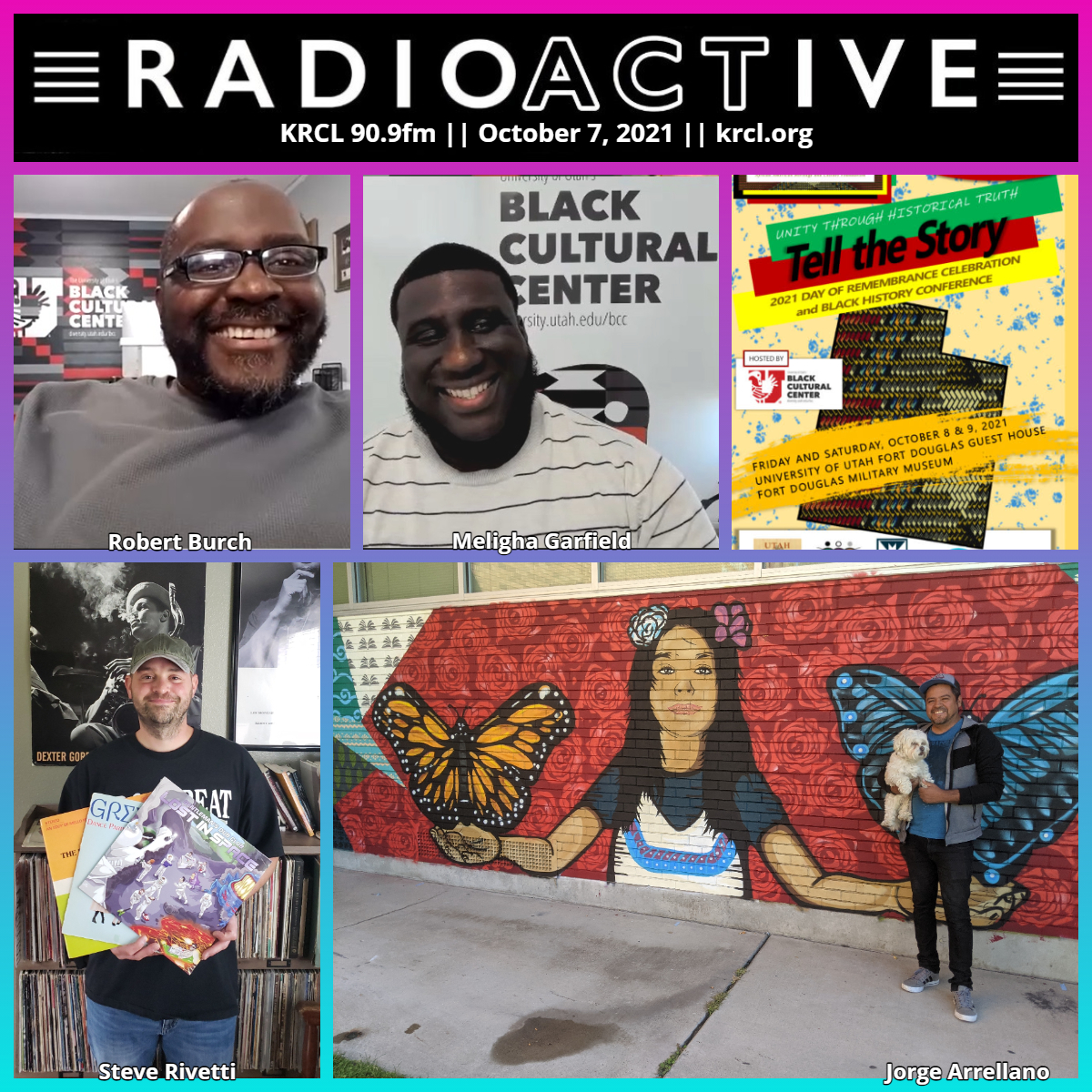 Sema Hadithi African American Heritage and Culture Foundation gets ready to Tell The Story, preserving and presenting the stories of Blacks in Utah. Jorge Arrellano's mural for West of Conventional. Meet KRCL DJ Steve Rivetti, host of World Village.
Tonight's show featured the following people, organizations and/or events. Check them out and get plugged into your community!
TELL THE STORY! - 2021 Annual Day of Remembrance Celebration and Black History Conference happens this weekend at Fort Douglas. RadioACTive got a preview with Robert Burch of Sema Hadithi African American Heritage and Culture Foundation and Meligha Garfield of the Black Cultural Center - University of Utah.
Earlier this week, Visit Salt Lake unveiled its WEST OF CONVENTIONAL MURAL TOUR, featuring commissioned works of art by local artists to enliven Salt Lake's Neighborhoods. Artist Jorge Arrellano, who did the seeds of anarchy t-shirt for the Punk Rock Farmer, is one of the artists. To find out more, RadioACTive's Lara Jones visited him at the site of his mural, This Is How We Move, at SLC Center for Science Education, 1350 Goodwin Ave., SLC.
Meet the DJ: Steve Rivetti, host of World Village, Saturdays from 7-9 p.m. Since taking over the show from Eduman, Steve has added his own touch to an eclectic mix of music from around the world. How'd he do it? He began volunteering about 10 years ago, tabling at KRCL events in the community, then answering phones during Radiothon. With his vast collection of world music, especially Reggae, Steve began filling in on World Village and Smile Jamaica. Take a listen to the show to find out how young he was when he first started listening to KRCL, how his late father inspired him, getting lost in the desert, and a story about getting arrested in Mexico.
Tune in every Saturday night at 7 p.m. for World Village with Steve Rivetti, You'll get two hours of traditional and contemporary grooves from across the globe. Afrobeat, Salsa, Bollywood, World Jazz, and more, all blended together into a unique weekly mix of international sounds.
Views, thoughts or opinions shared by guests are their own and do not necessarily reflect those of the board, staff or members of Listeners' Community Radio of Utah, KRCL 90.9fm. Tonight's show was produced and hosted by Lara Jones.
###