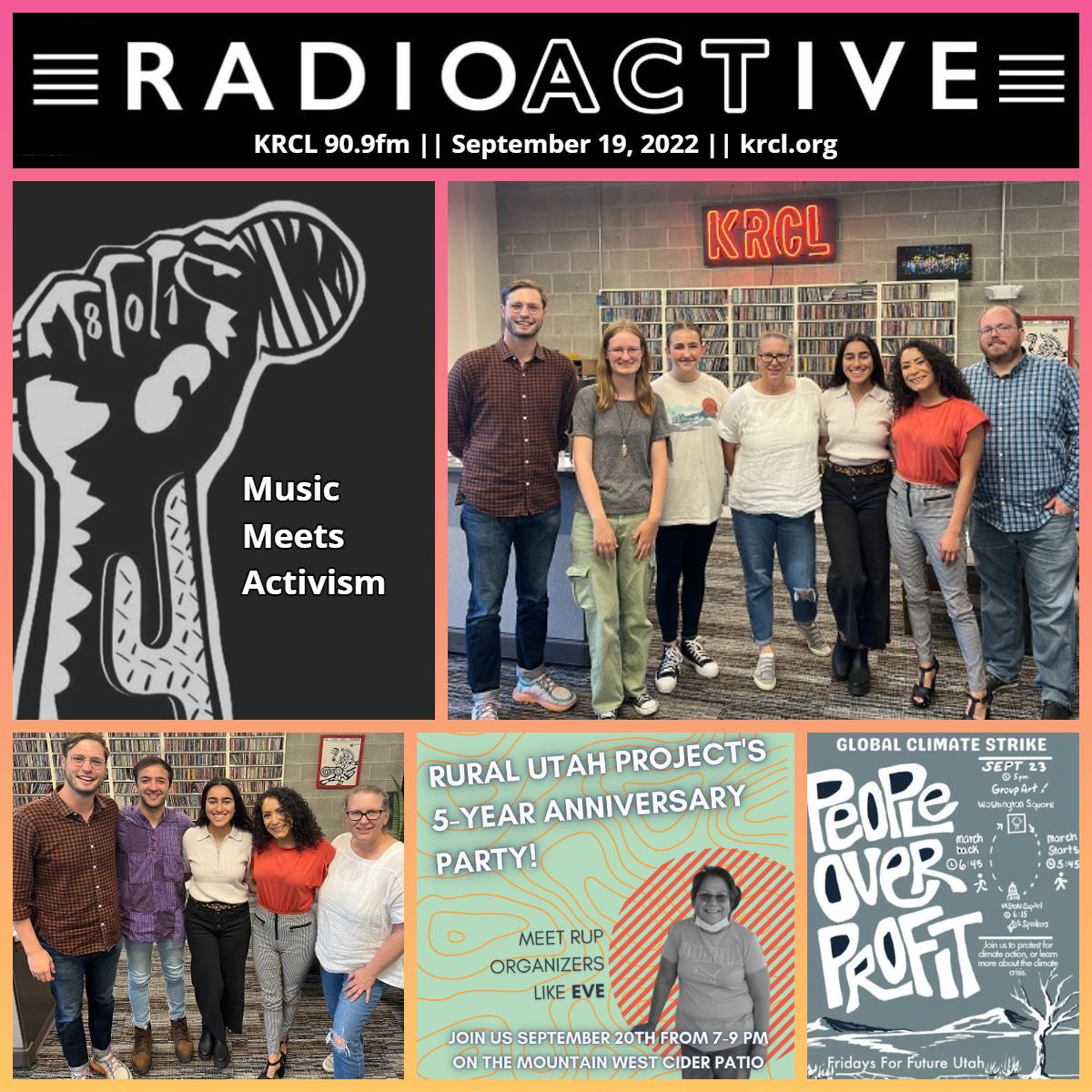 Utah Council for Citizen Diplomacy's International Youth Summit and a panel discussion with young Utahns who are working to achieve the 17 United Nations Sustainable Development Goals in Utah. Plus, Rural Utah Project Turns 5, and Fridays for Future Global Strike for Climate Change this Friday.
Tonight's show featured the following people, organizations and/or events. Check them out and get plugged into your community!
Fridays For Future Utah's Ava Curtis and Melanie Van Hook stopped by to talk about this week's local action on climate change.
TJ Ellerbeck of the Rural Utah Project, a nonprofit that mobilizes underrepresented voters in rural Utah. "Organizing deeply. Where the streets have no name, the people have no vote."
Sept. 20: Rural Utah Project's 5-Year Anniversary Party, 7-9pm at Mountain West Hard Cider, 425 N. 400 W., SLC. "$15 suggested donation (drinks and food sold separately). There will be food from Torito's Tacos, Mountain West's delicious cider, and a silent auction. Bring your friends, and come celebrate all our hard work with us! (21+). Click here to make your donation early."
Vincent Carson of the Utah Council for Citizen Diplomacy, a nonpartisan, nonprofit dedicated to promoting respect and understanding between the people of Utah and other nations one handshake at a time.
Sept. 24: International Youth Summit

, 10a-4p at

Viridian Event Center

, 8030 S. 1825 W., West Jordan. Event by

Utah Council for Citizen Diplomacy

: "A free, single-day conference for Utah youth, aged 14-32. The International Youth Summit aims to bring current and future activists, changemakers, and leaders together to network, connect, and inspire each other. This year's theme:

Rising Tide,

a triple entendre for:

youth leadership
equity, diversity, inclusion, justice (a rising tide lifts all boats)
climate change and the Great Salt Lake
RadioACTive spoke with three Utah youths who will be recognized at this weekend's International Youth Summit. All of them are working on some aspect of 17 United Nations Sustainable Development Goals. Panelists included:
Hailee Hernandez: A first-generation Mexican and Native American, Hailee's work in homeless services began, assisting operate Homeless Court and monthly birthday parties. In 2019 as Program Improvement Specialist at the Gail Miller Homeless Resource Center (GMRC), she trained 40+ new employees on new Trauma-Informed program policies and procedures that have since been adopted and executed at all Salt Lake County Shelters. Hailee is the first to report homelessness trends and needs in rural Utah, implementing community support meetings for Summit and Wasatch Counties' unsheltered neighbors.

Obaid Barakzai: Obaid is a young community organizer, leader, and immigrant from Afghanistan. For the past eight years, he has been serving as a peace ambassador for the Seeds of Peace and Postcards for Peace organizations, creating and organizing safe spaces for young leaders from diverse regions of conflict to resolve conflicts through dialogues. Being a certified linguist and fluent in seven languages, he has interpreted thousands of appointments and documents for those from marginalized and war-torn communities. Due to the recent humanitarian crisis in Afghanistan, he has helped with the Afghan resettlement efforts in Utah while speaking up to the world through the media.

Muskan Walia: Muskan founded a campaign to commit her local school district to a 100% clean electricity transition by 2030, and in all energy sectors by 2040 and has assisted with the expansion of local clean energy campaigns in Utah school districts. Muskan is also a leader and mentor at U-YES, Utah Youth Environmental Solutions Network, where she supports the development of a new youth-based climate justice curriculum. Her experiences have cultivated a passion and commitment to community building, climate education, and environmental justice.
Muskan, Obaid and Hailee's Music Meets Activism:
"Cálice" by Chico Buarque
"Triste, Louca ou Má" by Francisco, el Hombre (Muskan)
"Earth" by Lil Dicky (Muskan)
"Further On by Bronze" Radio Return (Obaid)
"Up Around the Bend" by CCR (Obaid)
"Changes" by Tupac Shakur (Hailee)
"Is This the World We Created" by Queen (Hailee)
Guests' views, thoughts, or opinions are their own and do not necessarily reflect those of the board, staff, or members of Listeners' Community Radio of Utah, KRCL 90.9fm. Tonight's RadioACTive team included:
###