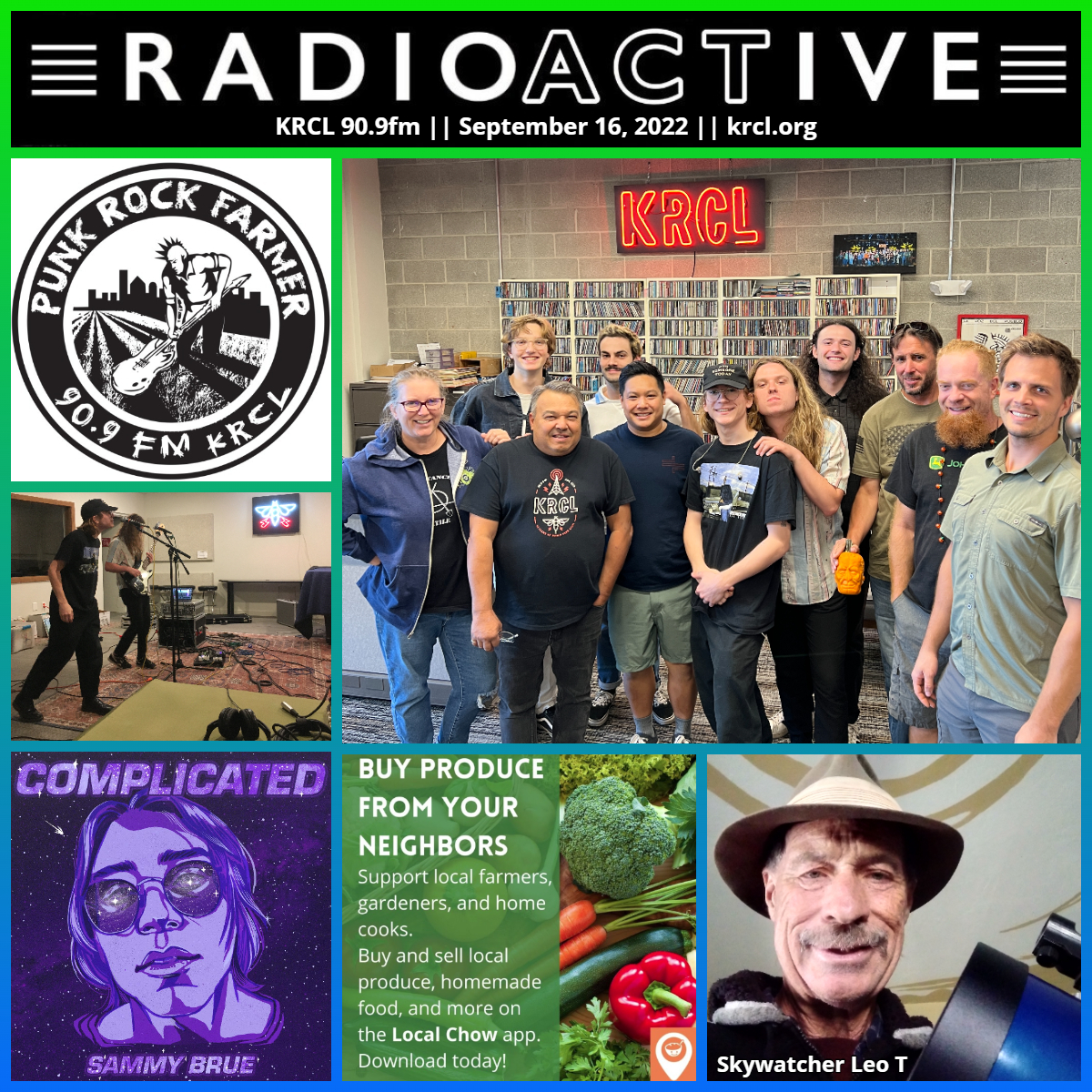 Punk Rock Farmer Friday! Featuring Local Chow, the Great Pumpkin weigh-off, SkyWatcher Leo T and fresh, homegrown music from Sammy Brue.
Tonight's show featured the following people, organizations and/or events. Check them out and get plugged into your community!
Fresh, homegrown from Sammy Brue, who's back with new music on RadioACTive. Sammy Brue's band includes Aaron Hendrix on drums and Mason Hill on Bass.
VISIT linktr.ee/sammybrue to follow, download music and get the latest news on upcoming gigs.

Sept. 17: Ogden Harvest Moon Celebration 2022, 12-8pm on Historic 25th Street in Ogden. Sammy Brue will close out the festival, starting at 6:45 p.m. Free and open to the public. Celebrate the end of summer 2022 with family-friendly activities, live music by local artists, community partners, local businesses, vendors, a roaming magician and MORE at the Harvest Moon Celebration.

Oct. 1: Sammy Brue at Lighthouse Lounge, 9p-12a at 130 25th Street, Ogden. Venue is 21+.
#ManyCulturesOneSky with SkyWatcher Leo T, a RadioACTive volunteer-contributor who shares his love for the night sky and cultural tales of the constellations during #PunkRockFarmerFridays.
Tonight: Mars hanging with Taurus, the bull ... a DART will nudge a space rock to see if NASA can use the action to knock dangerous space rocks out of an Earth-bound trajectory ... Artemis 1 now will be launching Sept. 27 or Oct. 2 ... go, Artemis, go! And we share a story from Anthony Aveni as Skywatcher embellishes a bit about the heritage we all have in common ... just like looking at clouds.
Tyler Taggart of Local Chow, a St. George-based food tech company on a mission to localize food by connecting people to homemade and homegrown food within their environment. Download it wherever you get your apps.
Aldine's Urban Farm Report, featuring Jim Seamons and Clint Nash of Utah Giant Pumpkin Growers. Be sure to check out Jim's molded pumpkin heads on his TikTok channel or at Cache Valley Giant Pumpkins.
Sept. 24: 18th Annual UGPG Pumpkin Championship, 9:00 a.m. at Hee Haw Farms, 150 S. 2000 W., Pleasant Grove. This is an official weigh-off site for the Great Pumpkin Commonwealth. Check in starts at 9am, judging starts at 11am, and weigh-off starts at 12pm. For more info, click here.

Oct. 8: 12th Annual Ginormous Pumpkin Regatta, time TBA at DayBreak - Oquirrh Lake - North Shore, 10494 Lake Ave., South Jordan. Sponsored by Mountain Valley Seed Co.

Oct. 29: Utah's 14th Annual Ginormous Pumpkin Drop, 12:00-4:00 p.m. at Hee Haw Farms, 150 S. 2000 W., Pleasant Grove. A family-friendly experience of fun and destruction! Biggest drops between 2-4pm.
Guests' views, thoughts, or opinions are their own and do not necessarily reflect those of the board, staff, or members of Listeners' Community Radio of Utah, KRCL 90.9fm. Tonight's RadioACTive team included:
###