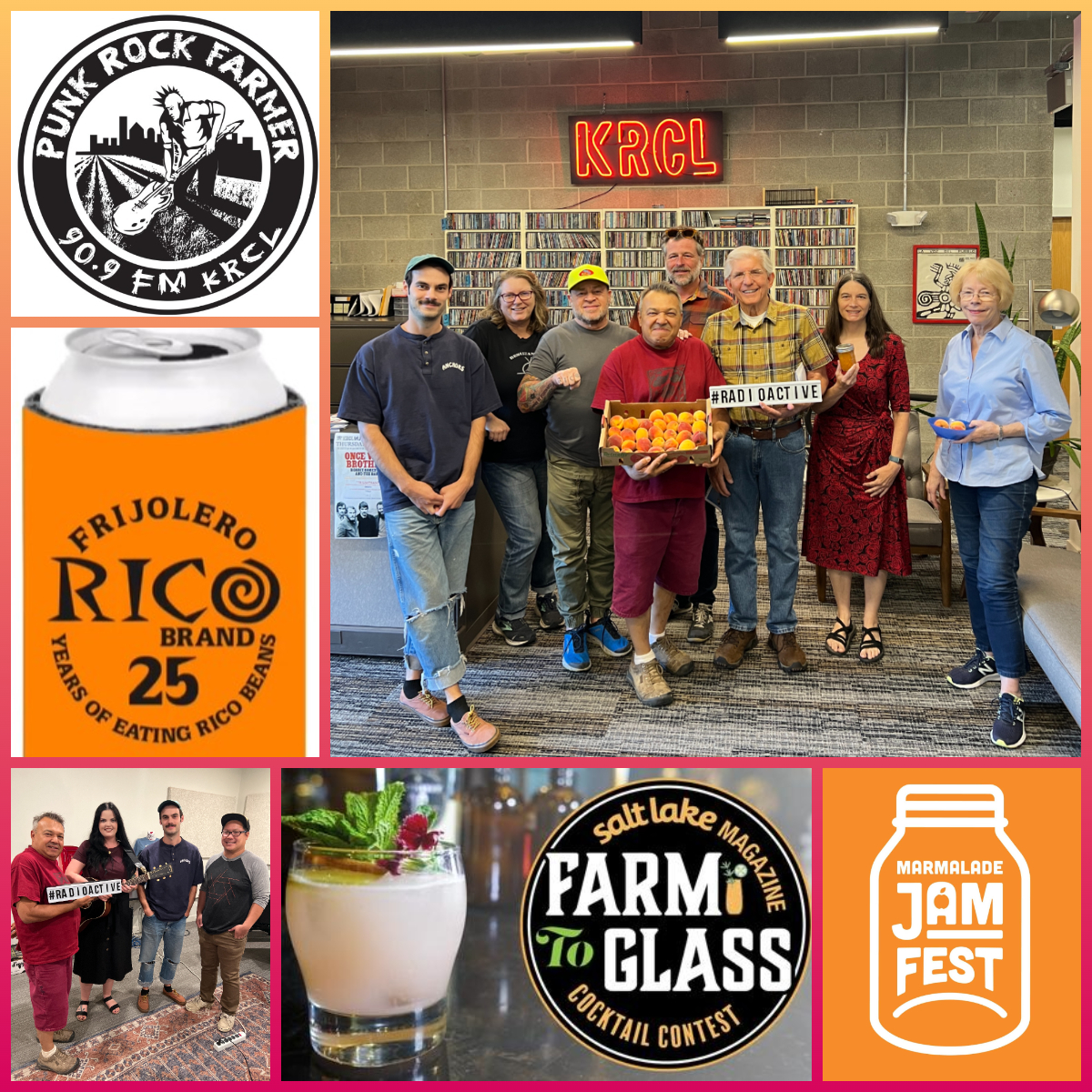 Punk Rock Farmer Friday with Aldine, KRCL's Punk Rock Farmer, and more true tales from the agrihood with Marmalade Jam Fest. Celebrating 25 Years of 'beansness' with Rico Brand's Jorge Fiero. SL Mag's Farm to Glass Cocktails. Skywatcher Leo T. Plus, fresh and homegrown music with West Jordan singer-songwriter Katie Ainge.
Tonight's show features the following people, organizations and/or events. Check them out and get plugged into your community!
Fresh and homegrown music from West Jordan singer-songwriter Katie Ainge. See her Saturday, Sept. 23, at 9th Annual Marmalade Jam Fest!
Many Cultures One Sky with SkyWatcher Leo T. Follow the SkyWatcher Leo T Facebook page for sources and more space news. Tonight: NASA's OSIRIS-REx lands in the Utah Desert with a sample of far-out asteroid Bennu!
Jeremy Pugh of Salt Lake magazine, which is celebrating harvest season with its annual
Sept. 18: 2023 Farm-to-Glass Cocktail Contest Kickoff, 6:00-9:00 p.m. at Market Street Grill & Oyster Bar, 2985 E. Cottonwood Parkway, Cottonwood Heights. Event by Salt Lake Magazine: "Get ready to indulge in a night of delicious drinks and friendly competition as talented mixologists showcase their skills using fresh, locally sourced ingredients. Our 20 participants will be preparing their Farm-to-Glass cocktail entry for you, alongside hearty appetizers provided by Market Street. Don't miss out on this incredible opportunity to immerse yourself in the world of mixology. *Note: This is a 21+ event, a valid ID is required for entry."
Jorge Fiero of Rico Brand, who's celebrating 25 years in "beansness." He's at the Downtown SLC Farmers Market every Saturday at Pioneer Park, 350 W. 300 S., SLC. And starting Sept. 23, he'll have his 25th-anniversary coozies in stock!
Aldine's Urban Farm Report, featuring Glen McBride and jam makers Pauline Richards and Linley Baker of the 9th Annual Marmalade Jam Fest.
Guests' views, thoughts, or opinions are their own and do not necessarily reflect those of the board, staff, or members of Listeners' Community Radio of Utah, KRCL 90.9fm. Questions, comments or suggestions for the show? Email radioactive@krcl.org. Tonight's RadioACTive team included:
Executive Producer, Host: Lara Jones
Volunteer Host: Aldine, KRCL's Punk Rock Farmer
Audio Engineer: Sullivan Phetchanpheng, Connor Estes
###