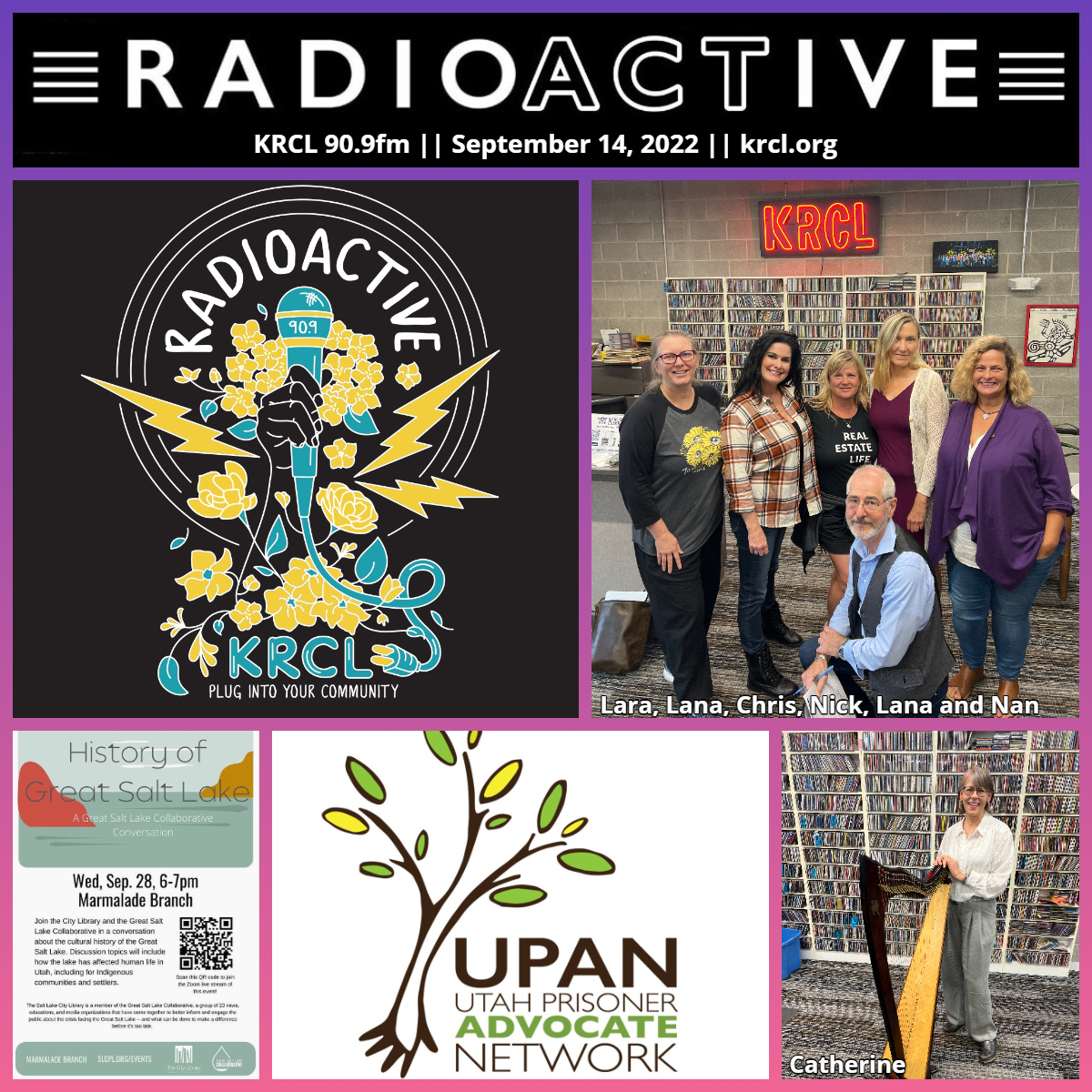 KRCL Volunteer Host Nick Burns is back on the mic, talking with the Utah Prisoner Advocate Network about the health care crisis at the new prison. Plus, celebrating the Great Salt Lake with artist Lana Nielsen and harpist Catherine DeLong, Lake Effect, and fresh, homegrown music from Sammy Brue!
Tonight's show featured the following people, organizations and/or events. Check them out and get plugged into your community!
Eric P. Nelson with Crate Digging, the John Florence secret stash edition. And be sure to check out KRCL's second record sale this Saturday at the 2022 9th & 9th Street Festival. We will be there all day, with a live broadcast of Afternoon Delight from 1:00-4:00 p.m. Look for us in the Barbacoa parking lot on the west end of the festival, located at 900 S. 900 E., SLC.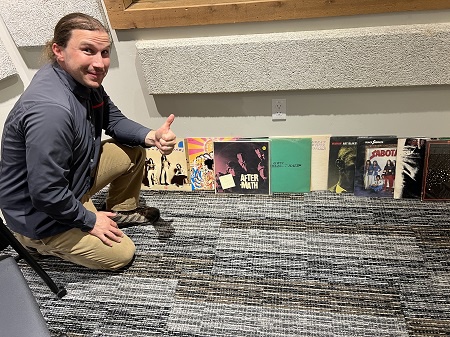 Lake Effect with Ronald Wolley, president of Woolley Engineering Research. Read the pipeline proposal and other water-saving engineering ideas from Woolley Engineering Research here.
Lake Effect is part of the Great Salt Lake Collaborative, a solutions journalism initiative that partners news, education and media organizations, including KRCL, to help inform people about the plight of the Great Salt Lake—and what can be done to make a difference before it is too late. Read all of our stories at greatsaltlakenews.org.

What's your Great Salt Lake story?Click here to share it and possibly be featured in a future episode of Lake Effect.

Sept 28: History of Great Salt Lake, 6:00 p.m. at City Library-Marmalade Branch, 280 W. 500 N., SLC, or online. Event by Great Salt Lake Collaborative: "Join the City Library and the Great Salt Lake Collaborative in a conversation about the cultural history of the Great Salt Lake. Discussion topics will include how the lake has affected human life in Utah, including for Indigenous communities and settlers. Guests: Darren Parry, former Chairman of the Northwestern Band of the Shoshone Nation; Daron Duke, Principal and Chief Operating Officer of the Far Western Anthropological Research Group; Gregory E. Smoak, Director of the American West Center.
Voices for the Great Salt Lake, with poet Nan Seymour, visual artist Lana Neilson and harpist Catharine DeLong.
Oct. 1-8: The Curatorial Thing, "Audacious Landscapes," The Social Sciences Faculty Library, University of Copenhagen. "SixtyEight Art Institute is pleased to announce the 5th Edition of its intensive curatorial programme, The Curatorial Thing, 'Audacious Landscapes.' We will offer evening lectures by artists, curators, researchers, and art historians who will explore climate art histories, leading critical discussions on future imaginaries in a warming world through art, design and architecture. Please note that we will provide a streaming service for a small nominal fee. Discover more through our EventBrite options. These can be accessed through our Public Programme: https://madmimi.com/p/7b97a41."
Fresh, homegrown music from Sammy Brue, who sent us his latest single, "Complicated." Hear him perform it live on the Punk Rock Farmer edition of RadioActive this week!
The Utah Department of Corrections took up residence at the new state prison earlier this summer. Reports of inadequate health care have concerned the Utah Prisoner Advocate Network. RadioACTive spoke with UPAN's Chris Moon, a co-founder and current director and secretary, and Lana Michaels, part of UPAN's Medical Team.
The Utah Prisoner Advocate Network is a 501(c)3 nonprofit and 100% volunteer grassroots community outreach organization that aims to simplify the incarceration process for the inmates' supporters—while also advocating for better conditions inside Utah jails and prisons. 
Guests' views, thoughts, or opinions are their own and do not necessarily reflect those of the board, staff, or members of Listeners' Community Radio of Utah, KRCL 90.9fm. Tonight's RadioACTive team included:
###