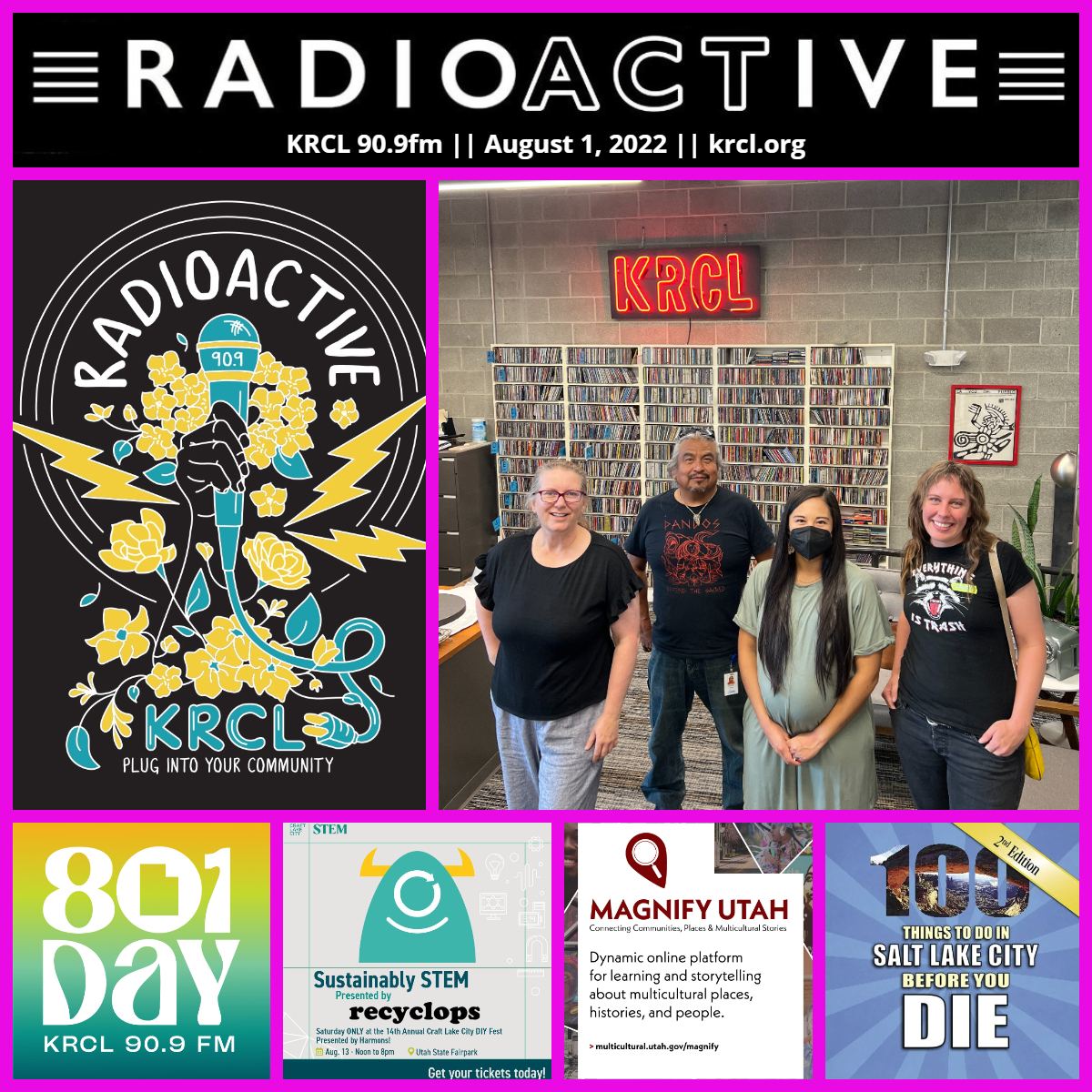 A RadioACTive take on 801 Day, featuring Magnify Utah's Claudia Loayza, 801ish things to do with SL Magazine's Jeremy Bradford Pugh, Craft Lake City STEM with Lyndi Perry, and Living the Circle of Life with Dave John.
Tonight's show featured the following people, organizations and/or events. Check them out and get plugged into your community!
We hope you all enjoyed KRCL's first-ever 801 Day! In addition to featuring music from local bands that have played or shared their music on RadioACTive, we also checked in with some very 801 folks, including:
Claudia Loayza of Utah Division of Multicultural Affairs. The division has launched a new series, Magnify Utah, to connect communities, places and multicultural stories. Check back every Monday through Labor Day as RadioACTive passes the microphone to some of those voices here on the show.

Jeremy Pugh, the editor of Salt Lake magazine and author of the guide books Secret Salt Lake City and 100 Things to do in Utah (Before You Die), joined us on 801 Day to tell us about Salt Lake magazine's upcoming "Farm-to-Glass" Cocktail Contest, share essential 801 favorites and things to do and helps us find the secret Deseret Alphabet hidden in our laptops. (Really.) Check out the extended play interview with him:
HOW TO FIND THE DESERT ALPHABET HIDDEN IN YOUR COMPUTER
The Deseret Alphabet was included in the Unicode project and now exists as freeware fonts deep within most computer operating systems. For Mac users, open the TextEdit application, a basic word processor. Pull down the "Edit" menu from the top bar and choose "Emoji and Symbols." In the window that opens, find the small ellipsis ("…) symbol and select "Create a customized list." In the new window, look for the "Additional Modern Scripts" and select "Deseret." This will add the Deseret Alphabet to your special characters menu.
Craft Lake City's Lyndi Perry with all the STEM action at this year's DIY Fest, which is Aug. 12-14 at Utah State Fairpark, 155 N. 1000 W., SLC. Be sure to check out Sustainably Stem on Saturday, Aug. 13, at the festival, sponsored by Recyclops.

Dave John of Living the Circle of Life — Sundays from 7-10 AM — stopped by to talk about the show he hosts with Valene MC and share a song from the Maka MaMas.
RadioACTive's 801 Day playlist:
Questions, comments or suggestions? Email radioactive@krcl.org. Guests' views, thoughts, or opinions are their own and do not necessarily reflect those of the board, staff, or members of Listeners' Community Radio of Utah, KRCL 90.9fm. Tonight's RadioACTive team included:
###