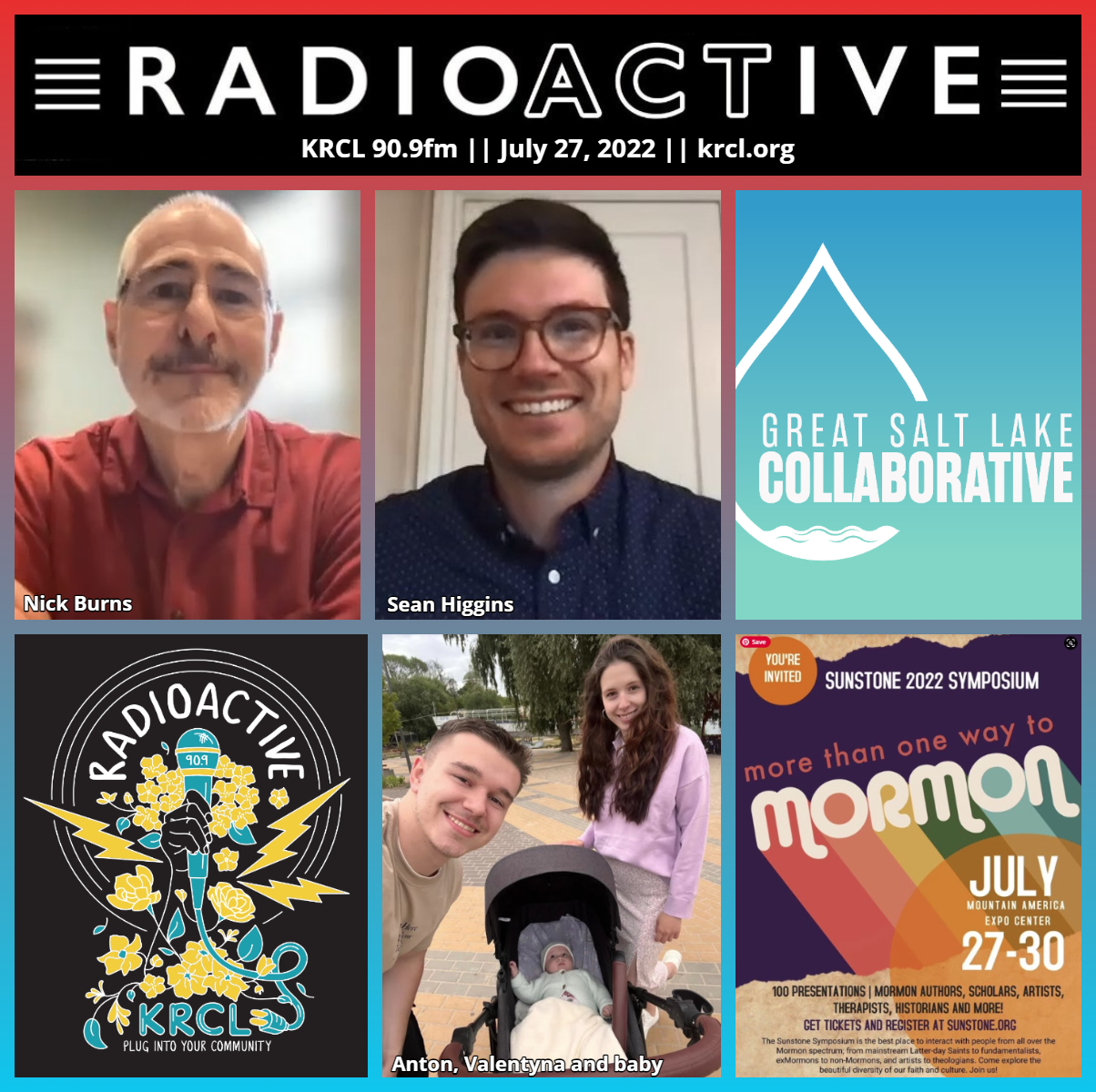 The Good Witch, Also, Must Die and other keynotes at this year's Sunstone Symposium with Lindsay Hansen Park. Great Salt Lake Recovery Act with KUER's Sean Higgins. Voices Amplified's Amie Schaeffer with an update on Anton Piddubnyi in Ukraine.
Tonight's show featured the following people, organizations, and/or events. Check them out and get plugged into your community!
Great Salt Lake Collaborative update with KUER reporter Sean Higgins. His latest story: Critics say the Great Salt Lake Recovery Act pushes more study when action is what's needed (July 21, 2022, KUER.org).
This conversation was aired through the Great Salt Lake Collaborative, a solutions journalism initiative that partners news, education and media organizations — including KRCL — to help inform people about the plight of the Great Salt Lake and what can be done to make a difference, before it is too late. Read all of our stories at greatsaltlakenews.org.
Voices Amplified's Amie Schaeffer shared an update with Anton Piddubnyi in Ukraine. Born in Ukraine, Anton attended Utah Valley University where he met his wife, Valentyna. When Amie spoke to him in April, he and Valentyna were in western Ukraine after fleeing Bila Tserkva, just outside Kyiv. In this update, recorded in late June, Amie found that Anton and his wife and four-month-old baby have returned to Bila Tserkva.
Lindsay Hansen Park, executive director of Sunstone, which sponsors open forums of Mormon experience, scholarship, and art. Host of the Year of Polygamy Podcast, Park also was a creative consultant on the recent Hulu series Under the Banner of Heaven.
July 27-30: 2022 Summer Symposium, Mountain America Expo Center in Sandy. "This year, we're exploring the theme of "Many Mansions." The idea of heaven cuts across both religious and non-religious boundaries. Heaven is our way of describing an optimal place—or state of being—where we feel whole, where we're in community, where we have full access to our potential. However, one person's heaven can be another person's hell. We can learn a lot about someone by understanding what heaven means to them." For the full schedule and tickets, click here.
Questions, comments or suggestions? Email radioactive@krcl.org. Guests' views, thoughts, or opinions are their own and do not necessarily reflect those of the board, staff, or members of Listeners' Community Radio of Utah, KRCL 90.9fm. Tonight's RadioACTive team included:
###