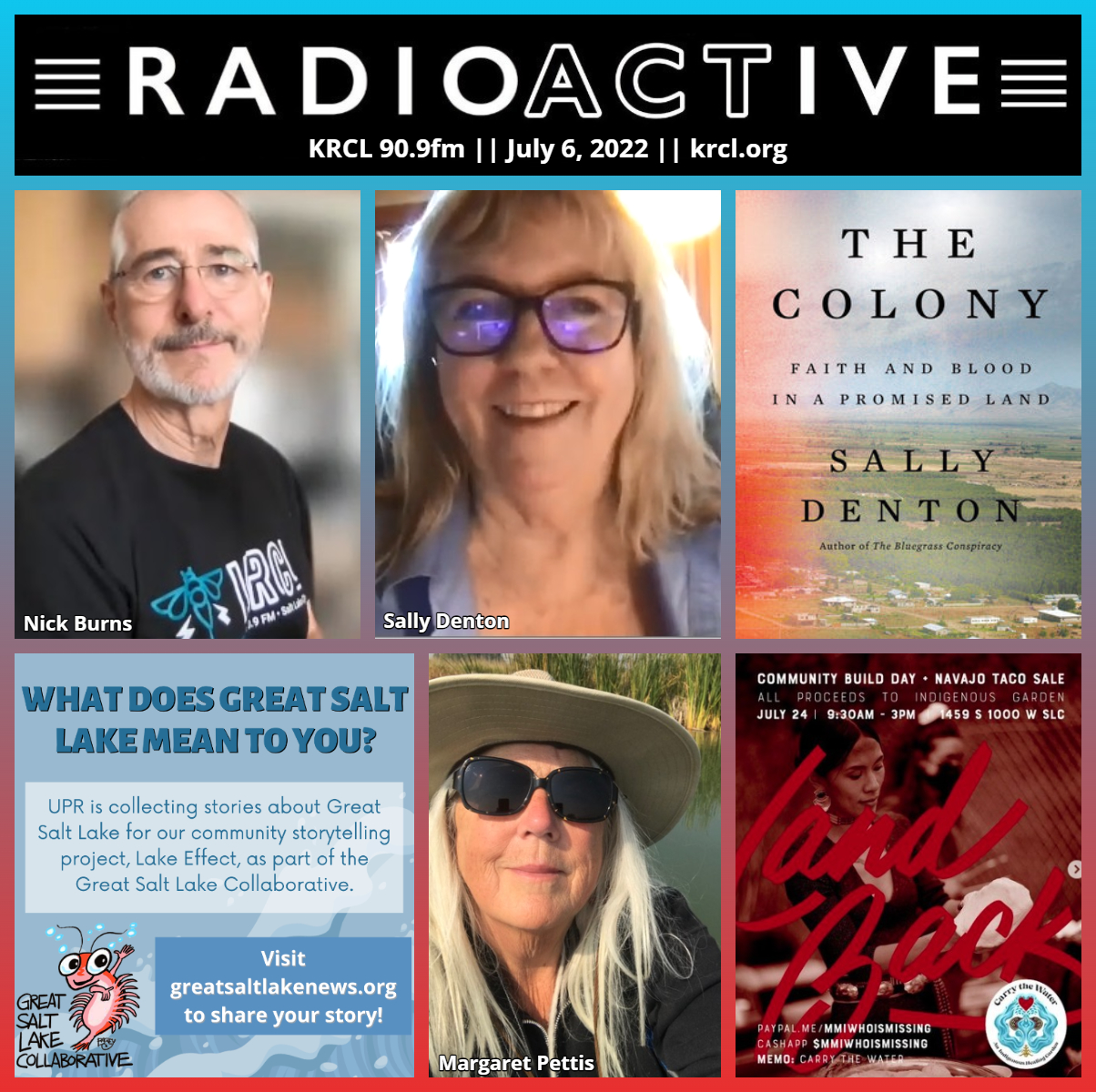 The story of the Nov. 4, 2019, ambush of a Mormon caravan of women and children in northern Mexico with Sally Denton, author of The Colony: Faith and Blood in a Promised Land. Plus, Carry the Water's call for a Healing Pioneer Day, and Lake Effect and other headlines from the Great Salt Lake Collaborative.
Tonight's show featured the following people, organizations and/or events:
Denae Shanidiin and Brooke Larsen with news of a healing Pioneer Day at Carry the Water, an Indigenous healing garden on SLC's west side.
July 24: Community Build Day & Navajo Taco Sale for a Healing Pioneer Day, 9:30a-3pm at 1459 S. 1000 W., SLC. Event by Carry the Water: "All ages & Relatives welcome. Show up anytime. Navajo Taco Sale provided by @MMIWhoismissing. *All proceeds to Carry the Water Garden. Carry the Water, an Indigenous Healing Garden is sovereignly funded & seeded through community kinship and support. We must tell the truth about what Pioneer Day represents. Rather than a day of celebration, Pioneer Day should be a day of mourning and repair. We can't simply reframe the day as 'Pie and Beer Day.' One way white settlers can begin engaging in repair is by redistributing wealth to the Urban Indigenous Community of Salt Lake in support of Carry The Water, an Indigenous Community Healing Garden that sustains concepts of healing through water and connecting with the land. Carry the Water Garden is located on the lands of the Ute, Paiute, Goshute and Shoshone Peoples. Funds will go to buy needed supplies and equipment for the garden, as well as sustain local Indigenous and POC garden tenders.

Cashapp $MMIWhoismissing
paypal.me/MMIWhoismissing
Memo: "Carry the Water"
Utah Gov. Spencer Cox on the unflattering coverage of Utah's water consumption. The audio was gathered by KSL TV reporter Dan Spindle. Look for the full story tonight at 10:00 p.m.
Lake Effect, featuring Margaret Pettis, a retired school teacher, currently a kayaker of the Bear River, and a poet and an author of all sorts of books. She shared one of her poem's, Compass Points: Great Salt Lake, from her book In the Temple of the Stars.
Lake Effect was aired through the Great Salt Lake Collaborative, a solutions journalism initiative that partners news, education and media organizations including KRCL to help inform people about the plight of the Great Salt Lake—and what can be done to make a difference, before it is too late. Read all of our stories at greatsaltlakenews.org.

READ: Farmers are trying new water-saving tech in Utah's drought by Ben Winslow, Fox13, July 7, 2022
Questions, comments or suggestions? Email radioactive@krcl.org. Guests' views, thoughts, or opinions are their own and do not necessarily reflect those of the board, staff, or members of Listeners' Community Radio of Utah, KRCL 90.9fm. Tonight's RadioACTive team included:
###