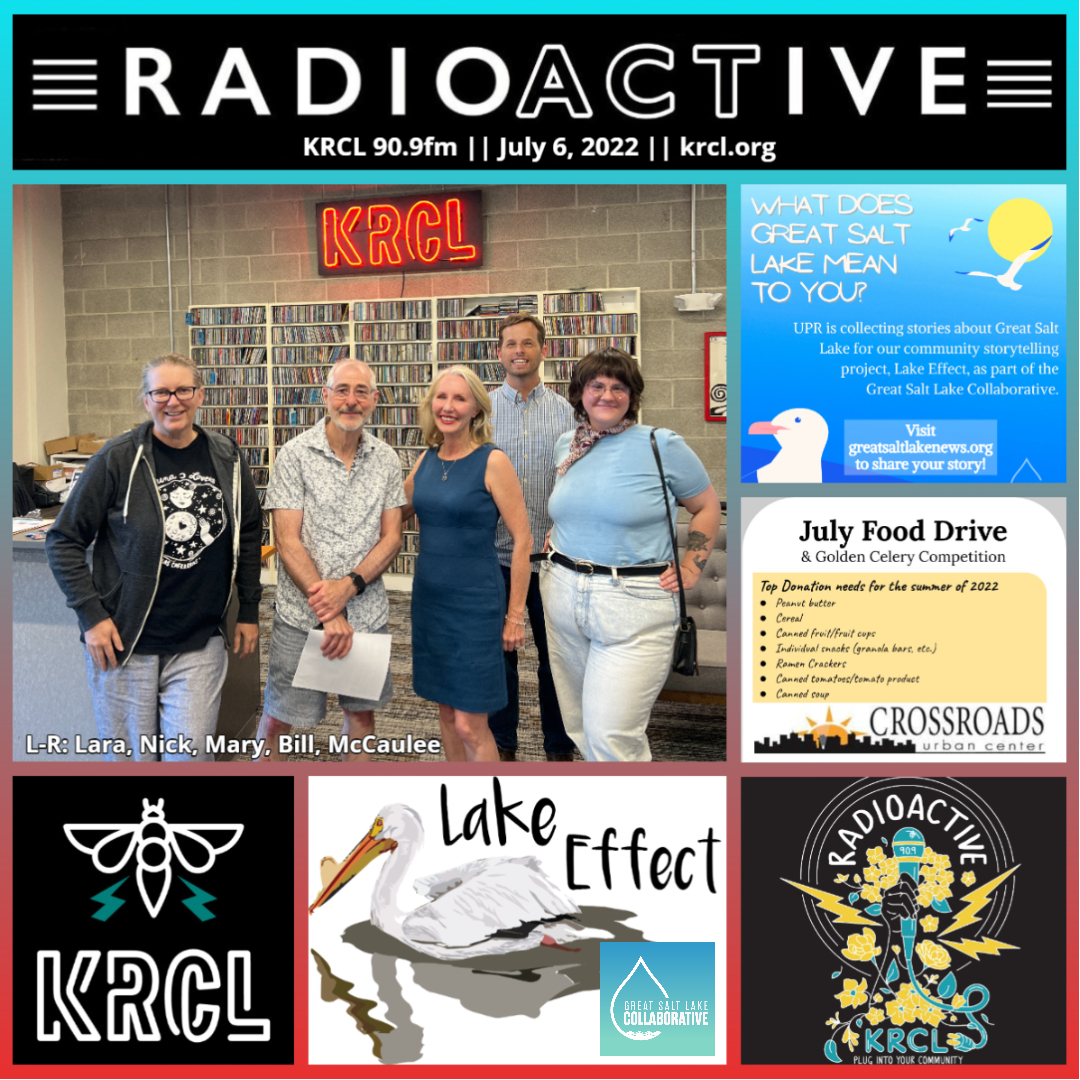 Utah downwinder, advocate and playwright Mary Dickson is back from the ICAN Nuclear Ban Week in Vienna. Great Salt Lake news recap, FAQ and Lake Effect voices. Plus, Crossroads Urban Center's July Food Drive needs and Golden Celery Competition.
Hosted by Volunteer DJ Nick Burns, tonight's show featured the following people, organizations and/or events:
Bill Tibbitts of Crossroads Urban Center, which is hosting its annual July Food Drive and Golden Celery Competition.
The number of families and individuals needing help with food generally goes up during the summer but donations to help often go down during those months. That is why Crossroads Urban Center organizes a food drive every July, especially among the area's many religious congregations. The Golden Celery Competition aims to see who can donate the most food in July per person attending worship services. To learn more, reach out to Bill Tibbitts via email, bill@crossroadsurbancenter.org.
Anyone can donate, any time. For a list of needed items this month, click here.
Great Salt Lake Collaborative weekly recap, featuring McCaulee Blackburn. She's been researching GSL questions from the public. Want to read the growing Q&A list, or ask your own question? Click here.
Lake Effect, a podcast from Utah Public Radio that asks the question, "What does the Great Salt Lake mean to You?" Tonight: Josh Craner, who teaches sixth grade at Emerson Elementary School. His students Miracle, Colby and Frederic also share their thoughts on the state of the GSL.
Lake Effect is part of the Great Salt Lake Collaborative, a solutions journalism initiative that partners news, education and media organizations, including KRCL, to help inform people about the plight of the Great Salt Lake—and what can be done to make a difference before it is too late. Read all of our stories at greatsaltlakenews.org.
Downwinder, advocate and playwright Mary Dickson, who just returned from ICAN Nuclear Ban Week in Vienna and the first Meeting of the States Parties to the UN Treaty to Prohibit Nuclear Weapons. She continues to fight for downwinder compensation. To catch up with her and share your downwinder story, visit expandreca.org.
Questions, comments or suggestions? Email radioactive@krcl.org. Guests' views, thoughts, or opinions are their own and do not necessarily reflect those of the board, staff, or members of Listeners' Community Radio of Utah, KRCL 90.9fm. Tonight's RadioACTive team included:
###