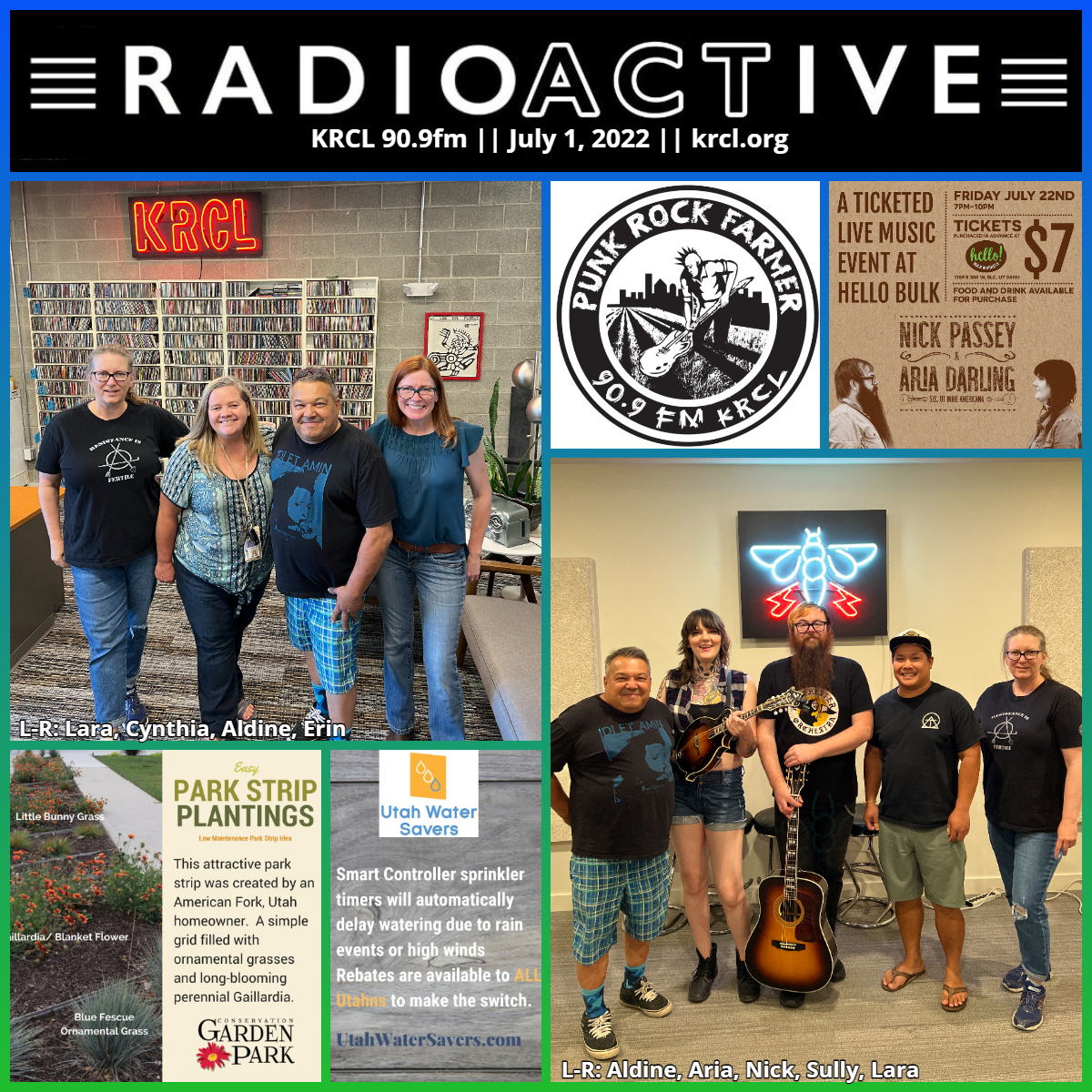 Aldine, KRCL's Punk Rock Farmer, and Lara bring you more true tales of the agrihood with Cynthia Bee of Conservation Garden Park. Proof of pomegranates in Zion with Erin Alberty of Axios SLC. Skywatcher Leo T. Plus, homegrown music from Nick Passey and Aria Darling.
Tonight's show featured the following people, organizations, and/or events. Check them out and get plugged into your community!
Fresh and homegrown music from Nick Passey & Aria Darling, an Indie Americana duo from SLC, UT. Before they head to Europe for a summer tour, check them out at one of their upcoming shows:
#ManyCulturesOneSky with SkyWatcher Leo T, a RadioACTive volunteer-contributor who shares his love for the night sky, cultural tales of the constellations, and more during #PunkRockFarmerFridays.
Erin Alberty of Axios SLC, who's had success growing pomegranates in Utah. To sign up for the Axios SLC newsletter, click here.
Callista Pearson of Salt Lake County Animal Services with a reminder to take care of your pets this fireworks season. Here are a few tips to help your pet feel comfortable and safe in their home:
Go for walks early.

Leave pets at home—they do NOT like fireworks displays or hot pavement.

If you're having a BBQ, check that your gates, garages and doors are secured so your pet can't escape.

Give them a safe place to hunker down, don't try to pull them out of hiding if they're scared.

Play soft music to distract them.

Keep them indoors, lower the blinds and close windows. When scared, dogs and cats will break through screens or windows to escape their home. The flickering lights are stress inducing.

MOST IMPORTANTLY, make sure your dog/cat is microchipped and the contact information on the microchip is up to date. If you don't have time to get them microchipped before the holiday, be sure to put a collar and ID tag on them.

Check This Easy Hack! If you don't have a tag for your pet, use duct tape on their collar and a permanent marker to put their name and your number on it.

Prevent injury or bites to yourself. If you find a lost or injured animal, they will be scared! Please contact your local animal services and have an officer pick them up.
What's Fresh, a spotlight on local growers. This week: Farm Yard Fresh
, a multi-generation, family-owned urban farm in Santaquin, UT. They specialize in growing field greens, microgreens, and root veggies all on a half-acre lot. Ask them for tips on growing your own when you snap up their produce on Saturdays at the
Downtown SLC Farmers Market
.
The 9-acre botanical garden teaches you how to landscape for Utah's climate. Check out these free workshops and water-wise resources:
July 7: Creating Waterwise Park Strips, 6:00-7:30 p.m. online. This FREE webinar focuses on best practices to save water through appropriate watering, plant selection, and planned maintenance. This webinar will go over the requirements for the Flip your Strip program. Taught by Conservation Garden Park staff. A link for the Webex webinar will be provided via email. Registration is required for admittance to this webinar and to receive the link.

July 14: Work & Learn: Lavender, 6:00-7:30 p.m. at Conservation Garden Park. FREE. "Come work alongside our garden staff and learn about the best ways to care for Lavender. Bring gloves and dress for the great outdoors (we provide the tools). Group size is limited, so register early. Lavender is one of Utah's favorite aromatic herbs. In this class, you will work alongside our garden staff to clip spent flowers and learn simple maintenance techniques to keep your lavender growing well. As a bonus, volunteers may keep clippings for home and craft projects. This class will meet in the Education Center at Conservation Garden Park. Registration is required for admittance to this event."
Guests' views, thoughts, or opinions are their own and do not necessarily reflect those of the board, staff, or members of Listeners' Community Radio of Utah, KRCL 90.9fm. Tonight's show was produced and hosted by Lara Jones and Aldine, KRCL's Punk Rock Farmer.
###