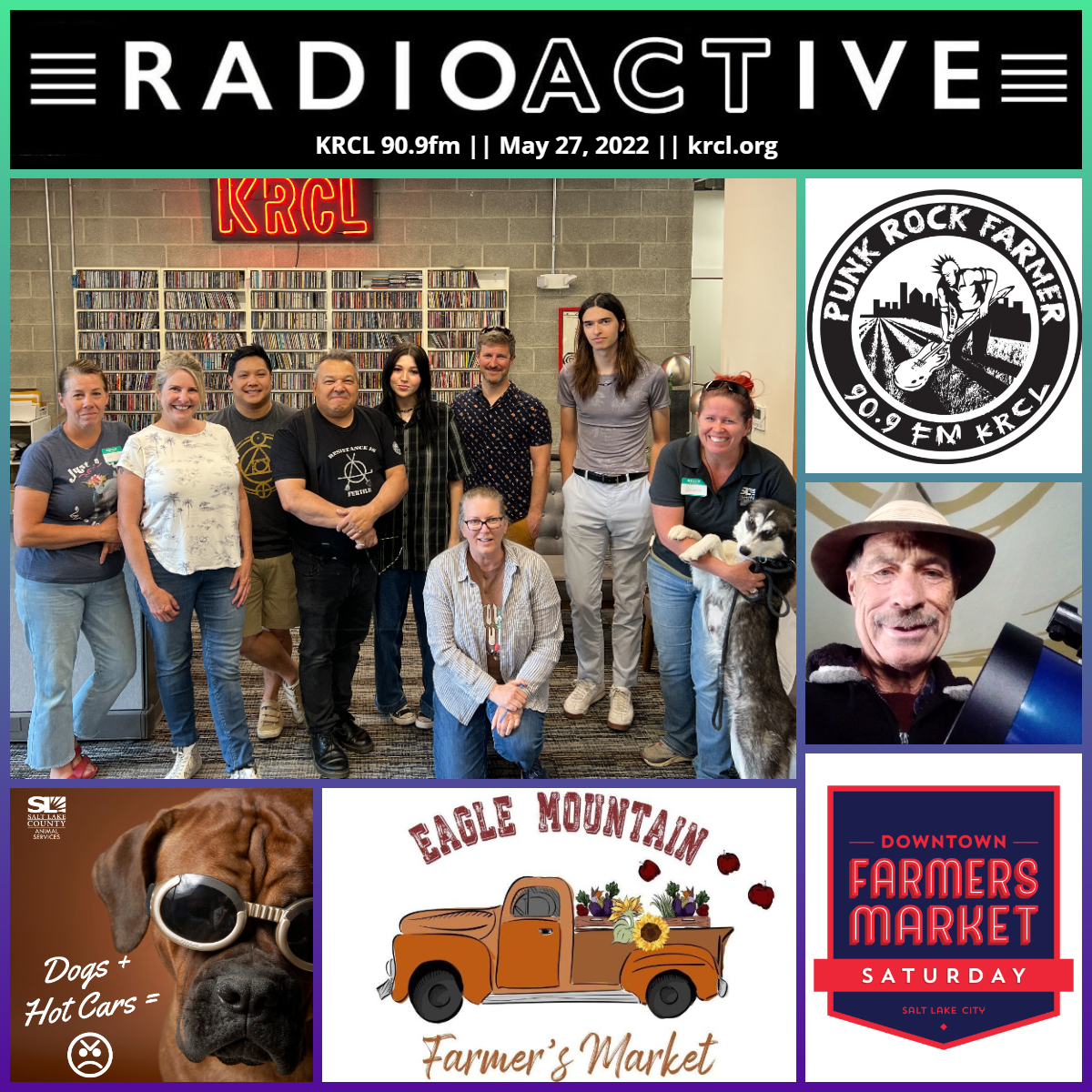 More true tales from the agrihood with Aldine, KRCL's Punk Rock Farmer, featuring the Downtown SLC Farmers Market and Eagle Mountain Farmers Market. Plus, Skywatcher Leo T, SL County Animal Services hot dogs, Parks and Rec hiking club, and homegrown music -- LIVE in the studio -- from singer-songwriter Charles Franta.
Tonight's show featured the following people, organizations, and/or events. Check them out and get plugged into your community!
Fresh and homegrown music from Charles Franta, a Salt Laker known for his bands Soap. He's now studying music in Boston but is home for the summer. He's getting the band back together and plans a new album release soon.
#ManyCulturesOneSky with SkyWatcher Leo T, a RadioACTive volunteer-contributor who shares his love for the night sky, cultural tales of the constellations, and more during #PunkRockFarmerFridays. Tonight's episode: Galaxies, spaceships, and asteroids; a winged Dinosaur; Boeing Starline Spacecraft touched down in New Mexico; and more
Randee Lueker of Salt Lake County Animal Services with a reminder hot cars and dogs can be deadly. When the outside temperature reaches 90 degrees, the inside of a locked car can get up to 124 degrees in 15 minutes. Not good for dogs (or children). For a quick list of DO's and DON'Ts, click here.
ADOPT LUNA: Randee brought Luna to the studio with her tonight. If you'd like to bring Luna home, click here for adoption information. Thru May 31: 50% OFF Adoption Fees, Tuesday through Thursday. Applies to large dogs, small dogs (7 months & older), cats, kittens and rabbits. All pets are spayed/neutered, vaccinated, and microchipped upon adoption. Visit adoptable pets, or come in Tue-Sat, 10 AM – 6 PM.
Liz Zollis and Josh Reusser from Salt Lake County Parks and Recreation on the county's new hiking club. You can join them for a series of guided hiking tours while getting conditioned for a progression of more advanced hikes. Get introduced to different outdoor pursuits while practicing mindfulness with a positive community with Parks and Rec's Outdoor Programs.
June 1: Bells Canyon Trail to Lower Falls for adults, 6:00-8:00 p.m. "Getting a bit more challenging! This 4.6 Mile, 1,450 ft elevation gain hike will provide you with amazing views of the Salt Lake Valley and add great progression to your Mountain Conditioning! Since this trail lies within a protected watershed, dogs and swimming are not permitted in the area." FREE

June 4: Avenues Loop Hike for kids, 10a-1p. "Roughly 2.5 miles, this loop trail is perfect for hikers of all abilities and provides great views of the Wasatch Mountains, Salt Lake Valley and the Great Salt Lake." Cost: $5.

June 7: Mount Van Cott via Red Butte Canyon Trail for adults, 6:00-8:00 p.m. "Our final hike of spring/summer Mountain Conditioning! This 4.3 Mile, 1,660 ft gain loop trail will leave you feeling very accomplished with plenty of gorgeous photos to share with friends and family!"

July 9: Limestone Kilns to BST Hike for kids, 10a-1p. "This easy hike includes some history as we will pass by the historic limestone kilns located just north of the famous block U located in the foothills." Cost: $5.

Aug. 6: Parleys Point for kids, 10a-1p. "This hike is a bit tougher with some more elevation gain. However, it is still appropriate for hikers of all levels with amazing views from Parleys Point!" Cost: $5.
Aldine's Urban Farm Report, featuring true tales of the Agrihood from our guests:
Alison Einerson of the Downtown SLC Farmers Market, which starts June 4 at Pioneer Park, 350 W. 300 S., SLC. Entering its 31st year, the market will run every Saturday, 8a-2p, through October 22.

Jen Corrington of Eagle Mountain Farmers Market, which starts June 4 at Cory B Wride Memorial Park, 5806 N. Pony Express Parkway, Eagle Mountain. The market runs every Saturday, 9a-1p, through September.
Guests' views, thoughts, or opinions are their own and do not necessarily reflect those of the board, staff, or members of Listeners' Community Radio of Utah, KRCL 90.9fm. Tonight's show was produced and hosted by Lara Jones and Aldine, KRCL's Punk Rock Farmer, with audio engineering by Bill Ramsay, Sullivan Phetchanpheng and J. Willis Krammer.
###