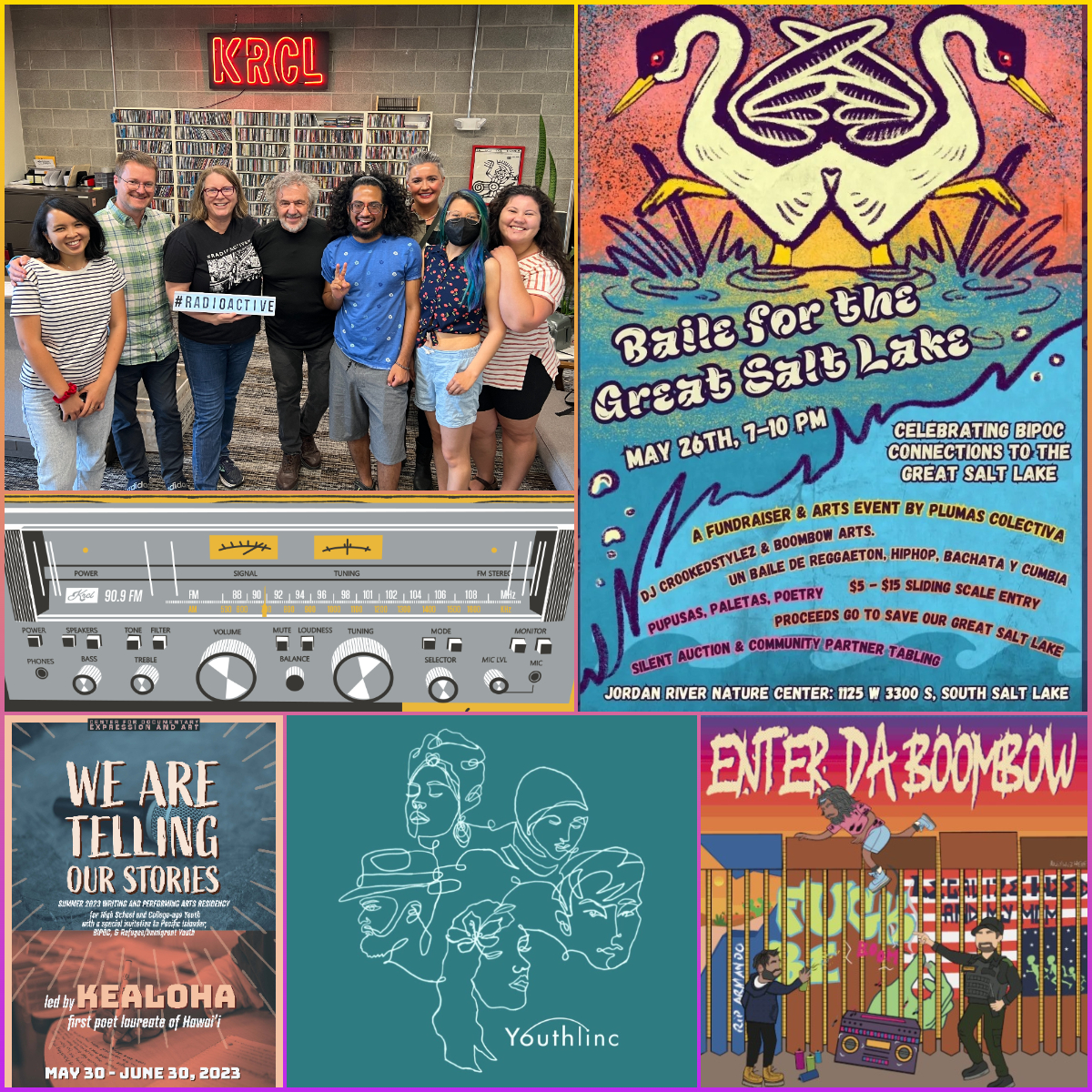 The poetry of Plumas Colectiva, which will host Baile for the Great Salt Lake this Friday. Plus, a Kealoha residency, and the power of Youthlinc.
Tonight's show features the following people, organizations and/or events. Check them out and get plugged into your community!
Masha Shukovich and Les Kelen of the , which is dedicated to using the tools of documentary work—oral history, photography, filmmaking, narrative writing, visual art, and music– to help Utahns look inward to better understand our state's past and present and to gaze outward to discover our multi-faceted connection to the nation and the world.
5/30-6/30: We Are Telling Our Stories, a five-week writing and performance residency that will engage high school and college-aged youth in collective writing and storytelling. Featuring artist-in-residence Kealoha, the first poet laureate of Hawai'i.
Poets of Plumas Colectiva, including Willy Palomo, Sarah May and Frances Ngo.
5/26: Baile for the Great Salt Lake, 7:00-10:00 p.m. at Jordan River Nature Center, 1125 W. 3300 S., South Salt Lake. "Plumas Colectiva is hosting a fundraiser & arts event highlighting Black, Indigenous, & People of Color (BIPOC) and our connections to the Great Salt Lake! There will be POETRY! PUPUSAS! PALETAS! Community and conservation organizations tabling, a silent auction to benefit Save Our Great Salt Lake, y lo más importante—una noche de bailando!!!"

LISTEN: Toma2os, Enter Da Boombow
's Justin Powell and visiting fellow Johanaa RavoManana.
Since Youthlinc's inception in 1999, Youthlinc Service Year Humanitarians have contributed more than 256,000 hours of local service throughout Utah. Last year, its Humanitarians and Alum Leaders contributed 8,670 hours of local service throughout Utah.

The Youthlinc Service Year is a unique opportunity designed to engage high school and college students in their local communities and communities abroad. Students are accepted into the Service Year program in the fall and placed onto a team of students and mentors from across Utah. Teams travel the following summer.
Views, thoughts or opinions shared by guests are their own and do not necessarily reflect those of the board, staff or members of Listeners' Community Radio of Utah, 90.9fm KRCL. Tonight's RadioACTive team included: