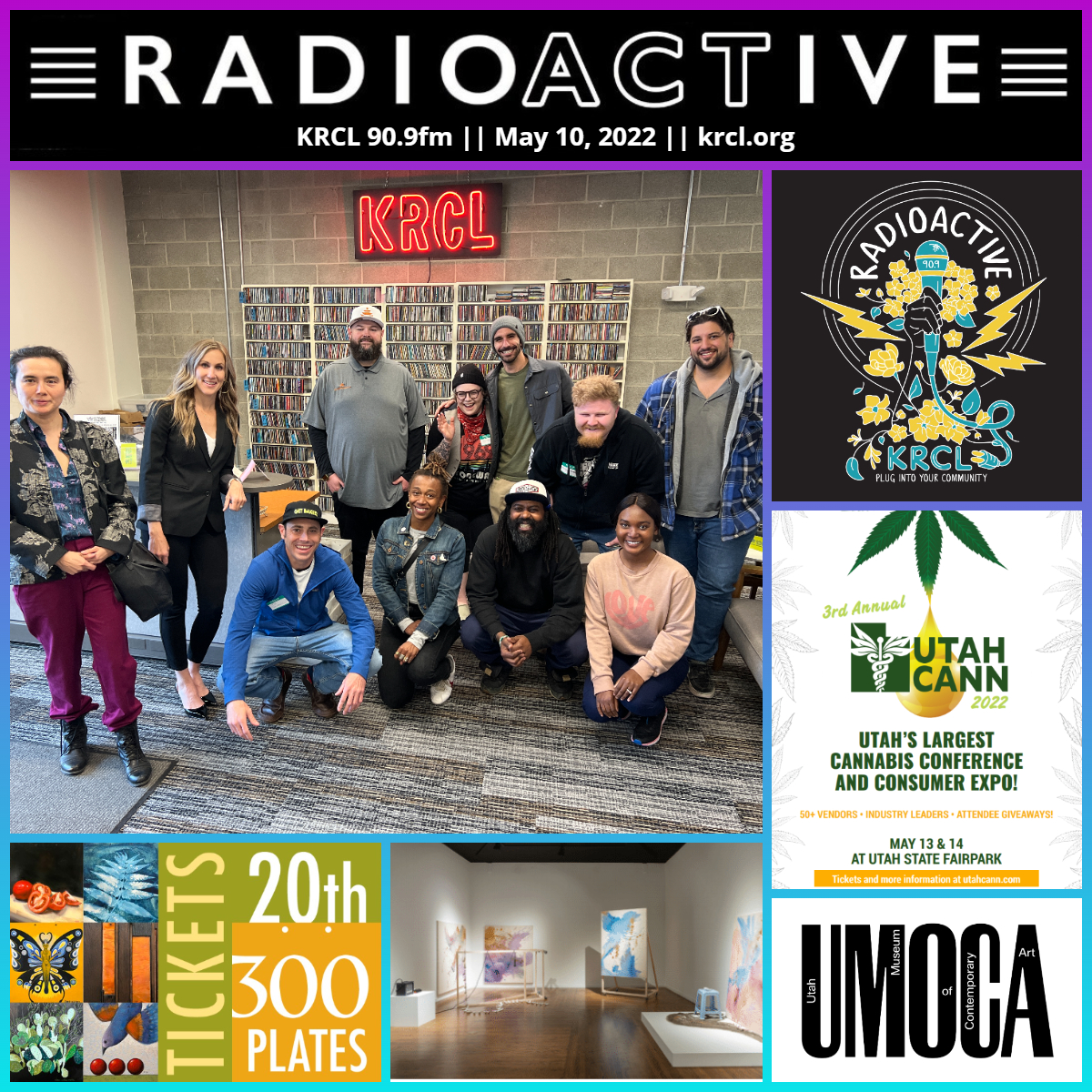 #RoundtableTuesday digs into Utah's cannabis industry with City Weekly, WholesomeCo, Utah Cannabis Association and Salt Baked City magazine. Art Access celebrates 20 years of 300 Plates. Mistu Salmon's Somatic Tracing at UMOCA.
Tonight's show featured the following people, organizations and/or events. Check them out and get plugged into your community!
On May 19th, Art Access will celebrate the 20th anniversary of 300 Plates. To find out more, RadioACTive spoke with Art Access Executive Director Gabriella Huggins and artists Cat Palmer and Tyler Pierce. To get your tickets to 300 Plates, click here.
Mitsu Salmon, artist-in-residence at the Utah Museum of Contemporary Art. In her exhibition, Somatic Tracing, on view at UMOCA, Salmo combines paintings and performances that draw from two movements that emerged in Japan after WWII: Gutai, a group of artists associated with action painting, and Butoh, a form of contemporary dance. The project explores the largely hidden history of Asian labor in the United States, in particular the work done on the transcontinental railroad. Click here for details about live performances on May 13, May 21 and June 4.
A #RoundtableTuesday panel discussion about cannabis against the backdrop of Utah Cann, City Weekly's third annual Cannabis Business Conference and Expo, May 13-14 at the Utah State Fair Park. Panelists included:
Alyssa Smailes, executive director of the Utah Cannabis Association, which describes itself as "the voice of the cannabis industry in the Beehive State."
J.D. Lauritzen, head of legal, compliance & government affairs at WholesomeCo, a complete, plant-to-patient medical cannabis company based in West Bountiful, Utah

Cole Fullmer, publisher of Salt Baked City, Utah's first cannabis news and wellness magazine
Views, thoughts or opinions shared by guests are their own and do not necessarily reflect those of the board, staff or members of Listeners' Community Radio of Utah, KRCL 90.9fm.
Tonight's show was produced and hosted by
Lara Jones
and Community Co-Host Risshan Leak.
###