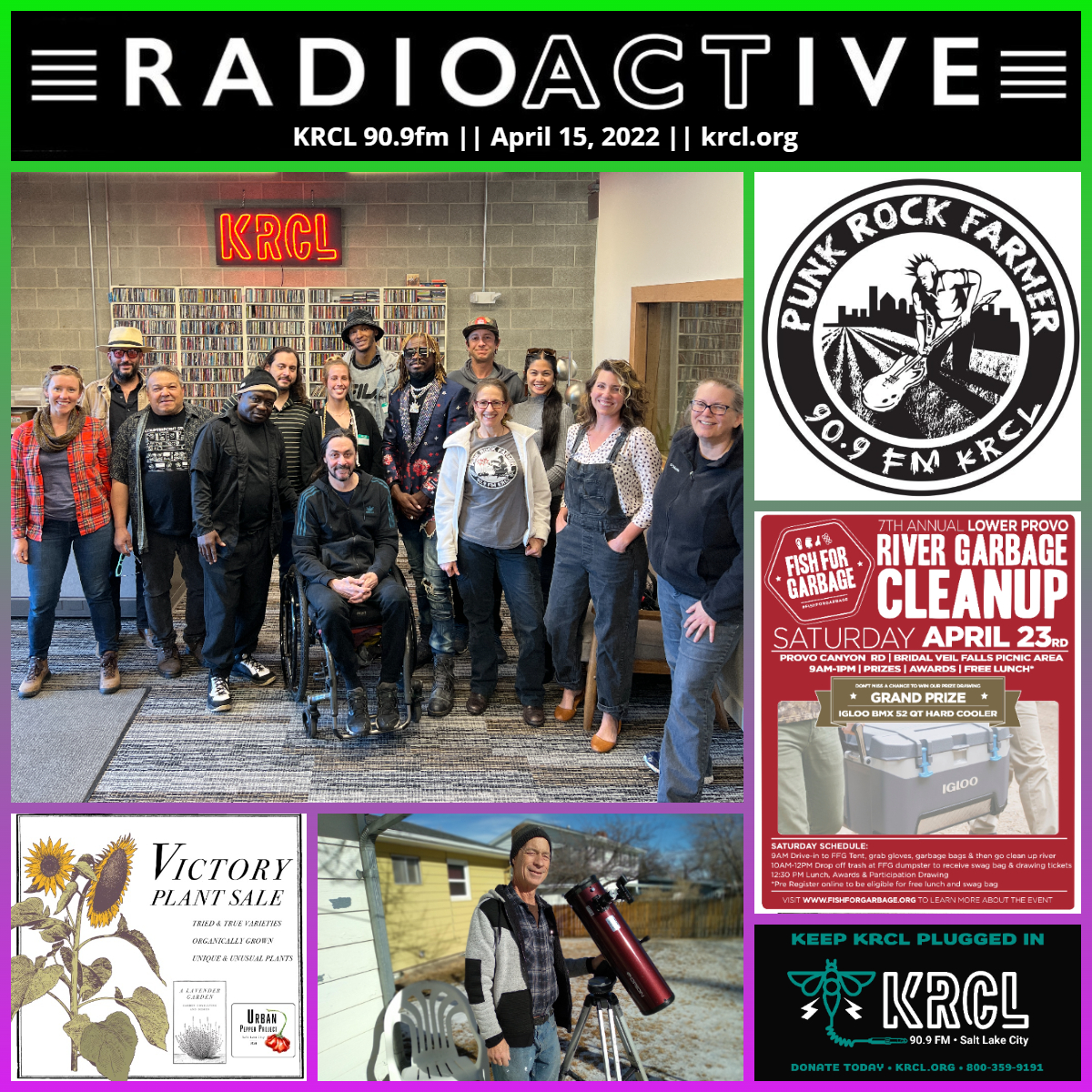 Aldine, KRCL's Punk Rock Farmer, and Lara bring you more true tales from the agrihood, featuring A Lavender Garden and Urban Pepper Project's Victory Plant Sale and Merit Medical Community Garden Coordinator Laura Flower. Plus, Skywatcher Leo T, Fish for Garbage and fresh, homegrown music from O'Nkosi E Afrobeats Live Band.
Tonight's show featured the following people, organizations, and/or events. Check them out and get plugged into your community!
Fresh, homegrown music from O'Nkosi E Afrobeats Live Band, with members from Tanzania, Congo, & United States.
Lexi Kaili and Shane Grimes of Fish for Garbage, a nonprofit that mobilizes communities through waterway cleanups and watershed education.
April 16: 2022 Fish for Garbage Gear Swap, 11a-2p at Patagonia Outlet Store, 2292 S. Highland Dr., SLC. "The Gear Swap is an opportunity for individuals to both buy and/or sell outdoor gear and equipment. The event is a chance for you to swap out new or used outdoor gear that you don't use, and shop around the collective inventory." Click here for details.

April 23: Lower Provo River Clean-up with Fish for Garbage, 9a-1p. "Remove garbage from the waterway to restore a healthy riparian ecosystem, enjoy the outdoors, make some friends, and win prizes."
#ManyCulturesOneSky with SkyWatcher Leo T, a RadioACTive volunteer-contributor who shares his love for the night sky, cultural tales of the constellations, and more during #PunkRockFarmerFridays. Tonight, comets, fireballs, and more space sightings across the universe. Plus, the story of Walks All Over the Sky. For sources and more space news, follow Leo on his Facebook page: SkyWatcher Leo T.
Amanda Pratt of A Lavender Garden and Shirley Steinmacher of Urban Pepper Project are gearing up for a joint spring plant sale.
May 1: Victory Plant Sale, 9a-3p at 1617 Maple Ave., Millcreek. "In-person only. Tried and true varieties, organically grown unique and unusual plants. Tomatoes, peppers, veggies, herbs, flowers and milkweed. First come, first served." To preview the plant list, click here.
Aldine's #UrbanFarmReport, featuring Laura Flower, the community garden coordinator at Merit Medical
. Want to start a garden at your workplace? Laura's happy to offer a tour. Send a message through their Facebook page:
Merit Employee Garden
.
Views, thoughts or opinions shared by guests are their own and do not necessarily reflect those of the board, staff or members of Listeners' Community Radio of Utah, KRCL 90.9fm. Tonight's show was produced and hosted by Lara Jones and Aldine, KRCL's Punk Rock Farmer.
###