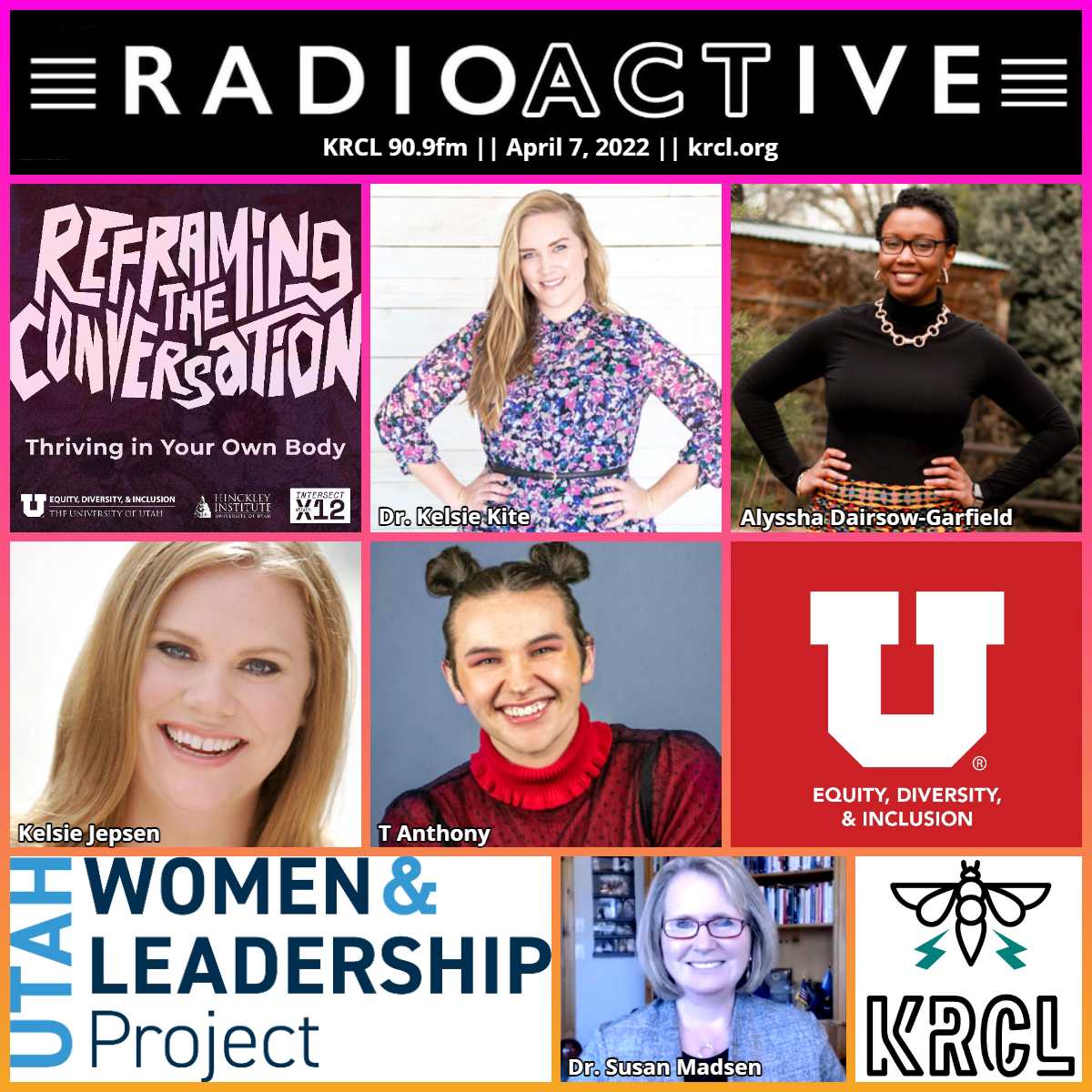 RadioACTive passed the mic to Reframing the Conversation - Thriving in Your Body, a panel of body positivity activists and professionals discussing how to broaden our definition of beauty and health to embrace diversity. Plus, a new report about the human trafficking of Utah girls and women.
Tonight's show featured the following people, organizations and/or events. Check them out and get plugged into your community!
A new research snapshot from the Utah Women & Leadership Project (UWLP) highlights the human trafficking of Utah girls and women. RadioACTive spoke with UWLP's Dr. Susan Madsen to find out why, unfortunately, this crime is growing in the Beehive State.
As part of our ongoing partnership with Equity, Diversity, & Inclusion - University of Utah, RadioACTive shared an excerpt of EDI's Reframing the Conversation series. Tonight, Thriving in Your Own Body:
What does body positivity mean to you? We suggest that body positivity should be radical acceptance and inclusion – loving the skin you are in regardless of its size, shape, color, age, or ability. Join us for a panel of body positivity activists and professionals to discuss how to broaden our definition of beauty and health to embrace diversity – including perspectives on race, gender identity, hair type, and body shape. We will discuss how diverse representation in media, government, and our everyday lives expands and shifts our understanding of beauty. Challenge your idea of what "perfect" looks like and celebrate all facets of your identity, because body positivity, acceptance, and inclusion work together.
On the panel:
Moderator: Lexie Kite, Ph.D. Dr. Kite and her identical twin, Dr. Lindsay Kite, are co-authors of the book "More Than a Body: Your Body Is an Instrument, Not an Ornament" (2020, Houghton Mifflin Harcourt) and co-directors of the nonprofit Beauty Redefined. They both received PhDs from the University of Utah in the study of female body image and have become leading experts in body image resilience and media literacy. Authors of numerous studies and books have cited their original research and they have been featured in a variety of national media outlets, including The New York Times, The Dr. Phil Show, Vanity Fair, the Washington Post, and more. Lindsay and Lexie help girls and women recognize and reject the harmful effects of objectification in their lives through their significant social media reach, online Body Image Resilience course, speaking events, and their popular book, "More Than a Body."

T Anthony (they/them | she/her) is a non-binary, transfeminine individual passionate about enabling people to discover their authenticity through self-compassion, curiosity and making love to discomfort. They are currently a senior in the College of Fine Arts majoring in Musical Theatre and are privileged to serve as the collective representative for the Department of Theatre SAC. She's a certified yoga instructor, energy healer, and zealous freeform dancer.

Alyssha Dairsow-Garfield, Founder, Curly Me! She is a visionary and builder doing vital work for black girls and young women in an unlikely place: Utah. Her non-profit organization, Curly Me! is on a mission to educate, empower and encourage girls from 5-14 years old to be their best selves through community events and mentoring. She began developing and hosting events such as Change the World with Her – where participants get in-person access to professionals like pilots, city planners, and news anchors to learn about different careers and ask questions. Other events, like High Tea with a Twist, allow girls to wear their hair in twist-outs or plaits, get dressed up and be girly. Today the organization continues to be a valuable resource for young black girls and their families, throughout the state.

Kelsie Jepsen, Body Acceptance Coach, Embody Love Workshop. Jepsen helps those who struggle with negative body image to dismantle fatphobia and love themselves through radical mindset change and body acceptance. She is also a professional actor (AEA), director, and educator. She has worked professionally for over 15 years and holds a BFA in Acting from the University of Utah ATP Program. She has also lived and worked in Minneapolis, where her passion for education was ignited at the Tony-award winning Children's Theater Company and in NYC where she served as a Program Director and Educator with The Shakespeare Forum. Kelsie is an activist who is committed to serving oppressed, marginalized, and underserved communities with the mission to dismantle systems of body oppression.
Views, thoughts or opinions shared by guests are their own and do not necessarily reflect those of the board, staff or members of Listeners' Community Radio of Utah, KRCL 90.9fm. Tonight's show was produced and hosted by Lara Jones.
###