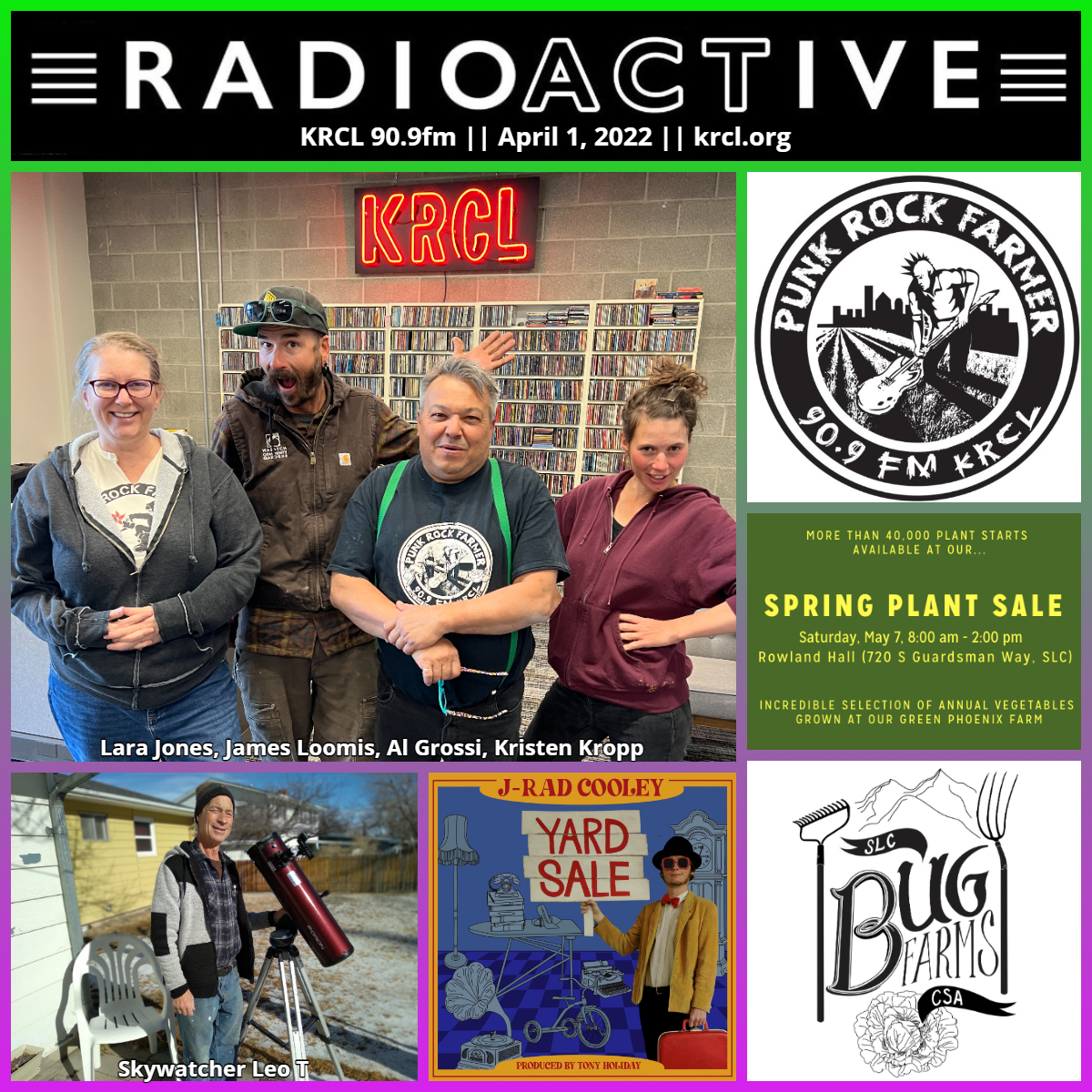 More true tales from the agrihood with Aldine, KRCL's Punk Rock Farmer, and Lara Jones. Tune in to the #UrbanFarmReport with James Loomis of Green Phoenix Farm. The now-certified farm is growing 40,000+ starts for Wasatch Community Gardens' Spring Plant Sale. Meet B.U.G. Farms in SLC's Glendale neighborhood Skywatcher Leo T. with #ManyCulturesOneSky. Fresh, homegrown music from J-Rad Cooley.
Tonight's show featured the following people, organizations and/or events. Check them out and get plugged into your community!
Fresh, homegrown music from J-Rad Cooley, a young harmonica/piano player as well as an original songwriter from Salt Lake City, Utah.
SkyWatcher Leo T, a RadioACTive volunteer-contributor who shares his love for the night sky, cultural tales of the constellations and more during #PunkRockFarmerFridays. For sources and more space news, follow Leo on his Facebook page: SkyWatcher Leo T.
ALERT: Utah's Online Lawnmower Exchange registration opens April 4th. For more details, visit lawnmower.utah.gov. Only residents of Salt Lake, Utah, Davis, Weber, and Tooele counties can register. Register on April 4, 2022 starting at 12 pm noon
Kristen Kropp of B.U.G. Farms, a naturally-grown, urban CSA farm based in the Glendale neighborhood of SLC.
Aldine's #UrbanFarmReport, featuring James Loomis of Wasatch Community Gardens' Green Phoenix Farm. Loomis said the farm recently earned its official USDA organic certification. And the farm team is busy sowing seeds to grow 40,000+ annual veggie seedlings for WCG's annual spring plant sale for YOU to create the garden of your dreams this season. Join us at Rowland Hall (720 S Guardsman Way, SLC) on Saturday, May 7, from 8:00 am - 2:00 pm for our largest fundraiser of the year!
April 2: Fairpark Community Garden Seed Swap, 10a-12p at 1037 W. 300 N., SLC. Event by Wasatch Community Gardens: "Calling all gardeners in the neighborhood of our Fairpark Community Garden. Gather at the garden. Pick out seeds for your garden, trade your extra seeds, connect with local gardeners and learn about local community gardens. Free event, free seeds, and open to the public. We hope to see you there!"

April 6 & 20: Facebook Live "Garden Coaching," 4:30-5:30 p.m. online. Event by Wasatch Community Gardens: "Join us for a virtual 'Garden Coaching' session via Facebook Live! Our Community Education Director Marybeth Janerich will be offering timely garden advice and answering your pressing organic vegetable gardening questions."
May 7: WCG's Spring Plant Sale, 8a-2p at Rowland Hall, 720 Guardsman Way, SLC. The sale will be held in person only, and it will be fully open to the general public. More than 40,000 plant starts will be available.
Views, thoughts or opinions shared by guests are their own and do not necessarily reflect those of the board, staff or members of Listeners' Community Radio of Utah, KRCL 90.9fm. Tonight's show was produced and hosted by Lara Jones and Aldine, KRCL's Punk Rock Farmer.
###