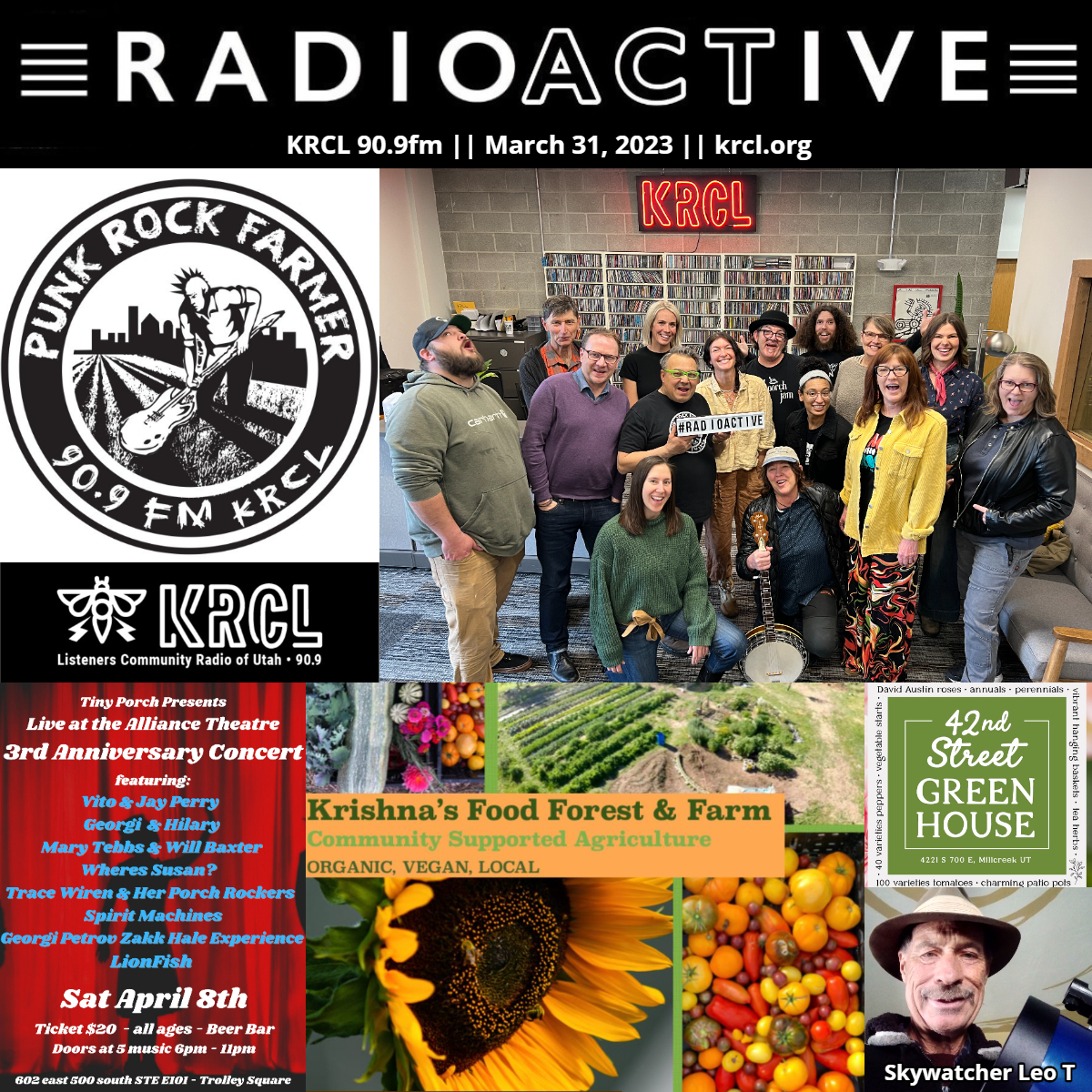 Punk Rock Farmer Friday, with Aldine, KRCL's Punk Rock Farmer, and Lara. Tune in for more true tales from the agrihood with Krishna Food Forest & Farm and 42nd St. Greenhouse. Plus, SkyWatcher Leo T, Red Acre Center and fresh, homegrown music from the Tiny Porch 3rd Anniversary Celebration.
Tonight's show features the following people, organizations and/or events. Check them out and get plugged into your community!
Fresh, homegrown music from musicians playing the Tiny Porch 3rd Anniversary Celebration on Saturday, April 8, from 5-10pm at Alliance Theater - Utah Arts Alliance, Trolley Square, SLC. "Come celebrate the 3rd Anniversary of Tiny Porch. Live music from: LionFish, Spirit Machines, Trace Wiren and her Porch Rockers, Where's Susan, Georgi Petrov and Zakk Hale, and more surprises. Doors at 5, Music 6-10. Potluck, and the Alliance has a cash, credit, debit bar. Last year sold out so get your tix now! Advanced tickets available at: https://www.showclix.com/event/tiny-porch-concert."
SkyWatcher Leo T and his Many Cultures One Sky report. Tonight: Spot Sirius in the lower western sky, follow it to Canis Major, then on to the constellation Argo Navis, Indigenous skylore, a powerful solar storm, NASA's Dragonfly Mission to Titan, and more. For space news and sources, follow the SkyWatcher Leo T Facebook page.
Cynthia Stringham of Melon Monologues has acquired the 42nd St. Greenhouse in Millcreek to keep offering locally grown annuals, roses, hanging baskets, tomatoes, vegetables, and herbs to Salt Lake City garden lovers. They open to the public in April (weather depending), by appointment now.
Symbria Patterson of Red Acre Center and Max Nelson of Central 9th Local Market, recently named one of the Best New Restaurants to Watch by Salt Lake Magazine.
Aldine's Urban Farm Report, featuring Kiera Lucich and Jim French of Krishna's Food Forest & Farm. What's that? An organic food forest & urban farming cooperative based in Millcreek. They're looking for more folks to join them and help grow food. Just $25 a month. For details, click here.
Guests' views, thoughts, or opinions are their own and do not necessarily reflect those of the board, staff, or members of Listeners' Community Radio of Utah, KRCL 90.9fm. Questions, comments or suggestions for the show? Email radioactive@krcl.org. Tonight's RadioACTive team included:
###