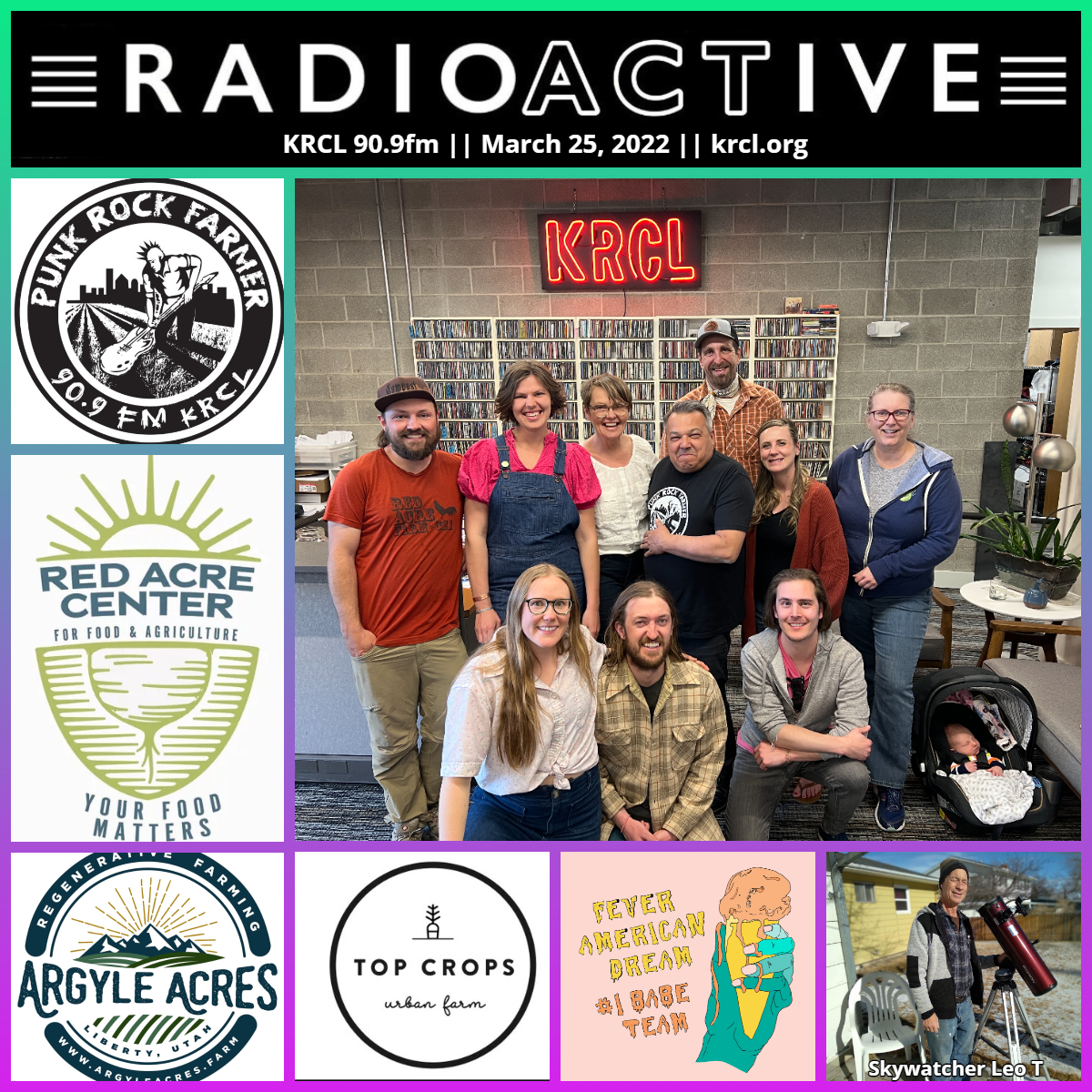 More true tales from the agrihood with Aldine, KRCL's Punk Rock Farmer, and Lara Jones. Meet Chris Argyle of Argyle Acres during Al's #UrbanFarmReport. Rallies and Resources with SkyWatcher Leo T, Garden Guys and Gal's from USU Extension, Utah Farmers Guilds with Red Acre Center. Fresh, homegrown music from #1 Babe Team.
Tonight's show featured the following people, organizations and/or events. Check them out and get plugged into your community!
Fresh, homegrown music from Austin Ryan-Mas of #1 Babe Team. Check out their tunes on Bandcamp:
A classic edition of SkyWatcher Leo T, a RadioACTive volunteer-contributor who shares his love for the night sky, cultural tales of the constellations and more during #PunkRockFarmerFridays. For sources and more space news, follow Leo on his Facebook page: SkyWatcher Leo T.
Sheridan Hansen of Garden Guys and Gal, a Facebook page featuring USU plant professors who find joy in sharing their gardening know-how and love for nature.
Amanda Theobald of SLC Top Crops, an urban farm in the heart of the Capital City. They grow sustainable leafy greens! To order some for yourself, click here!
Symbria Patterson of Red Acre Center talked about the nonprofit's Utah Farmer Guilds. Guilds meet once a season and are involved in tours, workshops, service, and advocacy. They are open to seasoned farmers to new and upcoming farms, homesteaders, or food businesses.
Utah South Farmers Guild Leaders: Laine and Porter Lamping, (385) 275-2396

Utah North Farmers Guild Leaders: Mariana and Chris Bills, 925-628-8116
Aldine's Urban Farm Report, featuring Chris Argyle of Argyle Acres. Moving to a new spread in Liberty, Utah, the Argyles are a family with a passion for regenerative symbiotic farming in the Rocky Mountains. Argyle Acres offers grass-fed beef and pastured pork and chickens.
WATCH: In his former life, Chris was a professional skydiver. Check out this video for Super Bowl 50!
Views, thoughts or opinions shared by guests are their own and do not necessarily reflect those of the board, staff or members of Listeners' Community Radio of Utah, KRCL 90.9fm. Tonight's show was produced and hosted by Lara Jones and Aldine, KRCL's Punk Rock Farmer.
###