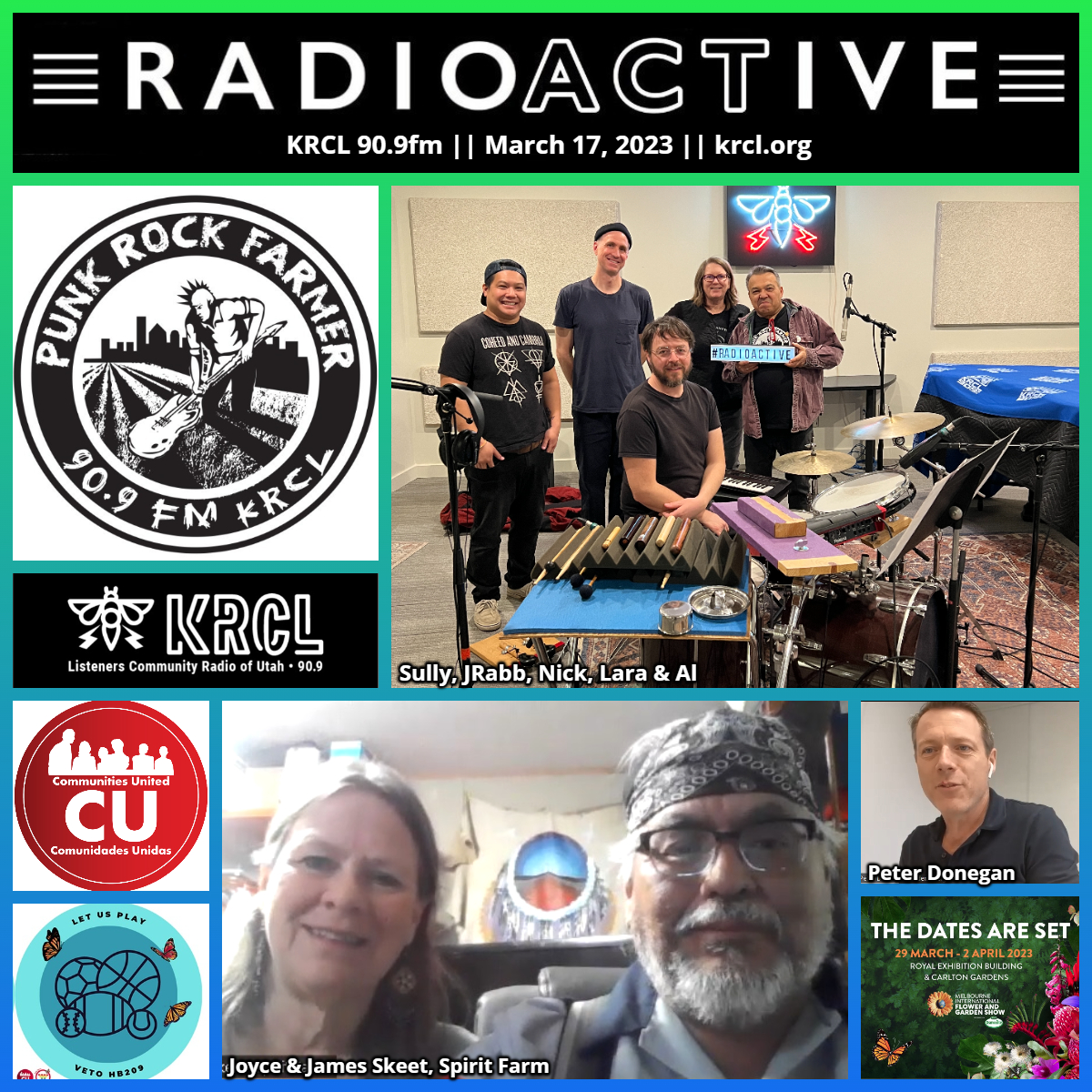 Happy St. Patrick's Day! Tonight at 6: Punk Rock Farmer Friday, with Aldine, KRCL's Punk Rock Farmer, and Lara. Tune in for more true tales from the agrihood with Ireland's own Peter Donegan and James and Joyce Skeet of Spirit Farm. Plus, Comunidades Unidas with a call to action, and Fresh, homegrown music from it foot, it ears.
Tonight's show features the following people, organizations and/or events. Check them out and get plugged into your community!
Fresh, homegrown music from it foot, it ears.
March 19: 12 Minutes Max, 2:00 p.m. at the Salt Lake City Public Library, 210 E. 400 S., SLC. "it foot, it ears embraces polyrhythm, microtonality, prepared instruments, and junk. As a duo, Nick Foster and Jason Rabb use bottom-feeder instruments (electric guitar and percussion) to create chamber/garage music that has been described as both delicate and visceral. SLUG Magazine noted, 'it foot, it ears prove their unmatched accomplishments in technical ability, compositional intricacy and, above all, personality and wit.'" FREE and open to the public.

March 20: @loolowningen is back, with local support @it_foot_it_ears at International Bar, 342 S. State St., SLC. FREE, 21+.
Brianna Puga, immigrant rights committee organizer at Comunidades Unidas. The nonprofit has been putting pressure on Gov. Cox to veto H.B. 209 Sixth Substitute -- Participation in Extracurricular Activities Amendments. While he plans to sign it, their pressure campaign has moved the governor to call a special session to "fix" issues with the bill that may prevent undocumented children from participating in school sports and other extracurricular activities.
Ireland's own Peter Donegan, who's spending the holiday in Australia where he is the first Irish designer at the Melbourne International Flower & Garden Show. It's the "largest and most prestigious horticultural event in the Southern Hemisphere." Aldine and Lara zoomed a conversation with him to share some craic from Down Under.
James and Joyce Skeet of Spirit Farm, located on ancestral lands in the desert of New Mexico at the edge of the Navajo Nation. Al met the Skeets earlier this month when they spoke at the Living Soils Summit in SLC.
Guests' views, thoughts, or opinions are their own and do not necessarily reflect those of the board, staff, or members of Listeners' Community Radio of Utah, KRCL 90.9fm. Questions, comments or suggestions for the show? Email radioactive@krcl.org. Tonight's RadioACTive team included:
###