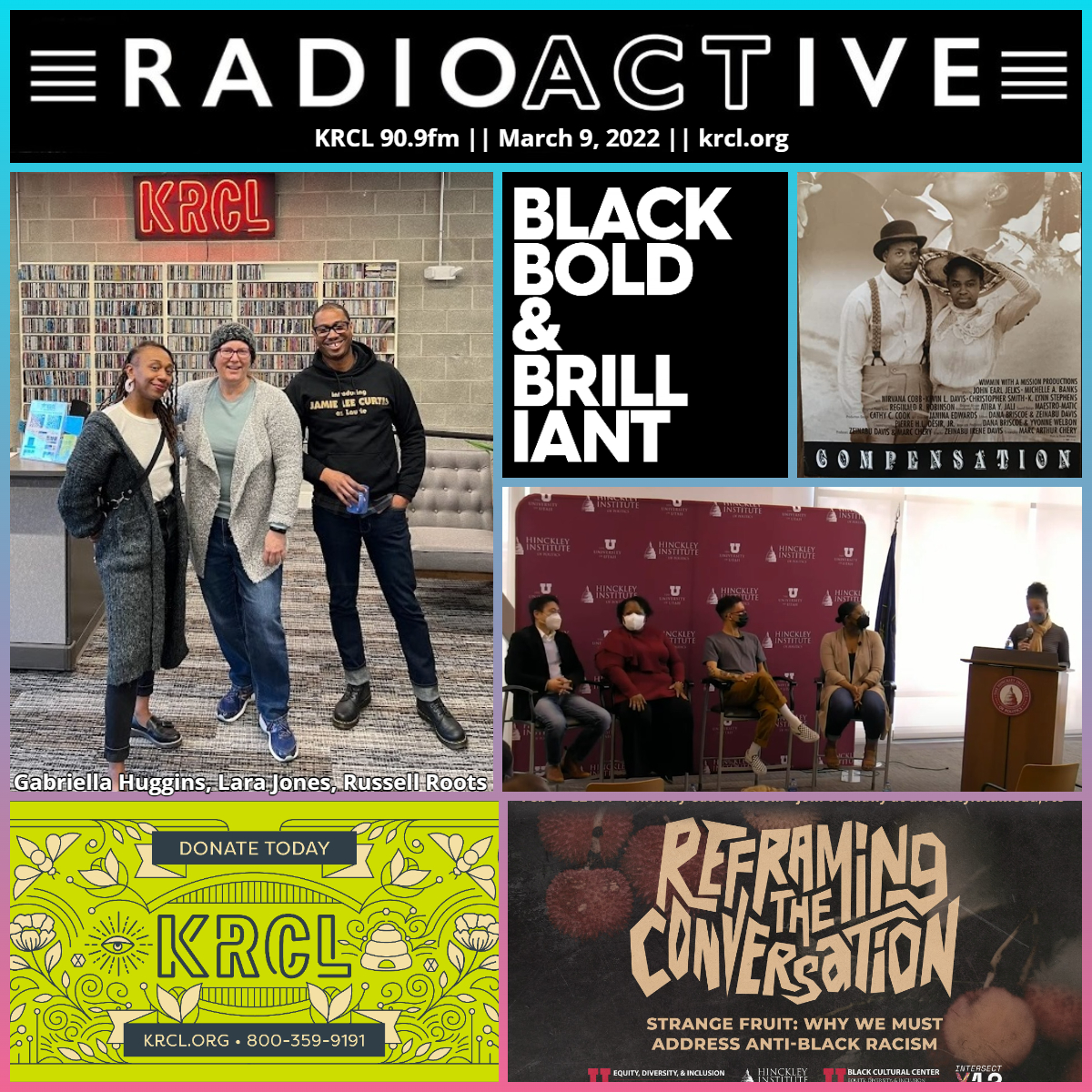 Black Bold and Brilliant talks Compensation, this month's featured film in collaboration with the Utah Film Center. RadioACTive talks about it with UFC's Russell Roots and Art Access Executive Director Gabriella Huggins. Plus, Reframing the Conversation's Strange Fruit, Why We Must Address Anti-Black Racism.
Tonight's show featured the following people, organizations and/or events. Check them out and get plugged into your community!
A RadioACTive preview of the next event in the Utah Film Center's Black Bold and Brilliant series, featuring Russell Roots, UFC Community Outreach Manager, and Art Access Executive Director Gabriella Huggins.
March 15: BLACK, BOLD, & BRILLIANT: COMPENSATION, 7:00 p.m. online. Event by Utah Film Center: "Compensation is the first feature by award-winning filmmaker Zeinabu irene Davis (Cycles, A Powerful Thang, Spirits of Rebellion: Black Independent Cinema from Los Angeles). It presents two unique African-American love stories between a deaf woman and a hearing man. Inspired by a poem written by Paul Laurence Dunbar, this moving narrative shares their struggle to overcome racism, disability, and discrimination. An important film on African-American deaf culture, Davis innovatively incorporates silent film techniques (such as title cards and vintage photos) to make the piece accessible to hearing and deaf viewers alike, and to share the vast possibilities of language and communication. FREE. Reserve your tickets here: https://www.utahfilmcenter.org/event/compensation. This film is presented as part of Black, Bold & Brilliant Film Night with support from KRCL."
Reframing the Conversation from our friends at Equity, Diversity, & Inclusion - University of Utah. Last month the topic was Strange Fruit: Why We Must Address Anti-Black Racism. On the panel:
Dr. Rachel Alicia Griffin (moderator), an Associate Professor of Race and Communication and Associate Chair in the Department of Communication at the University of Utah. As a critical/cultural scholar who has earned several honors, her research interests span critical race theory, Black feminist thought, sexual violence, and the social institutions of sport, media, education, and the U.S. presidency

Tyler Clark, a second-year graduate student in the Department of Economics Master's Program who is committed to social justice. In addition to working towards his degree, Tyler was selected as part of the inaugural cohort for the Black Cultural Center's Operation S.U.C.C.E.S.S. Powered by the George Floyd Memorial Fund.

Edmund Fong, chair of the division of ethnic studies, assoc professor in the department of political science. He studies racial politics and American political culture, broadly speaking. He is the author of American Exceptionalism and the Remains of Race from Routledge Press and is currently working on a book examining how Americans have used race to "tell time" across US history.

Dr. Tamara N. Stevenson, Vice President of Diversity, Equity, and Inclusion and Chief Diversity Officer at Westminster College in Salt Lake City, Utah. Her scholarship and practice explore the internal and external rhetorical activities of educational institutions as organizational sites of power through a critical race lens. Dr. Stevenson is the first African American hired into Westminster's communication program, the first to earn multi-year faculty contracts, and the first to advance in academic rank to associate professor.

Aja Washington, a Black feminist social worker who grew up in Southern California. She has been a community co-host on KRCL's RadioACTive and works on various activism projects in Salt Lake City, including Black Bold and Brilliant with the Utah Film Center. Aja holds a degree in Television, Film, and Media Studies focused on using media as a tool to liberate, explore, and critique our society.
While we shared the bulk of Reframing the Conversation's Strange Fruit, Why We Must Address Anti-Black Racism, we didn't have time for all of it. To watch it in its entirety or read a transcript, click here. Our thanks to Eunice Contreras at Equity, Diversity, & Inclusion - University of Utah for ensuring we were able to share the excerpt with you tonight.
March 16: Reframing the Conversation: Thriving in Your Own Body, 12:00 p.m. online and on campus. Event by The University of Utah and Equity, Diversity, & Inclusion - University of Utah: "What does body positivity mean to you? We suggest that body positivity should be radical acceptance and inclusion – loving the skin you are in regardless of its size, shape, color, age, or ability. Join us for a panel of body positivity activists and professionals to discuss how to broaden our definition of beauty and health to embrace diversity – including perspectives on race, gender identity, hair type, and body shape. We will discuss how diverse representation in media, government, and our everyday lives expands and shifts our understanding of beauty. Challenge your idea of what "perfect" looks like and celebrate all facets of your identity, because body positivity, acceptance, and inclusion work together.

Reframing the Conversation is a monthly hybrid series. Attendees can join in person at the Hinckley Caucus Room (GC 2018) or virtually on the Reframing the Conversation webpage:

https://diversity.utah.edu/rtc

."
Views, thoughts or opinions shared by guests are their own and do not necessarily reflect those of the board, staff or members of Listeners' Community Radio of Utah, KRCL 90.9fm. Tonight's show was produced and hosted by Lara Jones.
###