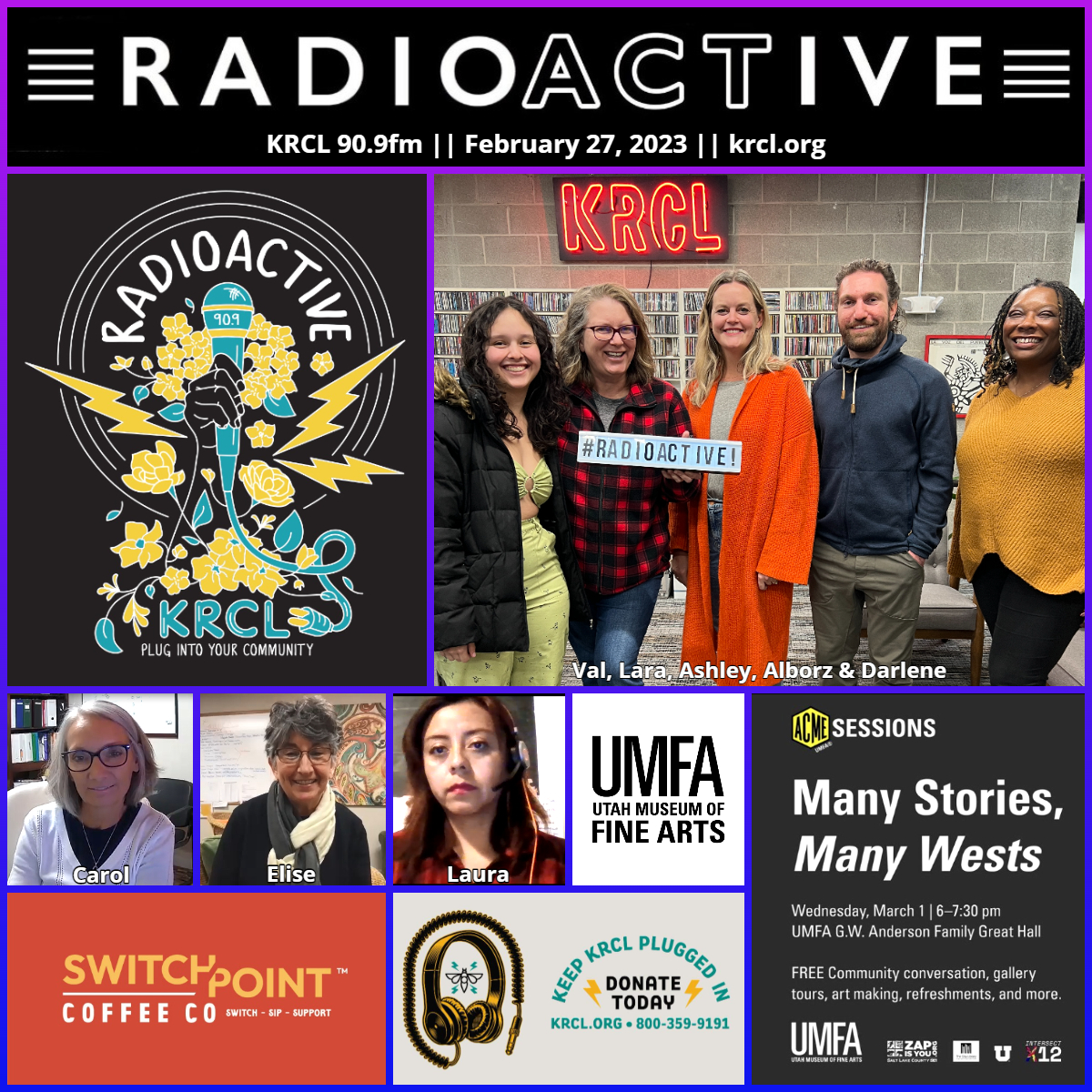 Community activist Darlene McDonald reports anti-diversity bills at the Utah Legislature. Switchpoint Services expands its social business into coffee to help the unsheltered in Utah. Many Voices of the West at UMFA.
Tonight's show features the following people, organizations and/or events. Check them out and get plugged into your community!
Community activist Darlene McDonald reports on anti-diversity bills at the Utah Legislature. Bills to watch this week:
Switchpoint Community Resource Centers expand into a social business with Switchpoint Coffee. Proceeds will help the nonprofit continue to provide services and housing to unsheltered in Utahns. RadioACTive talks with founder Carol Hollowell and Elise West, now Switchpoint Industries' head of Product Research, Development & Design. Coming soon: Switchpoint Coffee!
Many Voices of the West at UMFA, featuring Ashley Marie Farmer, Alborz Ghandehari and Laura Ruiz. All three will take part in the next ACME session this weekend. The Many Wests exhibit is on view now through June at the museum.
March 1: ACME Session: Many Stories, Many Wests, 6:00-7:30 p.m. at Utah Museum of Fine Arts, 410 Campus Center Dr., SLC. Free. "What is the West to you? What's your story? How do those stories intertwine? Join us as we celebrate the original caretakers, memory makers, and boundary breakers and uplift the voices in our community who stake a claim in the West. Hear from creatives, leaders, and scholars as they share their personal perspectives on works of art in the exhibition."

March 8: Evening for Educators: Many Voices in Many Wests, 5:30-8:30 p.m. virtual for K-12 Educators. "What is the first thing that pops into your mind when you hear "The West"? Is it images of cowboys and settlers? Huge empty expanses of desert? On this evening, we'll use our special exhibition, Many Wests, on view February 4––July 11, 2023, to explore the inclusion of multiple perspectives and voices. We'll discuss how challenging a single-sided history or narrative allows classrooms to engage in critical thinking skills and explore how art can be an approachable way students can share their own thoughts and ideas."
Views, thoughts or opinions shared by guests are their own and do not necessarily reflect those of the board, staff or members of Listeners' Community Radio of Utah, 90.9fm KRCL. Tonight's RadioACTive team included:
Executive Producer, Host: Lara Jones
Intern: Valery Tomadakis