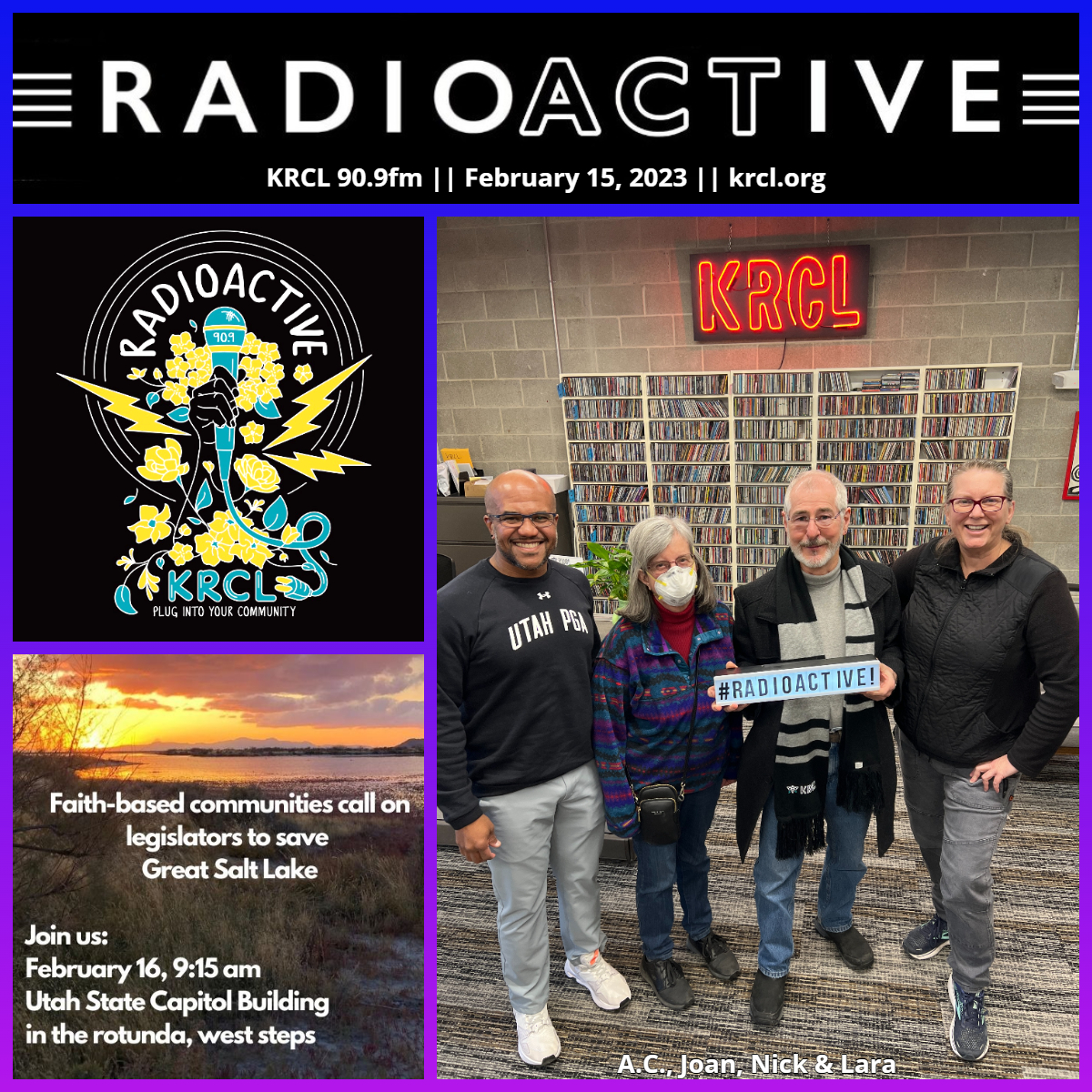 Music Meets Activism with AC Cox, SLCC professor and PGA member for 20+ years. Plus, an interfaith call to protect Great Salt Lake, and Utah Lady Grizzlies free skate for girls.
To hear tonight's show for the next two weeks, click here to listen on demand. Sort by show title (RadioACTive) or show date. The Soundcloud file below is edited for compliance with the Digital Millennium Copyright Act and does not feature all the music from the show.
Tonight's show featured the following people, organizations and/or events. Check them out and get plugged into your community!
Joan Gregory of First Unitarian Church of SLC, part of an interfaith call for lawmakers to protect Great Salt Lake. You're invited to join them tomorrow at 9:15 a.m. inside the Utah Capitol's rotunda.
Representatives of local churches and faith communities, including Unitarian Universalist churches, will read faith statements calling for action to save the Great Salt Lake. Postcards written by congregational members will then be delivered to state representatives. First Unitarian Church of Salt Lake City helped to organize this interfaith effort, and members and friends are encouraged to attend. Arrive early to find parking.
Shannon Bennett of Utah Lady Grizzlies, which is offering a free skate for girls this weekend.
Music Meets Activism: KRCL Volunteer Co-Host talks with SLCC Professor Ashley "A.C." Cox about his life, career, 20-plus years in the PGA, and a playlist to match.
Guests' views, thoughts, or opinions are their own and do not necessarily reflect those of the board, staff, or members of Listeners' Community Radio of Utah, KRCL 90.9fm. Questions, comments or suggestions for the show? Email radioactive@krcl.org. Tonight's RadioACTive team included:
###